In the wake of government plans to ban the sale of new diesel cars, the majority of diesel owners want to be given money to replace their vehicle, new research from YouGov reveals.
The Diesel Car Owners – Facing the Future report was carried out in the wake of the government's announcement to ban the sale of new diesel vehicles from 2040. It finds that two thirds (68%) of present diesel owners believe they should be given money to help replace their vehicle, compared to 11% that don't.
YouGov's research shows that 32% of current diesel owners believe they should be entitled to all of their vehicle's current value in order to help replace it while over a quarter (27%) think they should receive half of its value. The research finds that there is little appetite for receiving under this amount, with just one in six (17%) of diesel owners believing they should receive 40% or less.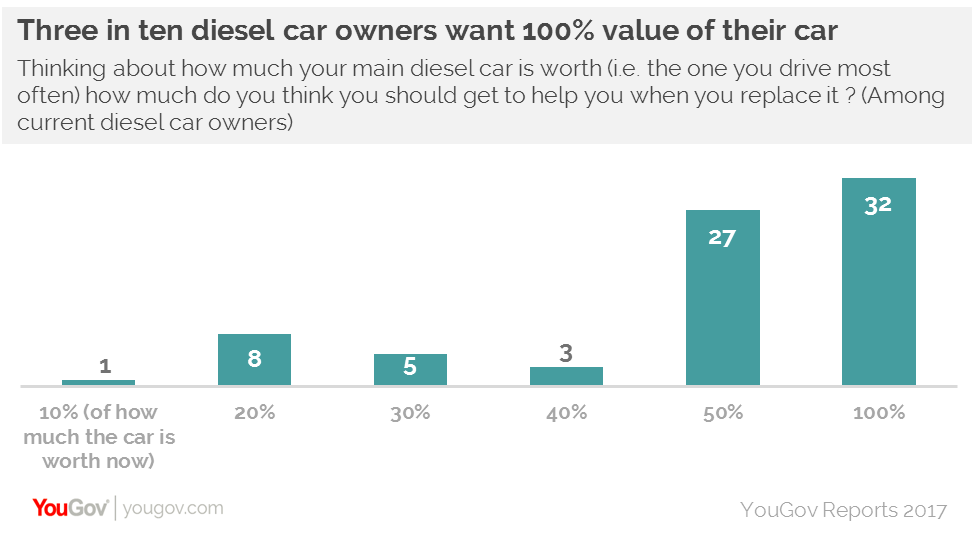 The study indicates that there is a level of acceptance among diesel owners that the cars should be phased out from Britain's roads. Just over half (52%) believe the vehicles should be banned, compared to 48% who disagree. Support for a ban is even greater among the public as a whole, with over seven in ten (71%) believe that diesel cars should be barred from Britain's roads against 29% that think they should not.
While the government has announced that new diesel cars will be banned from 2040, many believe that date should be brought forward. Close to one in five (19%) of the general public think it should be by 2022, the same percentage (19%) say by 2027. Furthermore, one in ten (10%) believe sales of new should be prohibited immediately.
However, despite the proposed ban, some current owners still intend to buy another diesel car. One in ten (10%) intend to replace their car with another diesel model, while three in ten (29%) state they have no plans to replace to get rid of their current car.
Diesel cars have been in the news for all the wrong reasons over the past couple of years and with the government's plans to ban the sale of new diesel cars from 2040, the question now turns to what will happen to existing owners of the cars.
While many believe the move to ban sales of new models is the right thing to do, there may be a sticking point when it comes to remuneration. Of course, with the ban being announced 23 years ahead of it coming into force and scrappage schemes being launched in recent months the government and manufacturers will be hoping that any repayments that have to be made are kept to a minimum.
Image Getty