Despite most phone owners saying it would be emotionally damaging for them to lose the data on their device, only a small proportion have mobile phone insurance, new research from YouGov shows.
The Mobile Phone Insurance and Claims Report 2017 looks at perceptions of insurance value and quality and assesses how policies are purchased. It finds that approaching two thirds (64%) of mobile owners think the loss of the data held on their phones would be emotionally damaging, over half (56%) say it would be socially damaging and four in ten (41%) believe it would be financially detrimental. However, despite these fears only one in five (21%) currently insure their handsets.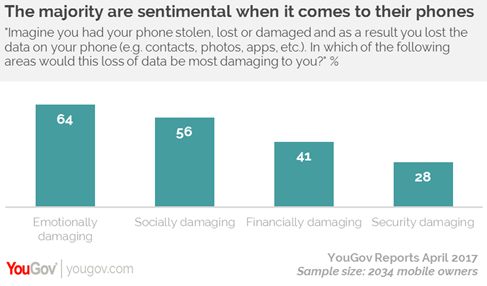 Almost half (49%) of those without insurance say they don't have cover because of the price or value of the policies on offer while over a third (36%) are uninsured because they don't think their phone is expensive enough to justify getting a policy. In addition, uninsured phone owners are unwilling to pay the going rate for cover. While the average cost of a policy is £7.85 a month those without insurance would only be willing to pay £2.93.
Our research indicates that the link between mobile ownership and insurance ownership is weakening – while mobile penetration has risen continuously, the number of policy holders has not kept up. Providers could consider expanding the market by offering the uninsured partial cover, which is more likely to be in their preferred price range. An alternative could be offering either supplementary or add-on policies for policyholders whose insurance comes via their home insurance or packaged bank accounts.
Image: Getty