With the parties' manifestos now all launched, YouGov has looked at public support for key policies from the Conservative, Labour and the Liberal Democrat manifestos
Manifesto season is now over, and the parties will now be taking their pledges to the public on the doorstep, through their Facebook and over the airwaves.
Over the past two weeks, we asked the public whether or not they thought 20 key manifesto pledges – nine from the Conservatives, six from Labour and five from the Liberal Democrats – were good ideas or the wrong priority. (The Labour policies tested were drawn from the leaked manifesto document and so were asked before the official launch.)
The most popular policy listed was the Conservatives' pledge to increase NHS spending by a minimum of £8bn over the next five years, which had the backing of 79% of Brits. Requiring non-EU migrants to pay more to use the NHS came in second at 70%.
Labour's most popular policy was a cap on rent increases so that they can only rise in line with inflation, which were seen as a good idea by almost two thirds (65%) of Brits.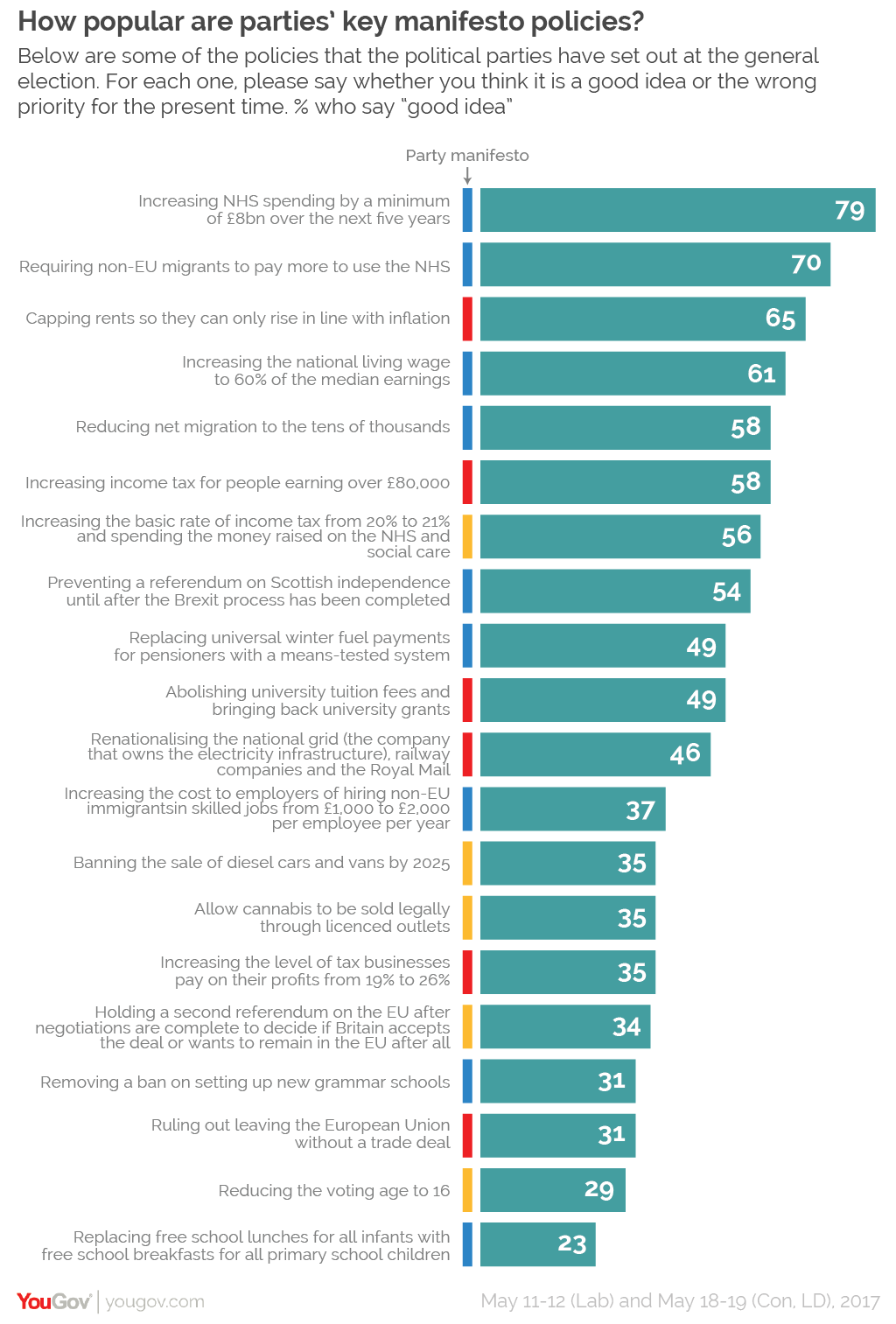 The Lib Dems' most popular policy was raising income tax by 1% to fund the NHS and social care, which 56% of people think is a good idea.
Down at the bottom of the rankings, the least popular proposal was the Conservatives' pledge to replace free school lunches for all infants with free school breakfasts for all primary school children. Here, only 23% of Brits said they thought this was a good idea. (A separate YouGov survey found only 25% of people thought it better to provide children with breakfast than lunch – 65% thought it better to provide lunch over breakfast.)
Other particularly unpopular policies included the Liberal Democrats' proposal to reduce the voting age to 16, with just 29% of people saying they thought it was a good idea, Labour ruling out leaving the EU without a trade deal and the Tories looking to remove the ban on new grammar schools (both saw just 31% saying it was a good idea).
Ultimately, however, it is not clear how important manifestos really are to the electoral process. YouGov has previously pointed out that popular policies are not likely to gain a party election victory if they have failed key tests on leadership, values and issues.
However, the Conservatives' U-turn on social care suggests that the party is worried that the inverse could be true – poorly performing policies can cast a cloud (at least in the short-term) over perceived strengths when it comes to leadership, values and issues.
Photo: PA
See the Labour results here and the Conservative and Liberal Democrat results here