The Labour leader will not take part in any TV debates the Prime Minister is absent from
Despite their popularity at the 2010 and 2015 general elections and over half of Britons wanting her to attend, Theresa May has consistently refused to take part in any televised election debates with other party leaders. It seems the Prime Minister believes that she has little to gain and much to lose by taking on the other party leaders.
However, ITV has since announced that they will host a leaders' debate – whether Theresa May attends or not. But it looks like the programme could also happen without Jeremy Corbyn, as the Labour leader has said there would be no point attending a debate with the Prime Minister absent.
New YouGov research shows that many Britons think Corbyn has made the wrong decision, with four in ten (40%) believing the Labour leader should still take part in any debate. Almost three in ten (29%) think he should not participate and around the same proportion (31%) don't know.
A majority (54%) of those who voted Labour in 2015 believe Corbyn should still have taken part in the debate – more than twice the proportion who don't think he should. In contrast, those who voted Conservative in 2015 are more likely to want the Labour leader to stay away from the debates than attend (38% versus 30%).
A separate survey looking at which party leaders should be invited to debate unsurprisingly showed that among those who want debates, Theresa May (71%) and Jeremy Corbyn (70%) were the leaders they most wanted to see.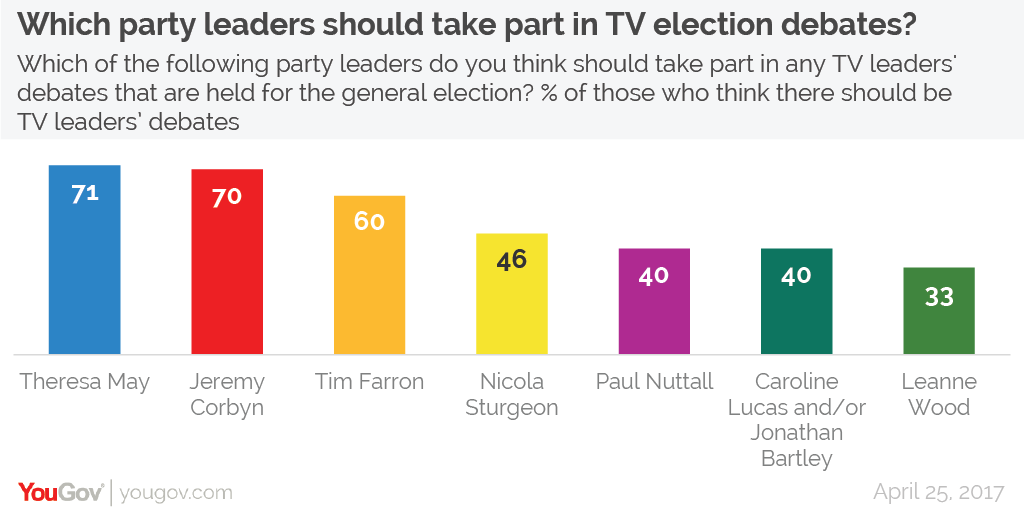 In terms of leaders who have not taken themselves out of the running for any debates, Liberal Democrat leader Tim Farron is the most popular choice (60%), followed by SNP leader Nicola Sturgeon (46%). Four in ten people who want debates believe Paul Nuttall (40%) and Caroline Lucas and/or Jonathan Bartley of the Green party (40%) should take part, with a third (33%) believing that Plaid Cymru leader Leanne Wood should be invited.
Photo: PA