The Competition and Markets Authority and Gambling Commission have launched an investigation into whether online gambling firms are misleading customers with their use of promotions. The investigation could result in legislation that removes or limits the ability to offer bonus money/free bets as an incentive to new players. 
YouGov's new Online Gambling: Brand Tie-Ins for Customer Acquisition Report considers how brand tie-ups could provide an alternative way for gambling companies to attract customers.
Currently, free bets are an attractive proposition for those that gamble online. When given a choice between two options, over half (52%) say a free bet worth £10 would make them more likely to sign up for a new gambling site much higher than the 29% that said a gift voucher for a brand of their choice would persuade them. Negotiating this conundrum will be difficult for gambling firms.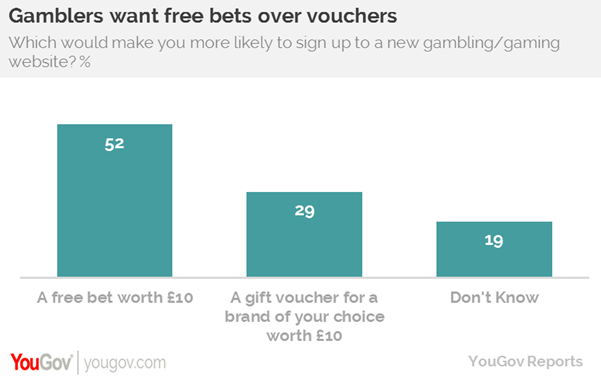 If brand tie-ins are an option for gambling firms, it is vital that they understand the type of customer they are looking to attract. YouGov Profiles data indicates that those that have taken part in online gambling in the last 12 months are more likely to be male and aged 25-34, with a monthly disposable income of £250-£499.
Naturally, these adults are more likely to state they don't mind taking risks with money, but they are also ambitious – they are more likely than average to want to start their own business. They are also inspired by international sporting events and say they get "really patriotic" when they take place.
In terms of specific brands that are particularly liked by this group, YouGov Profiles data shows that online gamblers are more likely to be current customers of Walkers, McDonald's, Coca Cola, PlayStation and Sports Direct. They also tend to be customers of several alcohol brands such as Foster's, Carling and Stella Artois.
The report also reveals brands they are more likely than the average person to consider using, potentially opening up tie-in opportunities. Key for these brands is understanding that online gamblers will still be keen to capitalise on an offer or good deal. In general, nine in ten (88%) of this group are always on the look-out for special offers.
All of this underlines that gambling companies need to be selective in their targeting, by ensuring that any potential brand tie-ups are with organisations that budding online gamblers are sympathetic to.
Image iStock