This month's YouGov/Cebr consumer confidence data is a real mixed bag, probably reflecting the slightly jumbled economic conditions we are currently seeing.  The headline figure has fallen only slightly in March down by -0.3 points this month to 109.3, against a backdrop of increasing inflation and the confirmation that Article 50 will be triggered within the coming days.
However, while any score over 100 shows more consumers are confident than unconfident, the Index remains below the level it was at before the UK voted to leave the European Union. Indeed, in the nine months up to and including June 2016, the average consumer confidence score was 113.3. In the nine months since, it is 109.3.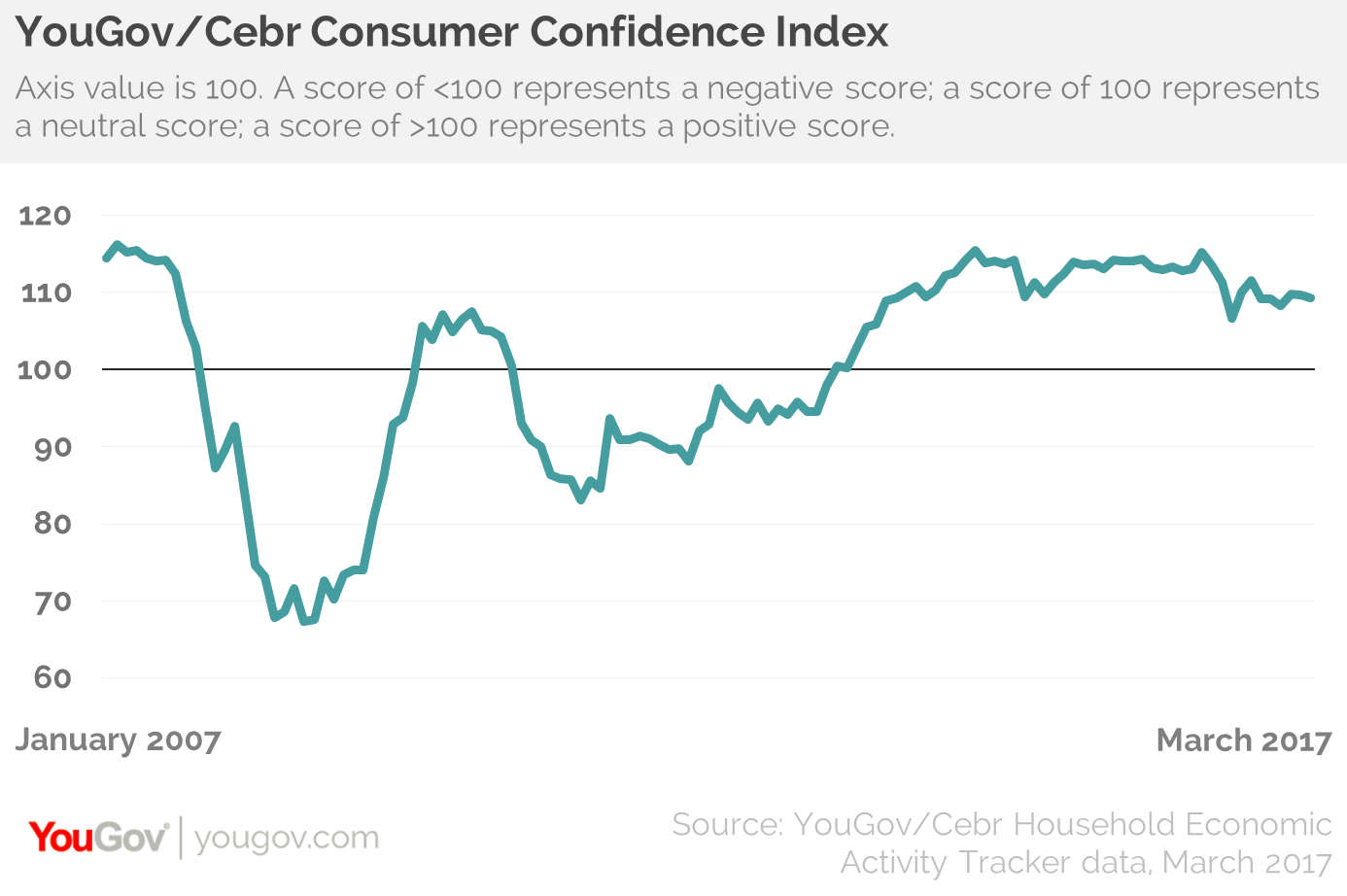 YouGov collects consumer confidence data each day with 6,000 interviews a month. Respondents are asked about household finances, property prices, job security and business activity, both over the past 30 days and looking ahead to the next 12 months.
For many consumers, the positives and negatives are currently balancing each other out, but this could change. On one hand home owners are optimistic about the property market, but on the other employees are becoming more nervous about their levels of job security over the coming year – probably reflecting uncertainty over the economy. Should inflation continue to rise, household finances – steady at the moment – could start to weaken in the months ahead.
While this month's overall confidence figures follow the same slight decline we have seen over the past few months, it is remarkable how resilient the numbers are. However, we are beginning to see some negativity coming into view, most notably when it comes to job security. Despite the figures holding up, it is undeniable that across the board things have not regained the ground lost in the immediate aftermath of the decision to leave the EU.
Find out more about YouGov Reports
Image from PA