New data from YouGov suggests that were food brands to cut their portion sizes by 15%, they could risk losing up to 35% of their customers.
The  Portion Sizes and Health report shows that 13% of consumers would stop buying a product that had shrunk by 5%, a further 22% would do so for a product downsized by 10%. 
YouGov's study investigates the issue of food 'Shrinkflation' (whereby the price of a product remains the same as portion sizes get smaller) and finds that companies risk losing customers due to product size decreases.
When faced with the choice, consumers would rather pay more than see their favourite products shrink. Almost half (46%) say they would prefer a price increase and the size stayed the same, while 36% would favour the price to stay the same but the portion to decrease.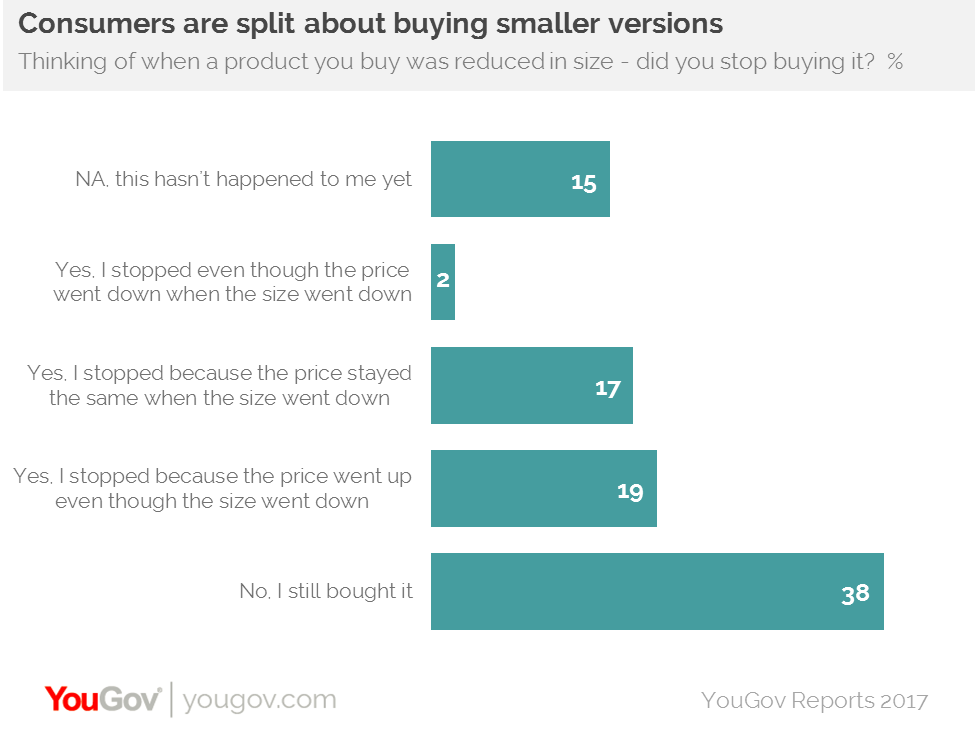 However, the public is split over how they have reacted when products shrunk. Although approaching four in ten (38%) say they still bought a product when they knew it had been reduced in size, almost one in five (19%) stopped buying when the price went up and the size went down, and 17% didn't buy because the size went down and the product remained the same price.
The reaction to the news that Toblerone had shrunk the amount of chocolate in its product was met by a mixture of bemusement, confusion and frustration by consumers – but the brand is hardly alone in adopting this approach.
Our data indicates that these companies are treading a fine line. Consumers will only accept a certain degree of downsizing before they look elsewhere, and would rather pay a bit more in order to preserve the portion sizes they have now.
Image PA