Last week, Debenhams was named by the government as one of the worst companies for underpaying staff. YouGov BrandIndex data shows how the news has altered perception of the brand.
Over the last year, I have discussed how adverse stories about pay have damaged companies including Sports Direct and Harrods, but also how positive news in this area has strengthened the perception of brands such as Aldi and Lidl.
In this case, Debenhams was found to have failed to pay a total of £130,000 to 11,858 workers – an average of over £10 each. 
This particular story has certainly been noticed by consumers, as underlined by YouGov's brand tracking data. Debenhams' Buzz Score (whether people have heard something positive or negative about the brand in the last fortnight) has decreased by 5 points since the story emerged and is now in negative territory for the first time since January 2014.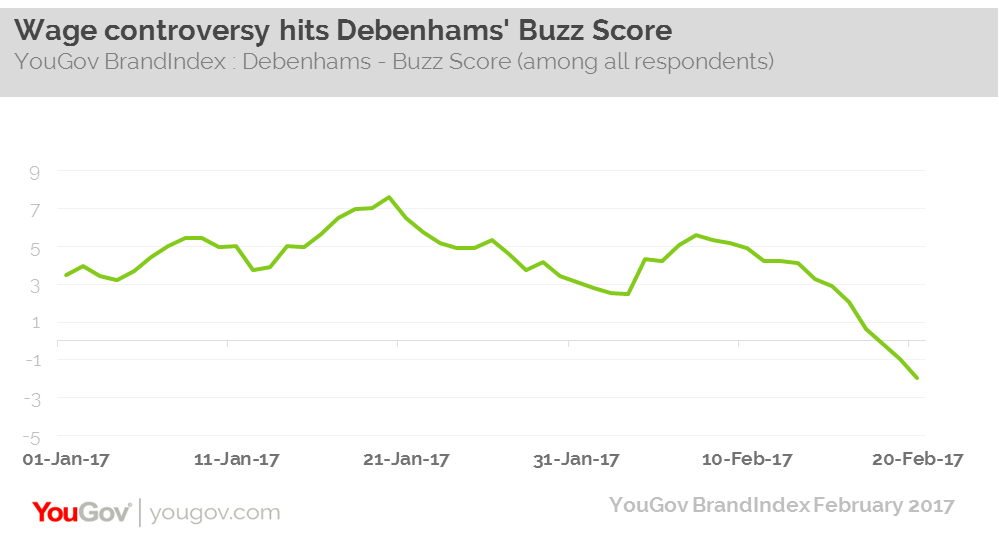 And while Debenhams announced it has reimbursed all those staff that were underpaid, there has been a drop in the number of people would be proud to work for the brand. On this measure, its score has dropped by 4 points – though the score is still a relatively healthy +16.
Despite these setbacks in public perception, there is good news for Debenhams. Its Impression score (whether people have a positive or negative impression of the brand), has dropped by just 2 points (from +31 to +29). This indicates that the brand seems to have a solid base when it comes to consumer perception and also suggests that its public response to the news was an effective and suitable one.
Looking specifically among those that would consider shopping at Debenhams, the Impression score has been pretty steady since the story broke. This is notably different to when Sports Direct was in the news over staff pay.
Although the recent story was noticed by the public it doesn't seem as though it will cause the brand any long term damage. On the whole, Debenhams is trusted and well liked. However, with conditions on the high street more competitive than ever, it cannot afford too many more detrimental headlines.
Image PA
This article originally appeared in City A.M.