January is a time when many of us start to think about the summer and where we want to disappear to on holiday.
And anyone looking ahead to an overseas vacation or a business trip will have to consider travel money at some point.
But the way British consumers pay for things when abroad is changing as cashless payments mean large numbers of people are shunning traditional bureaux de changes on the high street and at the airports and are instead spending solely on plastic when overseas.
Our latest data shows that while almost eight in ten (78%) of those who have travelled abroad in the last 12 months used a foreign exchange, fully 16% exclusively used their credit or debit cards to pay for things when abroad.
And it seems as though card-using travellers are different beasts to the cash-wielding counterparts in a number of notable ways.
Firstly, those who are shying away from bureaux de change also have higher monthly disposable income than those who use foreign exchange.
Secondly, those who only spend on credit and debit cards when overseas tend to travel abroad more frequently than those who only use cash.
Lastly, as well as credit card users travelling more regularly, they also spend more during their last trip than those using cash.
While the difference – £478 on credit card versus £464 in cash – may not sound like much, it all adds up when applied across this group of travellers as a whole.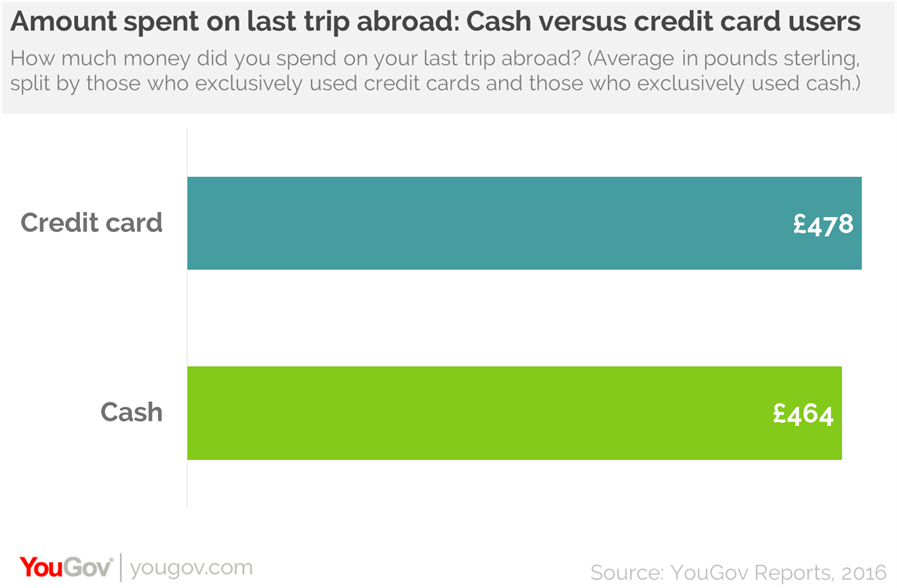 Cleary, the cashless revolution has led the travel money sector to an interesting juncture.
As the opportunities to go cashless increase at home (for example, contactless card payments, mobile payments etc), consumers are becoming increasingly comfortable with not having cash in their pockets.
For the likes of Visa and Mastercard, the 78% of people who use foreign exchange services represent a big potential area of growth – much of it ripe for the picking.
Bureaux de change cannot afford to rest on their laurels.
Image PA