Average British filmgoer spends £7.85 on things other than tickets on each visit to the pictures
Big variations based  on region, gender and regularity of film viewing
Cost main reason people stay away from cinema
Decline in cinema attendance set to be arrested in coming 12 months
Findings from wide-ranging report into film and cinemagoers
A new wide-ranging research study into cinema and film in Britain by YouGov shows the amount people spend on things other than tickets when they go to the cinema and highlights that the cost of a visit to the pictures is the biggest reason non-cinemagoers stay at home.
YouGov's Film and Cinema Evaluation report shows that British moviegoers spend an average of £7.85 on items such as popcorn, drinks, and parking. However, there are wide regional differences in the amount cinemagoers spend on sundries. Londoners splash the most (£8.78), markedly ahead of the second placed region, the north of England (£8.07). Scotland, the Midlands, Northern Ireland, the East and South of England all spend within 35p of each other; however it is film viewers in Wales that hand over least in additional expenditure – £6.86.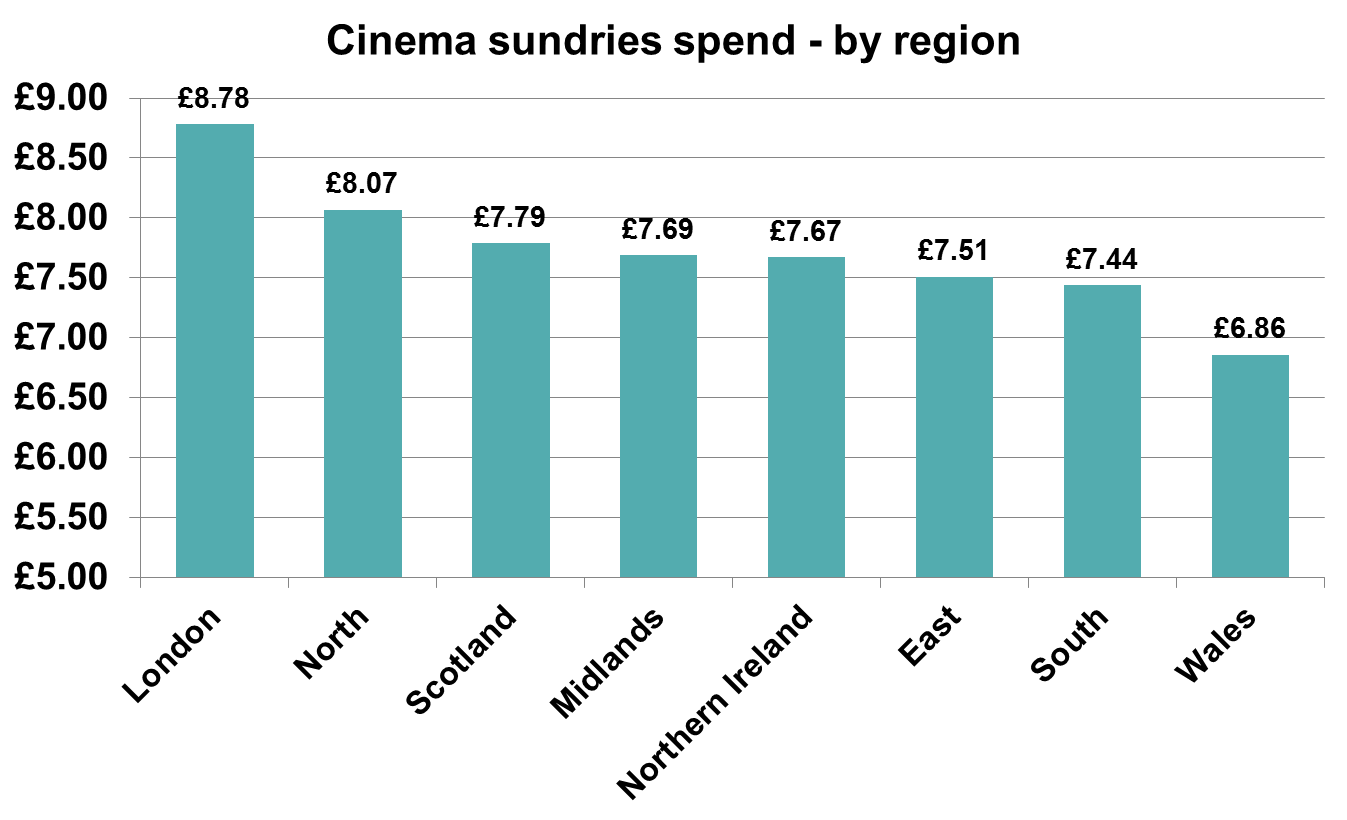 The study assesses who is going to the cinema and with whom, when and where people go, what they watch and why and how much they spend. It also analyses how people find out about new films why they choose to watch what they do, what genres and actors different groups are interested in and how cinemagoers' profiles vary film by film. YouGov spoke to over 5,000 people in the UK aged 16+ for the research.
YouGov found that not only do men (£8.29) spend more than women (£7.39), but that people who visit the cinema more frequently, typically spend more on items other than tickets (e.g. popcorn, drinks, etc.). "Heavy" cinema users have the largest outlay on sundries, spending an average of £9.15, compared to £8.02 for "medium" users and £7.04 for "light" users.
YouGov Profiles suggests that "Heavy" cinema users, defined as visiting the cinema once a fortnight or more frequently, have different spending behaviours and lifestyles than "Medium" and "Light" users. For example, heavy users are more likely to live in London, be aged 25-44 and are more likely to have a membership with a cinema.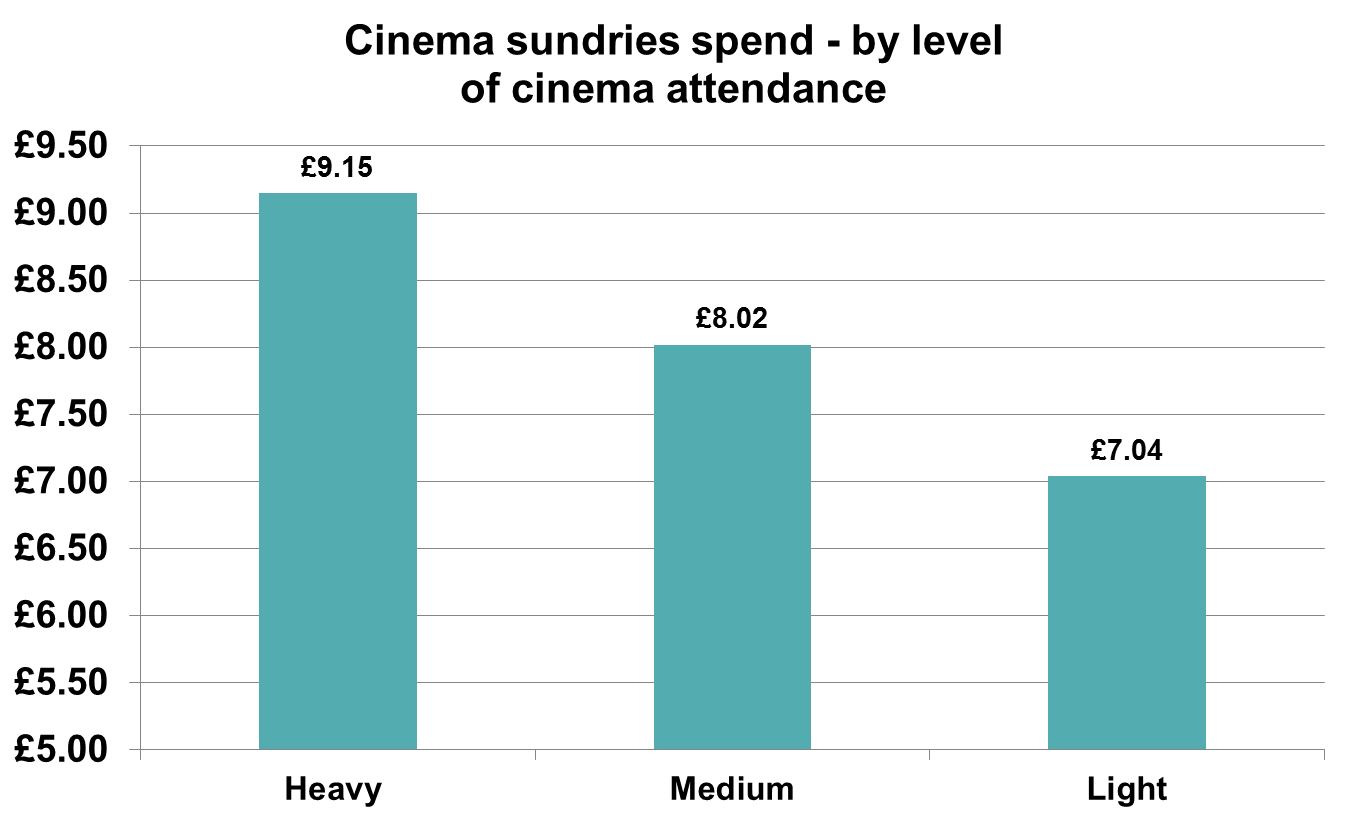 Having children also increases the amount people spend on items other than tickets. Cinemagoers with no children spend an average of £6.76 compared to £8.82 for those with one child, £9.76 for those with two children and £11.96 for people with three kids.
After a year of falling cinema attendances, the report finds that the decline may be arrested over the coming year, and this is corroborated by data from YouGov's Household Economic Activity Tracker (HEAT). 37% of the nationally representative sample say they will be spending more on 'going to the cinema' 12 months from now, whilst just 21% say they will be spending less – a net increase of +16%. Furthermore, since October 2014 the HEAT data shows consecutive monthly increases of those saying they have visited the cinema in the last 30 days.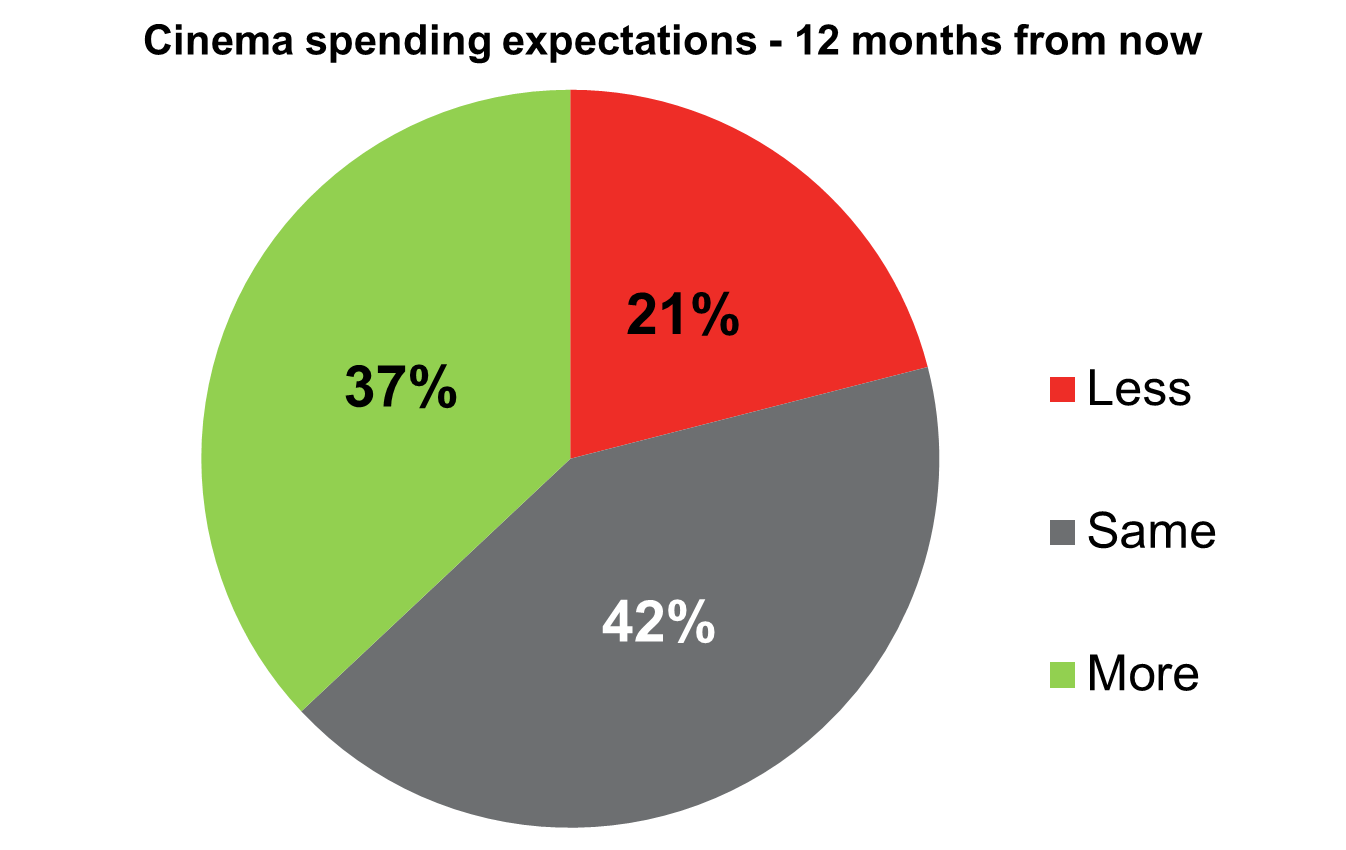 Among those who do not go to the pictures, the cost of a trip to see a film is – by some distance – the main reason they stay away from the cinema (46%). The rise of on-demand home cinema would suggest why three in ten people (30%) prefer to watch movies from the comfort of their own home. The other main reasons – lack of interest in the movies on show (21%) and films in general (16%), and general apathy to cinema (14%) – all trail in even further behind.
Vidisha Gaglani, Associate Director of Digital, Media, and Technology at YouGov says: 'Over the past decade cinema has been challenged on a number of fronts. Piracy and torrents of new movies are rife, television has arguably never laid down such a cinematic challenge, and squeezed film financing has led to more sequels and arguably less variety.  
'While cost keeps many people away from the pictures, it should be remembered that people go to the cinema because of the experience as much as they do because it is a practical way to see a film. While some of this is due to the screen size and ambience, a large part of this can be attributed to the novelty of snacks like popcorn and hotdogs that are associated with the cinema experience. This explains why heavy cinema users spend more on sundries, as do parents taking their kids to the pictures.
'Cinema is a tough beast. Many people predicted it would fall when television took off but it survived and it will get through these latest challenges, too. Subscription services continue to prosper and home viewing offers an exciting way to distribute films to the masses that has yet to be fully monetised. While cinema is here to stay, the relationship between films and consumers could significantly alter in the coming decade.
'Our survey into cinema habits will monitor behaviour into cinema attendance, behaviours and the films which are proving to be the biggest draw and we will be using our products to supplement and enhance this data. Through our Film and Cinema survey and the other data we have available to us from our panel, YouGov's DMT team will be keeping a close eye on cinema habits and behaviours over the next 12 months to see how this relationship evolves.'
For more information about YouGov's Film and Cinema Evaluation report data please contact Shaun Austin or Vidisha Gaglani.
Image from iStock