Don't let people off first or get up for the elderly, and do play loud music: London commuters' least favourite behaviours revealed
'Mind the gap', a warning to train passengers stepping off of trains on the London Underground first recorded in 1969, is likely the most iconic phrase associated with the transport system. But there's another familiar phrase that would-be commuters would be advised to heed: 'please allow voyagers to depart the craft before boarding.'
According to a new YouGov survey of Londoners, 90% of commuters find it annoying when others don't let people off the tube before getting on, including 60% who find it 'very' annoying. The next two most irksome commuter behaviours include 'people not letting you pass to get off the tube' and 'people not getting up for the pregnant and the elderly', both of which are considered very annoying by a majority of London commuters.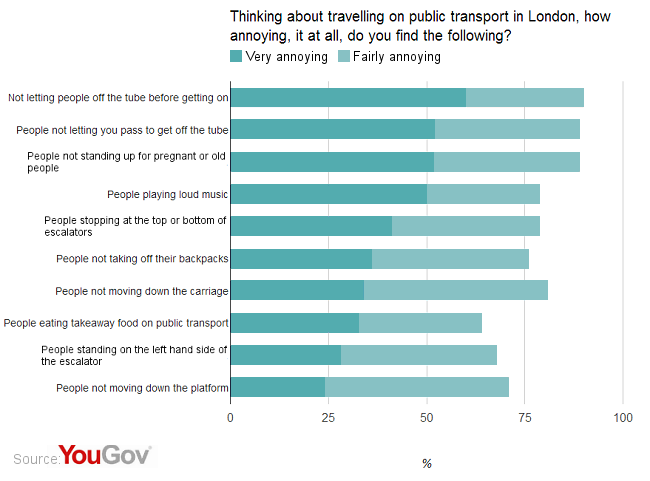 'People playing loud music' and 'people stopping at the top or bottom of escalators' are also among the biggest annoyances. 
On the positive side, London commuters need not be considered unapproachable: only 12% of commuters are very annoyed by 'people you don't know trying to talk to you'.
The survey also found that 68% of Londoners trust London Underground station announcers to tell the truth, placing them amongst the most trusted public faces in London.
Image: Getty