Despite perceptions that the economy is improving, voters are not feeling any richer. Cost of living concerns could be the winning political issue at the next election
Cost of living has now become one of the most hotly contested issues in politics. Last week, George Osborne mentioned 'cost of living' twelve times in a speech about the economic recovery, and yesterday Ed Miliband devoted a headline-grabbing pre-conference address to pledging a hike in the minimum wage to address what he calls the 'cost of living crisis'.
YouGov research suggests that political leaders are right to identify cost of living as a decisive issue in voters' minds. Tracking data from the past twelve months suggests that, despite increasing optimism about the broader economy, living standards for individuals are far from recovering.


Economic recovery
British adults perceive Britain's economy to be at its least bad since July 2010 - 13% say it is in a good state now and 50% say it is in a bad state. In March, just 6 months ago, around 77% said it was in a bad way and only 4% said it was good.
Perhaps signalling the end to the austerity versus growth debate, for the first time in three years more British adults believe the way the government is cutting spending to reduce the deficit is good for the economy than who say it is bad, by 43%-42%.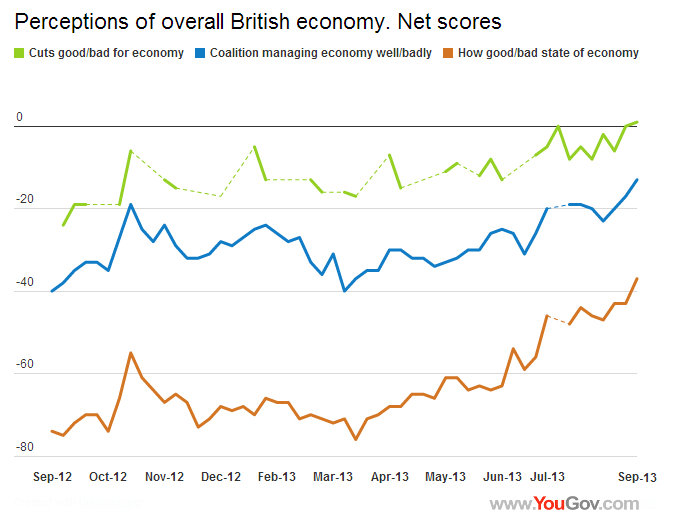 Perceptions of the government's economic competence are also at their best, with 38% saying the government are managing the economy well and 51% saying they are doing so badly. In March those figures were around 27% and 63%, respectively.


Living standards
The most striking thing, however, is that none of the good economic news appears to be trickling into individuals' pockets.
From mid-August to early September, around 65% said they were worried about not having enough money to live comfortably in the next two or three years, while 32% said they were not. Even back in April 2012, when it was announced the UK had dipped back into recession, only slightly more – around 70% - said they were worried and 27% said they were not.
In the same recent period, 59% said they were worried about losing their job or having difficulty finding work while 37% said they were not - that is barely better than at the beginning of the year, when in January the figures were 61% and 37%, respectively.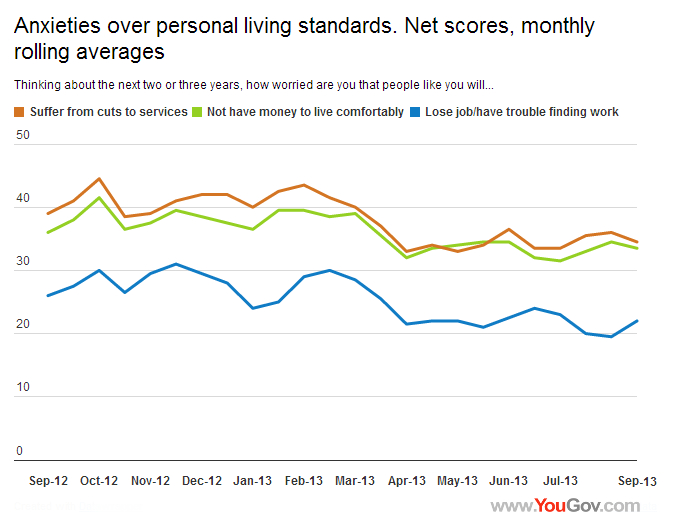 And despite improving views about the benefits of cuts to the economy, in the past month around 65% were anxious about suffering directly from cuts to public services and 31% were not – hardly down from the respective figures of 69% and 29% in January.
The political response
Individuals do not feel they are gaining from growth, and, in polling by YouGov for the Resolution Foundation, the majority (51%) said that if a party convinced them it could improve the living standards of people like them then they would be likely to vote for them.
It was Labour's Ed Miliband who coined the phrase 'cost of living crisis', in an attack on the Conservatives in August: "David Cameron is out of touch; you are out of pocket." Yet while voters do rank them higher than the Conservatives on most living standards issues, Labour are by no means seen as 'owning' the issue.
On the policy the largest number of voters (46%) say would help people like them most – "Putting downward pressure on the cost of living so that household bills are as low as possible" – Labour has only a five point lead over the Conservatives: 20% say a majority Labour government are most likely to do so by 2015 and 15% say the same of a majority Conservative government.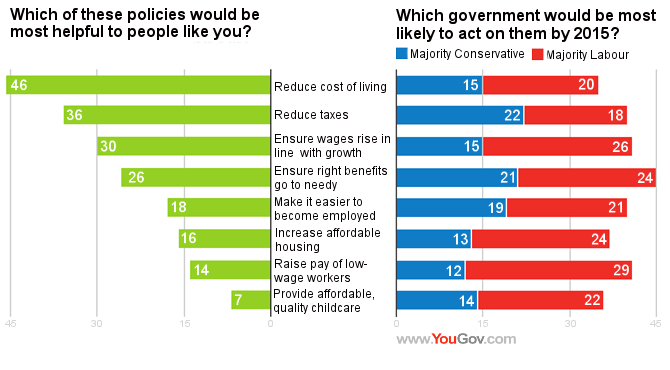 On the second most helpful policy to voters, "easing pressure on households by reducing taxes", the Conservatives are seen as more likely to be successful: 22% say they would do so by 2015 while 18% say the same about Labour.
On ensuring wages rise in line with economic growth, the third most helpful policy, Labour have an 11 point advantage. They also lead highly on increasing affordable housing, by 11 points, and raising the pay of low-wage workers, by 17 points, however these are only the sixth and seventh most helpful policies to voters. 
At the Labour Party conference, which starts today, Ed Miliband will attempt to reinvigorate a party that has been suffering in the polls. Labour and the Conservatives were neck-and-neck on 17-18 September, with 36% of the vote each, Labour with only a one point lead the following day - 35%-34% - and on a modest four point lead over the weekend, at 37%-33%.