Britain would vote to leave the competition by 56% to 44%, with Leave voters among the most likely to want out
The British public is not done attempting to disconnect the country from European institutions it has been a longstanding membership of, according to the results of a new YouGov survey.
With the Eurovision Song Contest taking part this Saturday in Kiev, YouGov finds that should the public be given a vote on the UK's membership the outcome would be the same as it was at the European Union Referendum. Excluding don't knows (7%) and those who would not vote (admittedly high at 44%) the results show that the British public would vote to leave the Eurovision Song Contest by 56% to 44%.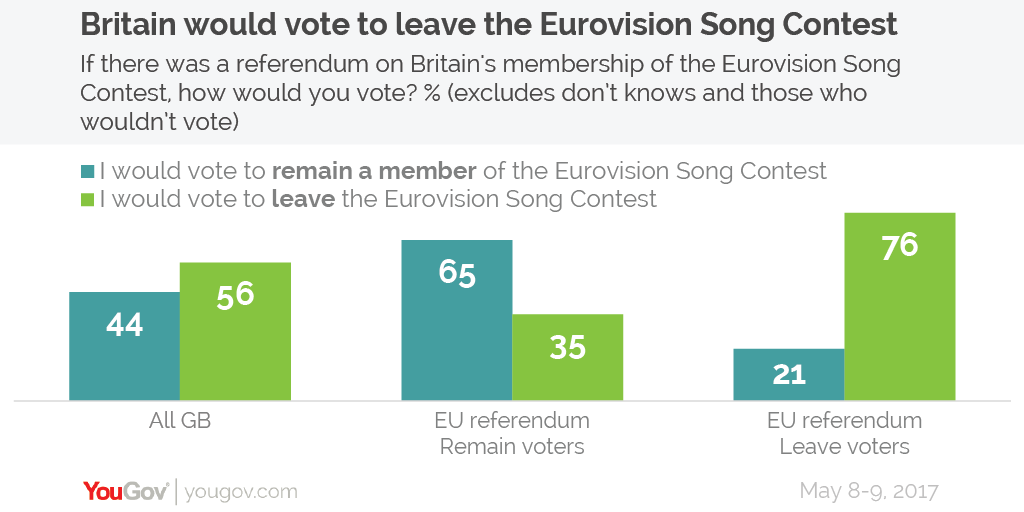 Broadly speaking, the Brexit dividing line runs through the results. Those groups that were more likely to vote for Brexit were more likely to want to pull out of the Song Contest: 81% of those who intend to vote UKIP, 78% of 65+ year olds and 76% of Leave voters. Likewise, those groups most in favour of staying in Eurovision are those who intend to vote Liberal Democrat (70%), 18-24 year olds (69%) and Remain voters (65%).
YouGov's wider research shows that Just over one in five Brits (22%) are intending to view some of the Contest this Saturday, where UK act Lucie Jones will be hoping to improve on our nation's dismal recent record. The most common reason for watching (26%) is the amusing commentary – provided since 2009 by Graham Norton and prior to that by Terry Wogan. One in five Brits (19%) are viewing the show to make fun of it, while a mere 9% will be watching because they actually like the music.
Photo: PA