With Hollywood awaiting the announcement of this year's Oscar winners, YouGov unveils the most notable holes in Britain's collective movie viewing history
With the Academy Awards taking place this weekend, studios are touting Oscar nominations in their pitch to audiences as a reason to part with their cash and watch their movie.
Whilst we can expect Hollywood types and film buffs to be on top of the year's top hits, most Brits will only go to the movies infrequently, and will therefore have only seen a small selection of what's on offer.
With that in mind, we at YouGov wanted to know: which are the most famous movies that people have never seen?
To identify the biggest gaps in Britons' movie viewing history, we asked more than 7,000 people the open question "what is the most famous movie you have never seen?" The highest scoring answer was Star Wars, with 9% of us saying it is the best-known film we haven't viewed.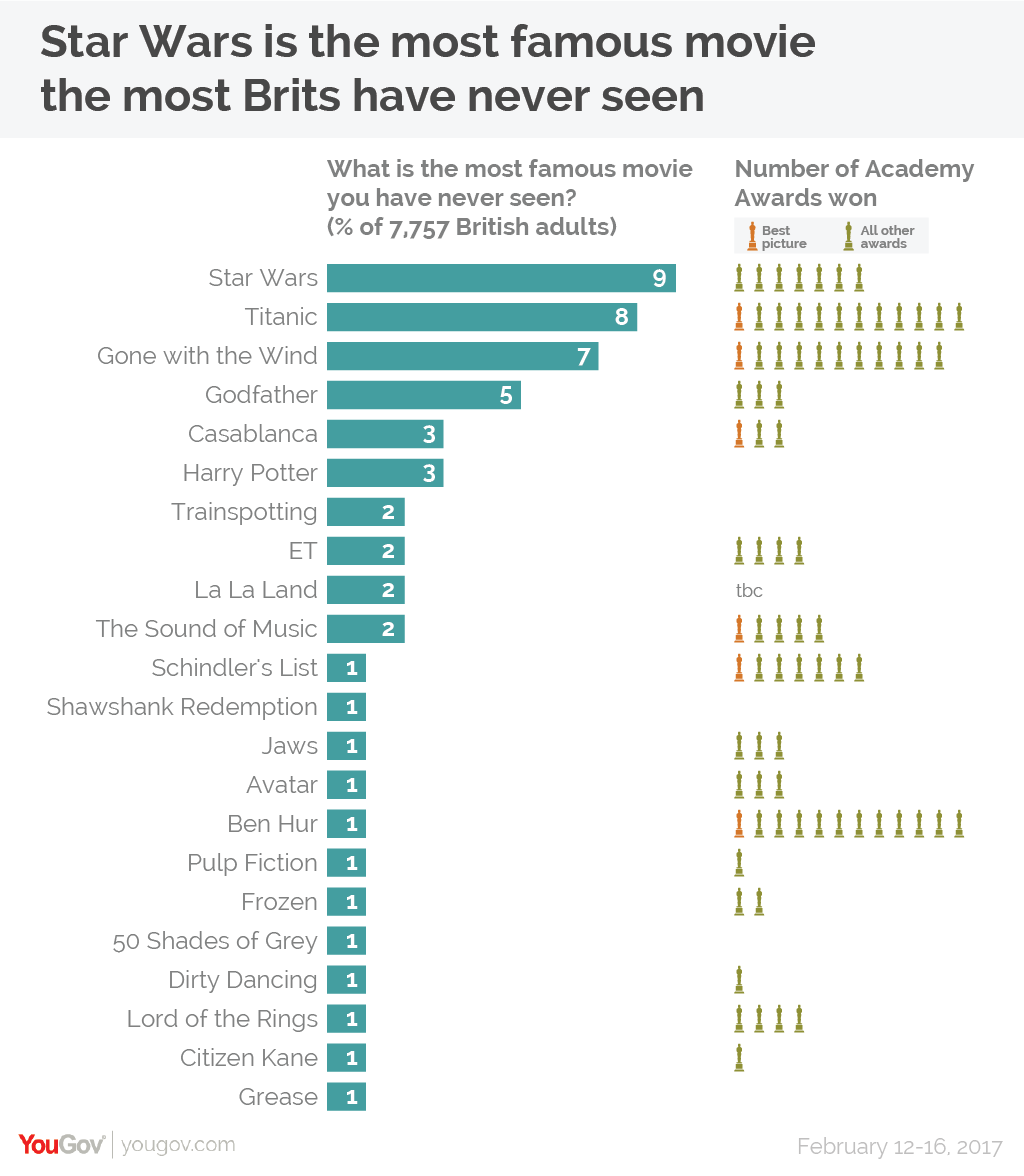 The data shows that 50-64 years olds are the group most likely to have selected George Lucas's 1977 space opera (11%). These people would all have been between 10 and 24 years old when the film hit cinemas, and seem to be heavily conscious that Star Wars is a piece of movie history they've missed out on.
Hundreds of films were mentioned in response to the question, but a total of just 22 films made up more than half of the responses. Of these movies 16 have won Academy Awards, including six which won 'Best Picture'.
Second placed on the list was James Cameron's 1997 blockbuster Titanic, at 8%. Titanic would go on to win 11 Academy Awards, the joint-highest number of Oscars ever won by a film (tied with Ben Hur, which also featured on our list).
It was also the first film to gross more than $1 billion, and held the title of the highest grossing film of all time for the next 12 years until it was surpassed by Avatar (also directed by James Cameron, and again featuring on our list).
Golden oldies
Coming in at third place was 1939 epic historical romance Gone with the Wind, which was the most famous film 7% of Brits say they have never seen. This was very much a film that older people are conscious of not having seen – 13% of Brits aged 65 and older gave it as their answer, compared to a statistical 0% of 18-24 year olds.
The reverse is true of the fourth film on the list: The Godfather. Whilst 5% of people offered this as the most famous film they had never seen, this figure was as high as 9% for 18-24 year olds (making it the joint-top film for this age group), compared to just 1% for those aged 50 and over.
Whilst many of the films are relatively old, a few more recent editions made the list. Animated Disney hit Frozen (2013) and erotic novel adaptation 50 Shades of Grey (2015) were both mentioned by 1% of Brits.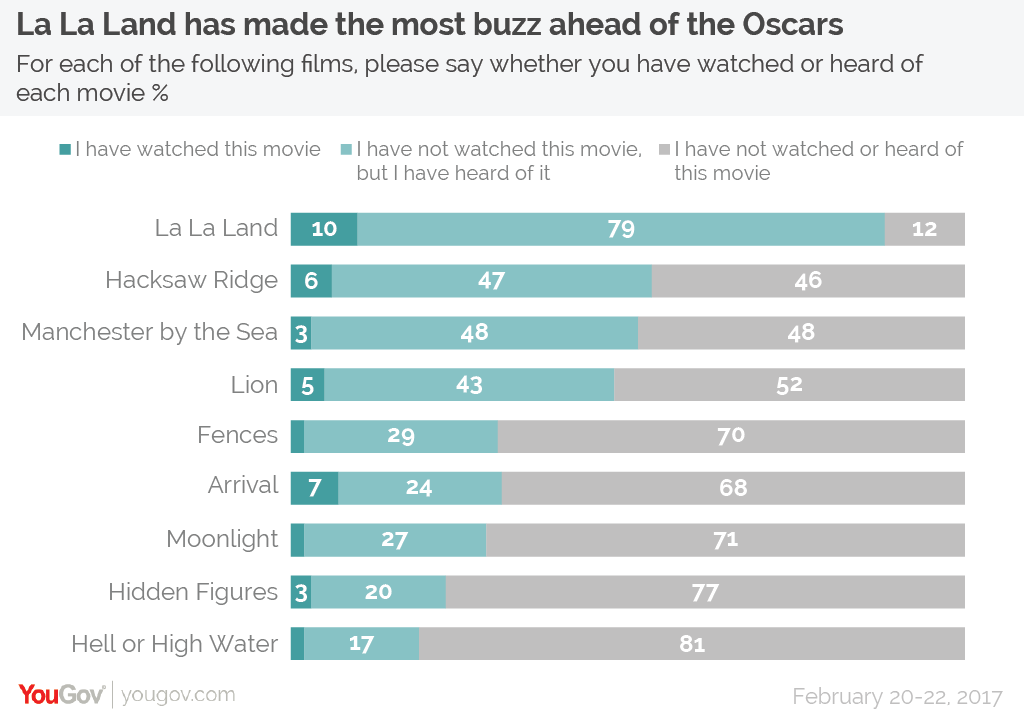 Likewise, the even more recent La La Land – a nominee for 'Best Picture' at this year's Academy Awards – was listed by 2% of Brits, highlighting just how much buzz the film has managed to create. In fact, a separate YouGov survey found that 89% of people had heard of the movie – streets ahead of any of the other nominees for Best Picture.
See the results on the most famous movies Brits have never seen here
See the results on which fims nominated for the 2017 'Best Picture' Academy Award Brits have seen here