Justin Rose's gold medal is not enough to convince Brits that golf is appropriate for the Olympics
Nearly a quarter of British people think golf should be cut from the summer OIympics, despite a British golfer (Justin Rose) winning one of the sport's two gold medals on offer. The sport – returning to the Olympics this year after a 112 year absence – has clearly failed to convince, with 24% of people saying it shouldn't be an Olympic sport, it is the least popular of all the sports in the UK.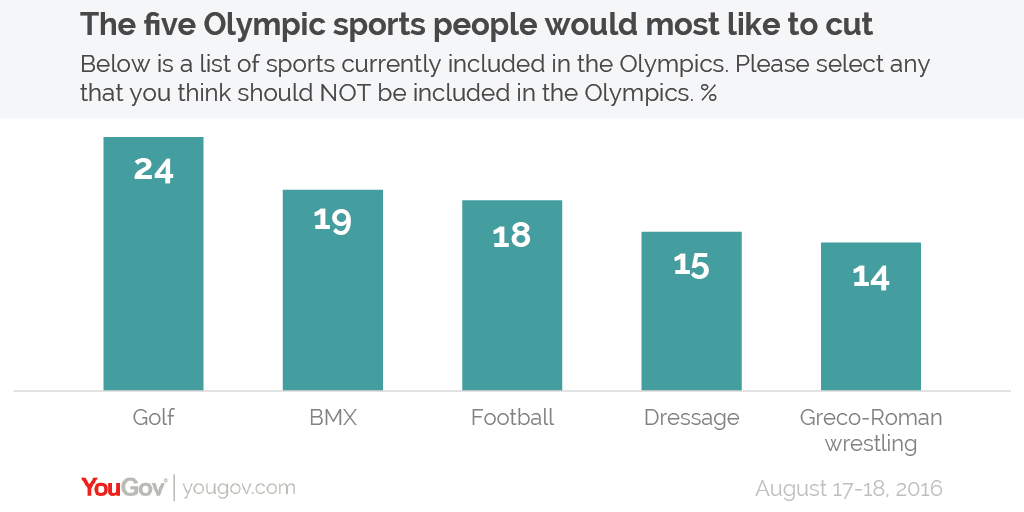 BMX racing and football are the next most popular candidates to be cut, with 19% and 18% of people respectively saying they should go. BMX became an Olympic sport in 2008, and is particularly unpopular among those aged 50-64 of whom 29% think it should be cut. Football by contrast has been a staple of the Olympics since 1900, and is fairly consistently viewed across all age groups, although men are more likely to want to cut it than women.
Those sports which Britain has been most consistently winning golds find themselves near the bottom of the list. Only 2% of people want to cut road or track cycling, 1% wanted to cut rowing, 3% wanted to cut sailing and 1% wanted to cut athletics. Swimming and triathlon – both sports where Britain has won a gold at Rio – came at the very bottom of the list, with not a single person saying they shouldn't be an Olympic sport.
Overall, 26% of people ­– clearly the most die-hard sports fans – said they wouldn't cut any sport at all. A further 20% of people said they didn't know what they would cut.
Photo: PA