Throw away that tie, but sorry gents - if you're hot you're going to have to stick with those trousers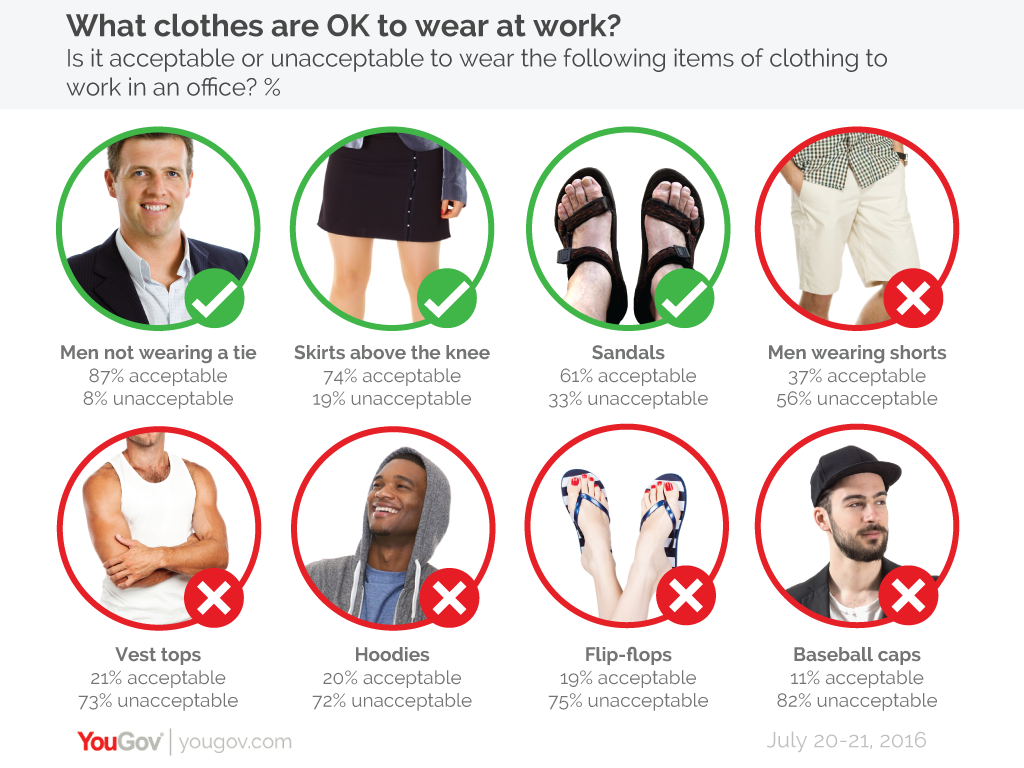 Despite the recent heatwave, men looking to cool off by wearing shorts to work should think twice. With just 37% of people agreeing that shorts are acceptable attire for men at work, the majority verdict is that gents are going to have to continue sweltering in the office. Their female counterparts face no such problems, with 74% of people agreeing that it is acceptable for women to wear skirts above the knee. (We unfortunately did not poll whether men could get around the hostility to shorts by wearing skirts instead).
Despite the similarity between the two items of footwear, the difference in opinion on sandals vs flip-flops is stark. Just 19% of people think that it is acceptable for flip-flops to be worn in the office, against 61% for sandals. Whilst office sandals might be seen more as a female choice of footwear (74% of women felt they were acceptable), they are also seen as more acceptable than not by men (47% vs 45%).
'Biceps out' is out
Men looking to cool down up top will also be dismayed to hear that barely one in five people think it is acceptable to wear a vest top around the office, although a small mercy is provided by the fact that people overwhelmingly feel it is ok for them to go tieless, with 87% in favour and just 8% against.
Hoodies, the mainstay of the tech start-up wardrobe, have so far failed to make it mainstream, with just 20% of people feeling that it is acceptable for the office. The most reviled item of clothing though was the baseball cap, with opposition from 82% of people.
Image: istockphoto