YouGov reveals the gender divide in the nation's classrooms
The gender imbalance in various professions has long been a cause for concern. Part of the problem stems from the fact that girls and young women are more likely to choose to study some subjects at both school and university than boys and young men.
All sorts of factors will be responsible for these differences, and a new YouGov Children's Omnibus study examines one – the extent to which girls and boys enjoy studying various school subjects.
The survey of more than 4,000 children aged 6 to 15 reveals which subjects girls are more likely to enjoy than boys and vice versa.
The single biggest difference in opinion is over art. While 62% of girls who are studying art say they enjoy the subject a lot, only 34% of boys say the same – a difference of 28 percentage points.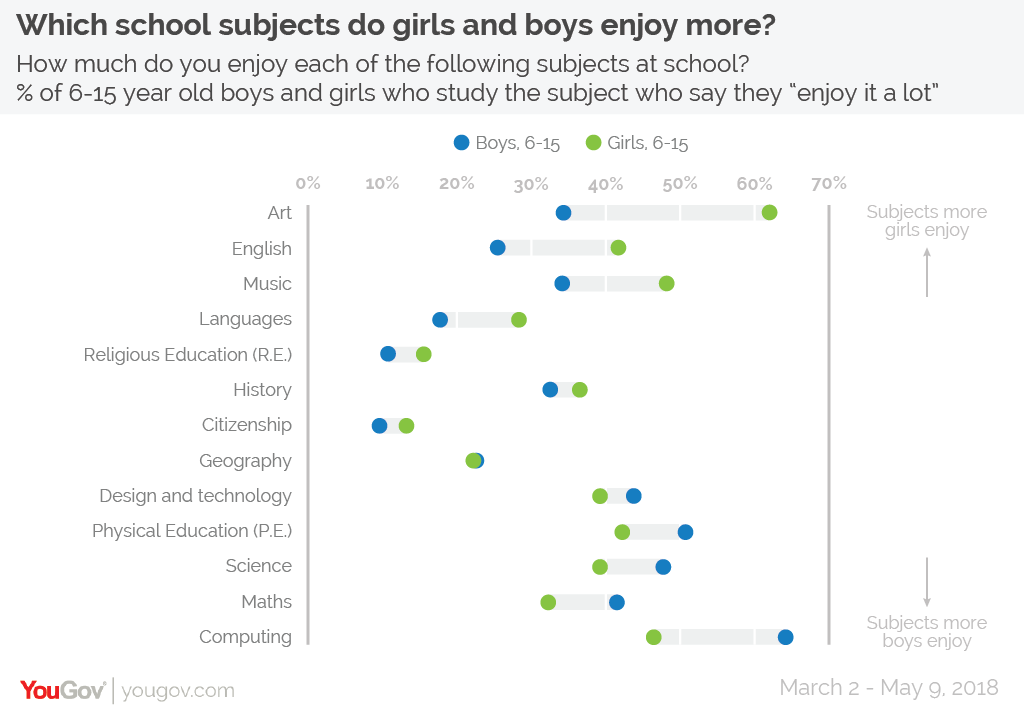 Girls are also much more likely than boys to say they enjoy English (42% vs 25% of boys), music (48% vs 34%) and languages (28% vs 18%) a lot.
By contrast, boys are much more likely to say they really enjoy computing (64% vs 46% of girls), and are more likely to enjoy maths (42% vs 32%), science (48% vs 39%) and physical education (51% vs 42%).
Boys and girls are equally likely to say they like geography a lot (23% vs 22% respectively), and only relatively small differences can be seen in enjoyment of history, citizenship, religious education and design & technology.
Photo: Getty