In September Harvey Nichols announced a management re-shuffle, so it is a good time to assess how its brand perception is holding up after the various challenges it has encountered over the past few years. 
Chief Executive Stacy Cartwright has moved into the role of Deputy Chairman – and there are currently no plans to fill the vacated position.
The shake-up in Harvey Nicholls' senior management comes at a time when it has seen its profits slide and sales flatten. Meanwhile, its perennial rival, Harrods, has achieved rising sales and profits.
Our data shows where the brand remains strong and where consumer perception is beginning to stagnate. 
When it comes to the brand's value, it's clear that for many Harvey Nichols remains an occasional treat among the few that consider it a viable option. Our brand tracking data shows that its Value for Money score was -8 in September 2016, before falling to a low point of -12 this July. It has now begun to recover and currently stands at -10.
This fall was mirrored among those that would consider shopping at Harvey Nichols. In September of last year its score was +15, before a fall to +1 was recorded, prior to a partial recovery to +9.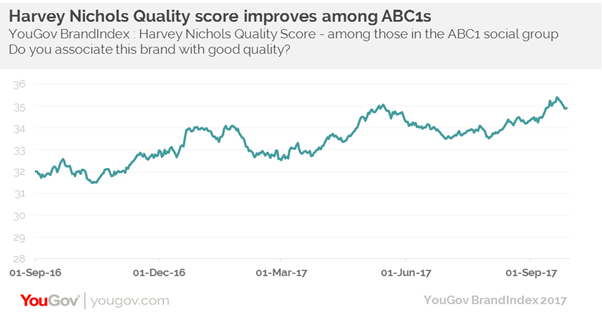 However, while perhaps understandably the brand struggles in terms of value, it excels when it comes to quality. For those in the ABC1 social grade, Harvey Nichols' Quality score it at its highest point for two years, having moved from +31 to +35 since September 2015. Among those that would consider shopping there, its score is seven points higher than it was this time last year (increasing from +65 to +72). However, among all respondents, Harvey Nichols still ranks below Harrods (+30 vs. +37), and John Lewis remains way out in front in the high-street retail sector (+59).
Of course, as an established, high-end high street outfit it has been able to rely on a strong and trusted reputation, without the need for aggressive marketing campaigns. However, any brand in a sector competing for business still needs to be talked about from time to time. Its Attention score (whether a respondent has heard something positive or negative about a brand) has remained locked at 1% over the last two years.
It may be that previous investment in Harvey Nichols is beginning to bear fruit, though the data paints to a mixed picture. Our figures point to the retailer needing a period of reinvigoration rather than revolution – while ensuring it remains relevant to a new generation of shoppers. 
Image: Getty