This month, Admiral is the brand that has achieved the greatest uplift in its Ad Awareness score (whether someone has seen its advert in the past two weeks).
This is the second time that Admiral has topped the rankings in the past six months, making it the only brand to achieve such a feat since we started the series. It last topped the list back in March and since that time the company has announced a 25% fall in profits, which was attributed to changes in the rules governing compensation for serious injuries.
In better news for the brand, its latest advert has achieved an impressive amount of cut-through with the general public. It again features 'the Admiral' character who has become a mainstay in the company's advertising since her first appearance in 2016.
Back in March, the brand's Ad Awareness score peaked at 25 points and its latest campaign has almost matched this success – rising from 12% ad awareness in July to 24% in late August.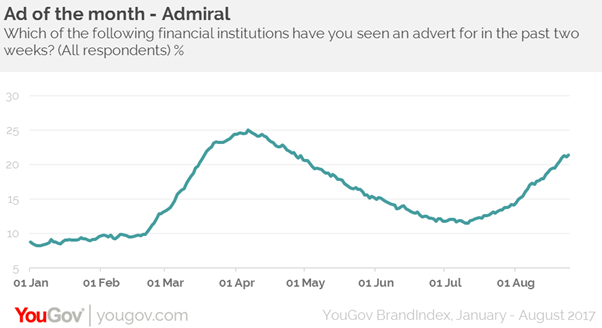 Of course, any brand hopes both for its advert to be noticed, and for it to prompt a response from consumers. In this case, among the general public, Admiral's Consideration Score (whether or not someone would consider purchasing from the brand) has jumped from +16 to +21 over the course of the last month.
With its fall in profits, Admiral may have had a difficult start to the year, but it doesn't seem to have decreased its advertising as a result.
Its new campaign, which mirrors the success of the last, suggests that Admiral has been proactive in responding to its recent challenges.
Image: Admiral