Topshop's appointment of Burberry's Chief Merchandising Officer as its new CEO raises questions about the future strategy of the brand.
Some commentators have highlighted that Topshop has been outflanked both by cheaper rivals on the high-street and online competitors such as Boohoo. It's been suggested that the 'Instagram generation' are being seduced by nimbler, more social media savvy rivals. 
Our brand tracking data seems to back-up part of this assessment. Among 18-24 year old women, Topshop ranks second to last among fashion retailers in terms of its Value score (whether the brand provides good value for money), with only Hollister scoring worse. Meanwhile, H&M, New Look and Boohoo, are all in the top five.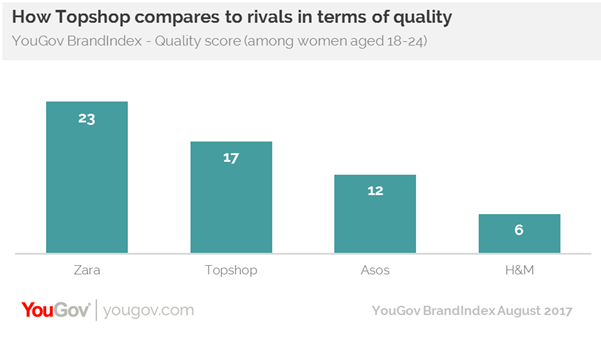 The good news is that Topshop is still regarded as a viable option for this group – suggesting that a few tweaks could help restore a dominant position. Although Topshop (+17), trails the likes of Zara (+23) when it comes to its Quality score among 18-24 year-old women, it is ahead of rivals Asos (+12) and H&M (+6). Furthermore, looking at the Purchase Consideration score for Topshop among this group, it ranks seventh out of the 48 high-street fashion brands YouGov tracks. 
However, brother brand Topman is in a better position in terms of perception. Among men aged 18-24, it ranks second in terms of Purchase Consideration, behind only Next. But while Topman is in a healthier position than Topshop when it comes to its Value score, the two brands are similar when it comes to perceptions of quality. This highlights the different challenges the two arms of the store are facing; whereas Topman is winning the value battle, at the moment Topshop is losing.
Topshop's flagship store on London's Oxford Street points towards the future of high-street shopping where retailers focus on the experience customers have while in the shop. However, while that particular store stands out as a London retail landmark, other stores don't currently have quite the same appeal. Therefore, it is becoming more difficult for Topshop to both stand out from its rivals and appear new and exciting to its target customers.
Image Getty