BrandIndex data indicates that the partnership with Wimbledon and accompanying summer campaign "Serve One to Remember" has been worth it.
This year marks Stella Artois' fourth year as the official beer of Wimbledon. 2017's promotional activity has included TV and social media ads, luxury "Vantage Point" viewing events in London, and the brand has also teamed up with retailers to offer consumers a free chalice with its limited edition Wimbledon packs.
Over the years, Stella Artois, which is owned by AB InBev, has sought to position itself firmly as one of the high-end brands in the beer market. BrandIndex data shows that in the premium beer market only Kronenbourg and Peroni have a higher overall Impression score. Among tennis enthusiasts, Stella Artois is only bested on Impression score by Peroni.
More recently, its "Be Legacy" messaging (launched in 2016) has focused on its classic heritage, a theme that fits well with Wimbledon's prestigious reputation and long history.
Since the end of June, immediately before the Championships began, there has been a five point jump in its Ad Awareness score among the general public — from +9 to +14. Over the same period there has been an even more pronounced increase among tennis fans, rising from +7 to +15.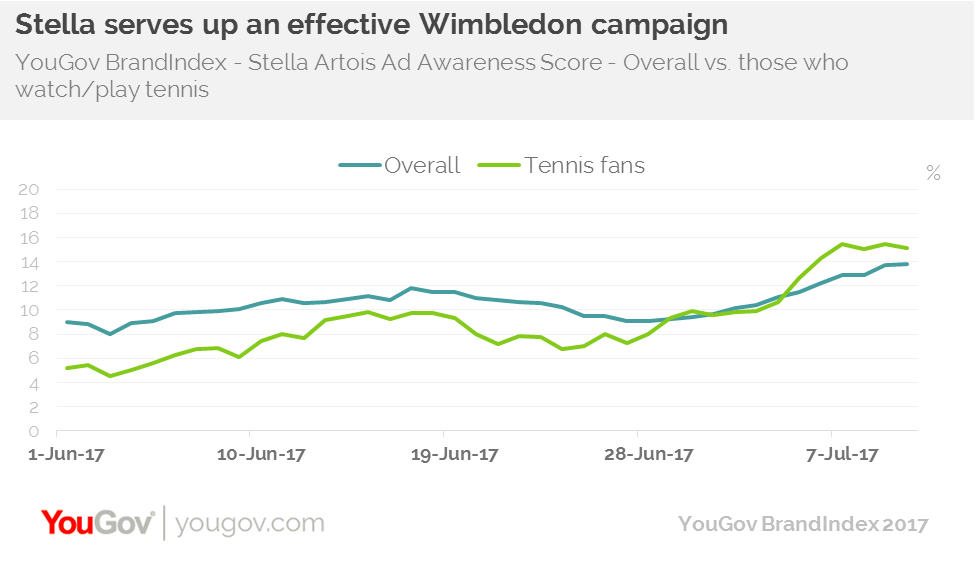 In the same timeframe, Stella Artois' Buzz score (whether people have heard something positive or negative about the brand) has also increased – moving from 0 to +4. Likewise, the number of people who say they would consider buying the brand has risen, with its purchase consideration score jumping from +15 to +26.
All the indications are that the partnership with Wimbledon is successfully aligned with the beer brand's wider marketing strategy.