Recently, John Lewis announced it was cutting its staff bonus to 6% of salary, which is its lowest level since the 1950s. It is the fourth year in a row the bonus has been trimmed, despite the group posting large profits. 
So what is really going on? Could it be that away from the hysteria of its Christmas campaign, John Lewis' crown is beginning to slip? Or is the business simply taking the necessary steps to guard against an increasingly uncertain set of market circumstances?
John Lewis remains a strong brand with a loyal customer base and an enviable reputation.
However, YouGov brand tracking data helps to show how consumer perception of the brand has shifted over the last few years, suggesting it isn't as imperious as it once was.
Its Impression score (which measures whether people have a positive impression about the brand) has dropped notably since the beginning of 2014. Indeed, in the past three years its score has declined by 6 points (+57 to +51).
This is reflected across other YouGov metrics. Its Value score (whether it provides value for money) has also declined by 10 points since January 2014 (+30 to +20). For a company that prides itself on its 'Never Knowingly Undersold' ethos, this should be a worry. As online competition intensifies, the pressure on the price promise will intensify.
It is important to note that while these scores have declined, they remain very strong scores. Indeed, only Marks and Spencer rates higher than John Lewis in terms of Impression score.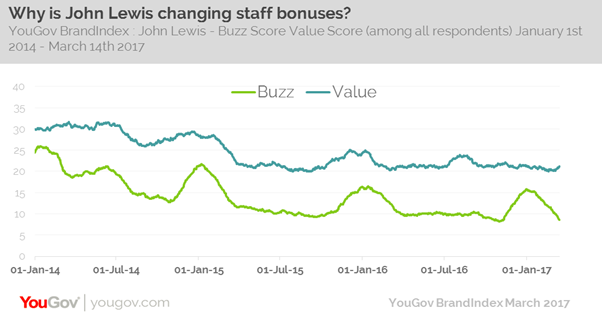 The brand has not been helped by negative headlines. While John Lewis receives a huge boost in attention and largely positive press each Christmas, overall, it has gradually slipped from its seemingly unflappable position. Although its Buzz score (whether people have heard something positive or negative about the brand) is still positive, it is now notably less so – falling from +22 in March 2014 to its current level of +10.
However, it is important to place this is context. John Lewis is still out performing its main rivals – Debenhams, House of Fraser and Selfridges – across most of our metrics, and overall it remains one of the healthiest brands we track. Indeed, it appeared in fourth place in YouGov's annual BrandIndex rankings in January.
That said, one of the reasons for John Lewis' appeal that it is seen to do things "the right way" – with its "never knowingly undersold" ethos and the way it treats its staff helping to separate it from other retailers.
While the changes John Lewis has made to its business may take some of the air out of its perception scores in the short term, the brand remains strong. The past decade has shown that retail can be a volatile sector and the coming year could be a tricky one for high street stores with a rise in the 'living wage', pressure on the pound and a possible squeeze on household finances.
The chances are that John Lewis is right to pre-empt the long-term challenges it foresees. 
Image PA