For the third year in a row Aldi and Lidl fill the two top spots on YouGov BrandIndex's list of the UK's top brands
After a year of consolidating their positions among their growing customer bases and starting to challenge high-end supermarkets, such as M&S and Waitrose, both retailers continue to make the weather of the British supermarket sector and redefine the shape of retail.
YouGov BrandIndex measures the public's perception of brands on a daily basis across a range of measures. The annual rankings were compiled using Buzz scores from across all 52 weeks of last year. Buzz scores measure whether people have heard good or bad news about a brand during the previous two weeks.
Aldi takes the top spot with an average Buzz score of +16.8 while Lidl follows closely behind on +13.4. The rest of the top five is filled by BBC iPlayer (+11.8), John Lewis (+11.1) and, new entry, MoneySavingExpert.com (+11.1).
Michael Stacey of YouGov: "It no longer seems valid to label Aldi and Lidl as 'Budget Supermarkets'. With so many of competitors following their lead in various ways and they themselves pushing higher-end goods, both are now firmly part of the mainstream.
"The slight decline in both brands' Buzz scores is indicative of this – being a challenger often makes it easier to grab people's attention in a way it is harder to do once you are firmly established. However, the fact they are still way out in front of the rankings suggests that their messages are still making waves among the masses."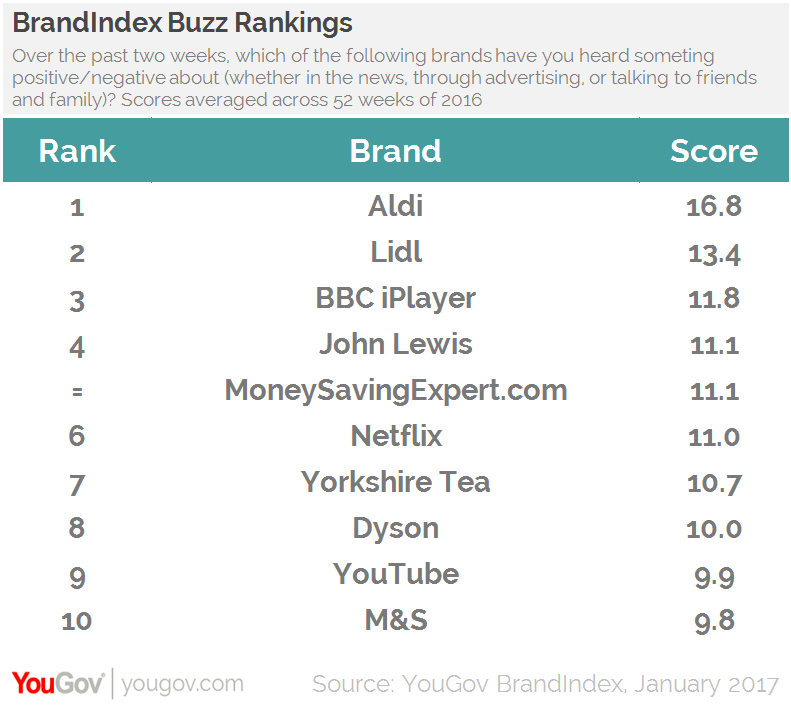 One notable new entry into the top ten this year is Netflix, in sixth position with a score of +11.0. The streaming service has cemented itself as a heavyweight broadcast brand with the likes of The Crown, its drama looking at the early reign of the Queen.
Its position as a major player in television and film was confirmed last week when BBC Director General, Lord Hall, announced the corporation' would soon allow viewers to download episodes en masse to encourage binge watching, in direct response to the likes of Netflix and Amazon Prime Video.
The other top ten brands are made up by Yorkshire Tea, Dyson, YouTube (another new entry) and M&S, which recently announced a big improvement in its sales figures for the festive period.
Michael Stacey continues: "Streaming really has become a normal part of everyday life in the past 12 months. Although BBC iPlayer has been a fixture in the top ten for many years, it has now been joined by Netflix and YouTube.
"We have seen similar trends in recent years as brands truly become established – a few years ago the same thing happened with device manufacturers such as Apple and Samsung making waves off the back of big sales of their smartphones and tablets. However, as these brands showed, it is harder to maintain buzz when you move to the mainstream.''
YouGov BrandIndex has also released the ten "most improved" brands of the past year. Tesco tops the list, and by some distance – its buzz score improving by +12.2 points in 12 months. It follows a return to form for the retail giant after a testing few years.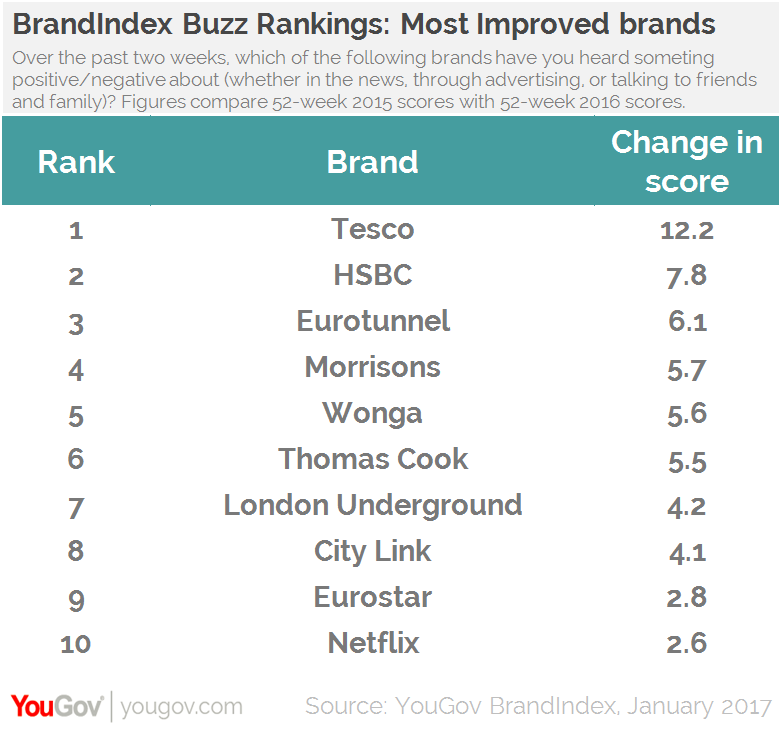 Fellow supermarket Morrisons also makes the list, coming in at number five with a score +7.8 points up, indicating that the larger supermarket brands are reacting well to the discounter challenges, after a few trying years during which their market share has been threatened.
Several transport brands are also in the top ten with Eurotunnel (+6.1) in third, Thomas Cook (+5.5) in sixth, London Underground (+4.2) in seventh and Eurostar (+2.8) in ninth. 
Image PA