High street retailer Next cut its full-year profit guidance following a worse than expected Christmas trading period.
Shares in the company fell sharply following the news. In the past, various reasons have been put forward to explain various retailers' struggles – such as unseasonable weather – but it now seems that the causes of this sluggish performance are less specific and more general.
This time, the worse than expected figures have been put down to two things. Firstly, rising inflation, which is putting pressure on personal finances. And secondly, consumers choosing to focus their spending in other areas – such as eating out and other leisure pursuits. Retailers are also having to contend with the impact of rising business rates and a higher minimum wage.
| | |
| --- | --- |
| Find out if we track your brand | |
Next has reacted by announcing it will raise prices to cover higher import costs following the vote to leave the EU, meaning a shopper could now potentially expect to pay 5% more for an item than they would have last year.
YouGov's brand tracking data indicates that in the case of Next, those that would consider buying form the store are already noting a decline in value for money. Among this group, Next's Value score has declined by nine points since the beginning of December. Notably, the score is also four points lower than this time last year.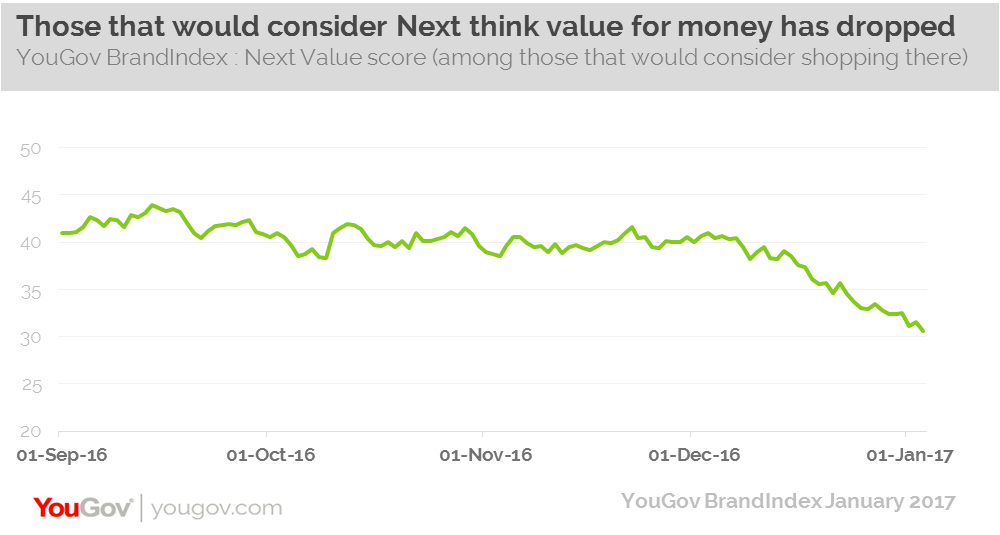 Next's policy has been to not launch a major sale until the traditional Boxing Day event. However, some high-street rivals do now launch sales before, which may have impacted on its Value score. Alternatively, customers may also perceive prices to have risen in recent months.
In this next twelve months it may well be that high street retailers are faced with a rather stark dilemma; raise prices in an attempt to offset higher import costs but risk alienating customers, or keep prices the same in attempt to maintain market share whilst potentially damaging profits.
Next will not be the only brand to face tougher times. Many other retailers – already under pressure from increased online competition – will be looking to the coming year with a sense of trepidation.
Image PA