The uptake of the new tech has been slower than its predecessor 4G so far
The UK 5G network has now been operational for over a year now, but YouGov data reveals that uptake has been slower than the 4G technology that preceded it.
So how many Brits are using the new super-fast network? Network Operators have been offering increasing coverage since 5G launched last year, but June last year, the proportion of smartphone users on 5G contracts has only increased by 2 percentage points, rising from 3% to 5%.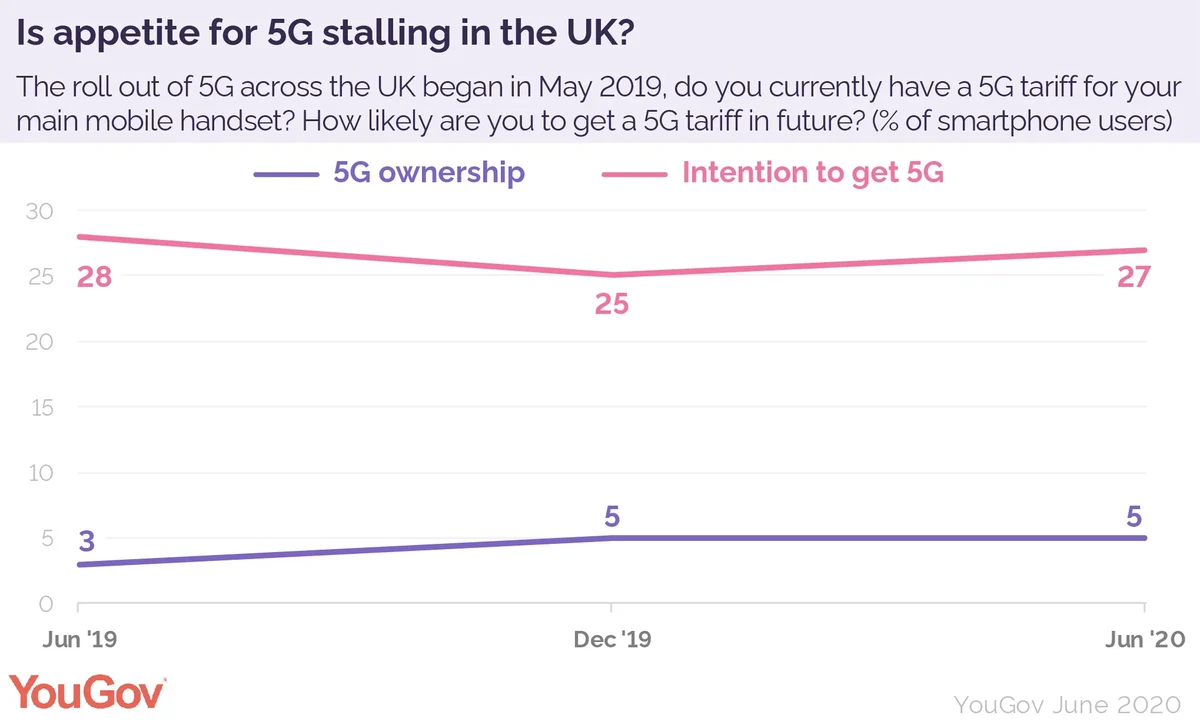 Alongside this, the percentage of smartphone users looking to upgrade has yet to increase, with 27% intending to upgrade to 5G as of June 2020, compared to 28% who said the same in June 2019.
Comparing the uptake of 5G to that of 4G is not straightforward, given that for the first twelve months the 4G technology was exclusive to one provider, EE. However, what we can take away from the data is that 4G uptake remained steady, and increased each period even with that restriction. Once it was open up to all other operators penetration increased considerably.
In the third six-month period following their introduction, both 4G and 5G accounted for 5% of smartphone users, despite the restrictions on 4G being on one operator. Following this 4G, rose 7 percentage points in its fourth six month period after other network operators offered the technology to their customers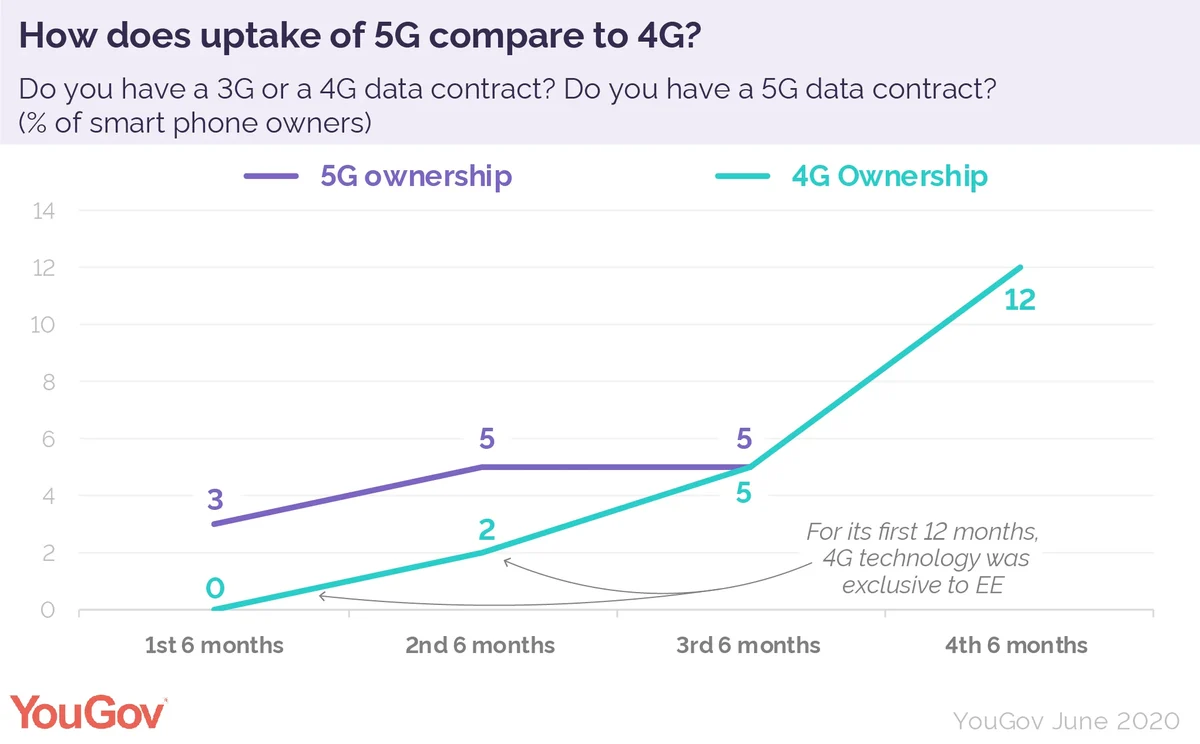 Despite this, YouGov data does show 27% of smartphone users intend to upgrade to 5G. So who are they? Looking to brands, iPhone owners (38%) are 10 percentage points more likely than the nearest brand to say they are likely to upgrade. Apple handset users are also the least likely to reject the new tech, with only 19% saying they are unlikely to upgrade to 5G. This is good news for Apple with its imminent launch of the iPhone 12 heavily rumoured to have 5G technology.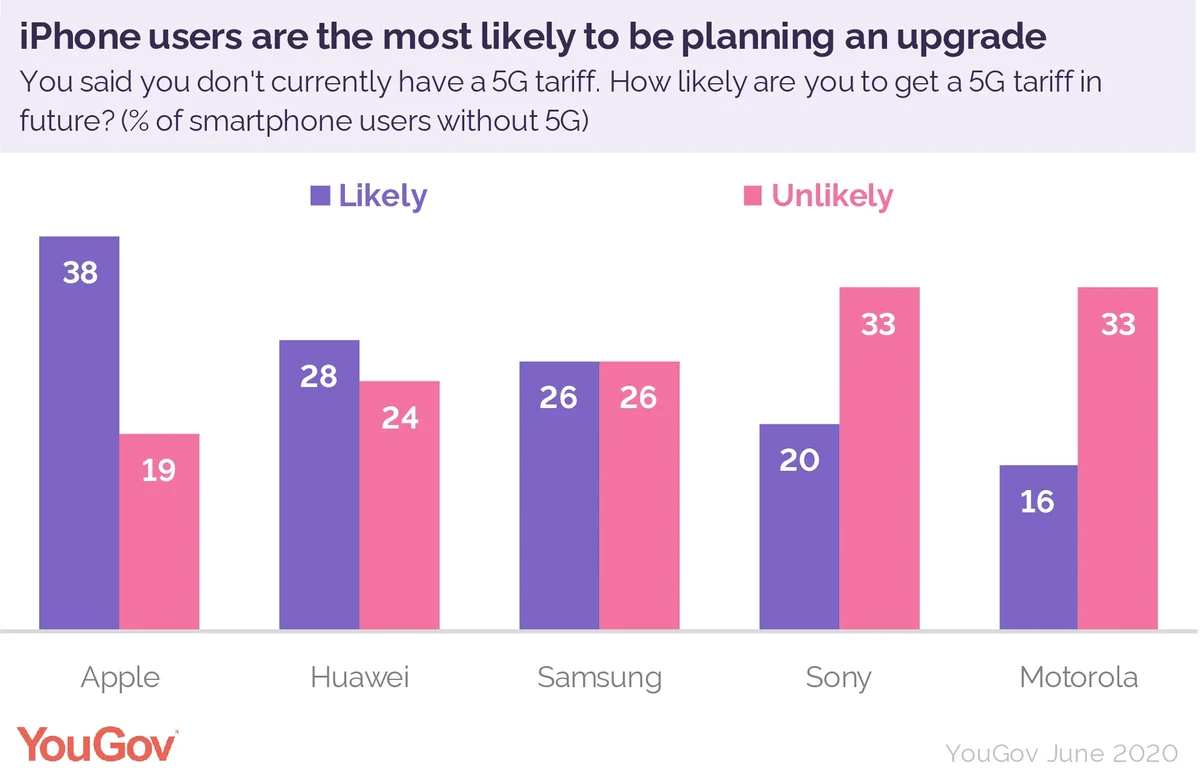 Nearly three in ten (28%) of Huawei users without 5G also say they are likely to upgrade to a new 5G contract, compared to 26% of Samsung users. One in five Sony users (20%) also say the same, as do 16% of Motorola users.
Motorola and Sony handset users are tied as the least likely to want to upgrade to 5G, with a third (33%) of each brands users saying they are likely to do so.