Most smart speaker owners aren't the type to go out and get the latest gadgets
Almost four years after the introduction of Amazon Echo – the first major smart speaker – to the UK, newly released YouGov research reveals that one in four Britons (27%) now own a similar device.
However, most Britons (55%) say they are not at all likely to buy a smart speaker in the next 12 months. Only 6% rate themselves an 8/10 or above on their likelihood to buy one. Nevertheless, we know that sales do intend to increase around Black Friday and Christmas – and that many owners receive their smart speakers as gifts.
The Echo dominates the market currently. Fully 78% of smart speaker owners possess a product from the Amazon range. A quarter (23%) possess Google Home, while 5% own a Sonos device. Just 2% own a smart speaker from Apple, and 2% have one by another brand.
Smart speakers seem to serve as a gateway device to ownership of other smart devices: 47% of all owners of smart devices say they that their first such device was a smart speaker. This figure rises to 59% among smart speaker owners.
Four in ten smart speaker owners (40%) say they own at least one other smart home device.
Other smart devices owned by smart speaker owners include: smart lighting (22%), smart home thermostats (18%), smart security systems (13%), and 8% own some form of smart domestic appliance.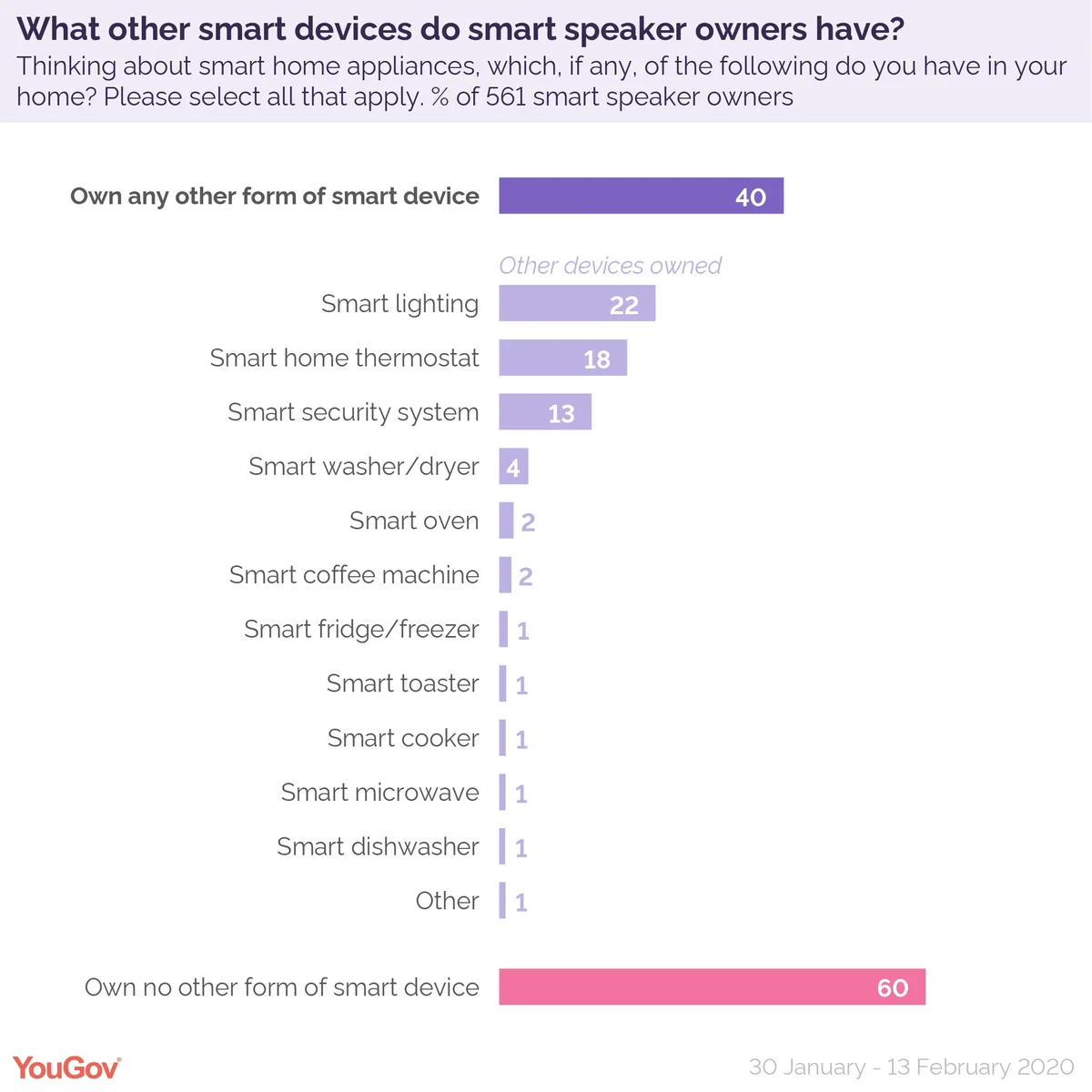 The survey shows that smart speakers are no longer just for early adopters and have become a fixture of many non-techy homes. Just 16% of owners agree with the statement "I'm actively on the lookout to buy new technology devices and services" or "I'm always keen to use new technology products as soon as they enter the market".
In fact, most (56%) agree with either the statement "I sometimes buy new technology products but only when I really like them" or "I only replace technology products when they go wrong or are broken".
Similarly, separate data from YouGov Profiles found that a majority of smart speaker owners (54%) disagreed with the statement "I am often among the first of my friends to try new technology products and services".
The biggest appeal of smart speakers is the listening experience. Asked why they had bought their device, 72% of owners said it was because they wanted to listen to music/radio/podcasts, etc.
Four in ten (43%) want to ask it questions, 38% want news and weather updates and 37% want to use its ability to set timers or give them reminders.
One in three (35%) wanted a smart speaker because they find it easier to control things or ask assistance by using voice commands.
An even greater number have found this feature useful having bought the device. The YouGov Profiles data found six in ten owners (60%) saying that giving verbal commands to their devices is "a real time saver".
They can, nevertheless, exasperate their human masters. A 2019 YouGov poll of smart speaker owners found that most can be rude to their virtual assistants.