As more streaming services experiment with moving away from the "binge-watch" model, three in ten Britons say they're more likely to complete a show when every episode is released at the same time - versus just 17% of those who watch weekly
In 2013 Netflix released every episode of House of Cards at once – fundamentally changing the way many people consume TV and motivating many other providers to follow their example. But it's not a model that has been a success for every series or every streaming service: there have been arguments that the "binge" structure limits the buzz around certain shows and can even ensure they "disappear from the cultural conversation" earlier than they would otherwise.
With Disney+ using a week-to-week model for The Mandalorian – and with Amazon announcing that Season 2 of The Boys will transition towards weekly episode releases – it's worth exploring how viewers feel about the way that TV shows are delivered to their living rooms.
YouGov Daily data indicates that those who have access to a series all at once are more likely to complete it: three in ten (31%) believe the binge model is more conducive to finishing a show than the week-by-week model – with 17% believing they're more likely to get to the end of a series that's released week by week.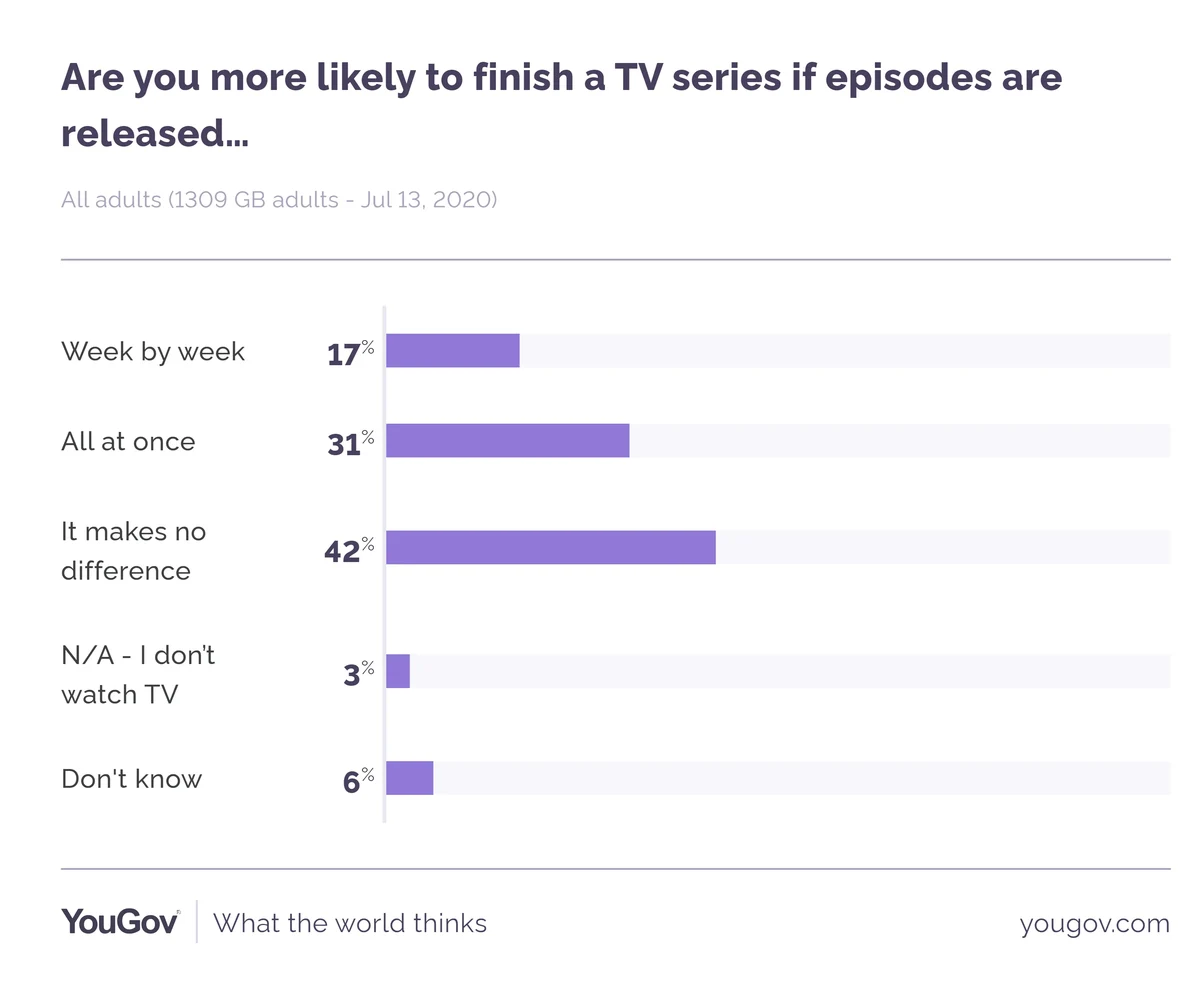 When those who don't mind how a series is released are combined with those who are more likely to complete shows they watch all at once, they amount to more than seven in ten (73%) viewers. What's more, there's evidence to suggest Brits actively favour TV series that make every episode available at the same time.
According to a YouGov Daily poll from September 2019 most (52%) would rather have access to a show that releases every episode at once compared to 38% who want to watch shows on a week by week basis. Our data indicates that the public certainly make enough time for binge watching TV: 55% of Brits watch more than 10 hours of TV a week, and three in ten (29%) watch more than 20 hours.
So streaming providers may have to strike a delicate balance between giving the majority who favour binge watching what they want – and extending the longevity of their content, which may have more opportunities to build an audience and a cultural conversation when episodes are released on a weekly basis.