YouGov Custom data indicates that UK gamers are more interested in the PlayStation 5 than the Xbox Series X
There's a broad consensus that Sony "won" the eighth generation of console gaming: by some estimates, the PlayStation 4 (PS4) outsold the Xbox One by more than two-to-one. But who's likely to win the ninth generation when the PS5 and Xbox Series X are released in winter of this year?
YouGov data reveals that Sony's PlayStation 5 (PS5) is clearly ahead in terms of purchase interest: a third (34%) of UK gamers are either interested in buying the device or definitely intend to buy the device within the first 12 months of release – rising to 56% of those who use a games console – compared to just 20% for the Xbox Series X (rising to 36% of console gamers overall).
Advantage Sony? Perhaps, but it's still too early to say. The survey was conducted before the PS5 reveal event, which has now happened, and the Xbox Series X event, which has not. Sony's livestream revealed new entries in the platform's exclusive Spider-Man, Horizon, and Gran Turismo franchises – as well as a host of fresh IP – and finally unveiled the design of the console. Microsoft's yet to show its hand, and when it does, it could tip the balance in either direction.
Whoever ultimately "wins" will depend largely on who best understands the current high-end gaming landscape. But what does that landscape look like – and what might it look like in the future?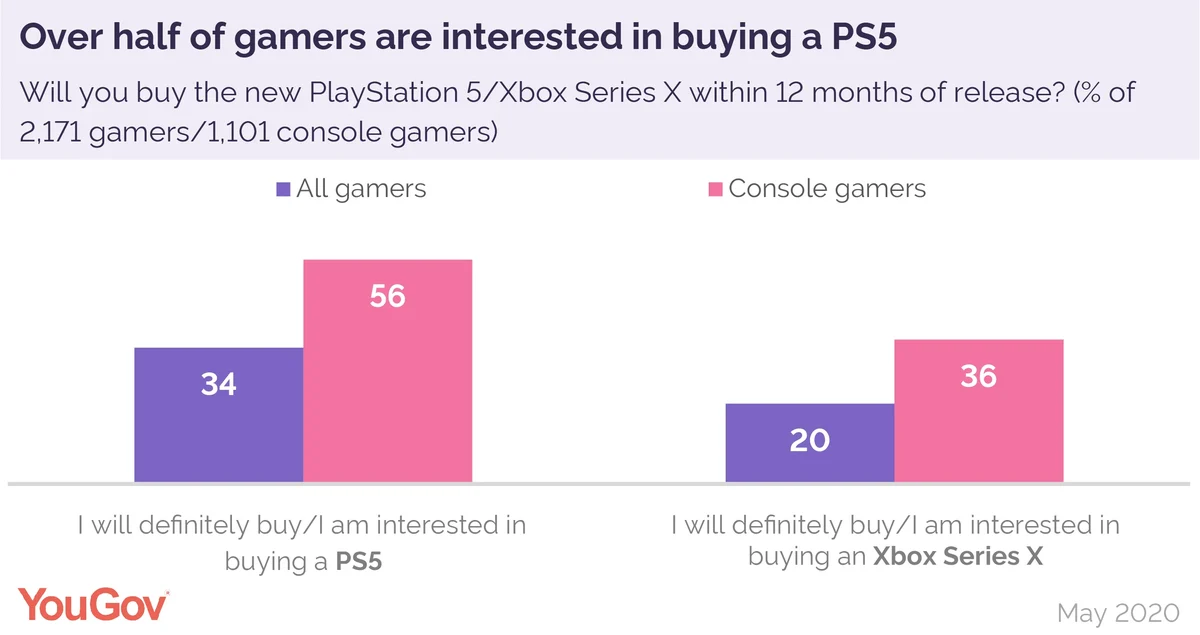 Can PlayStation hold on to its lead?
Seven in ten (70%) gamers own or have access to a console. Of all gamers, 40% own a PlayStation, 30% have an Xbox, 26% have a Nintendo Wii, and 16% have a Nintendo Switch.
When asked why they play video games, gamers are most likely to cite value for money (49%) quality of graphics (46%), and device processing power/speed (36%). But when PlayStation and Xbox owners are asked why they use their specific consoles, the variety of games wins out, hitting 37% for the former and 30% for the latter. Graphics are also a major consideration for three in ten (30%) PS owners compared to a fifth (21%) of Xbox owners.
So it's probably no surprise that PlayStation – which, in the earlier stages of the generation, offered a higher-powered console at a lower price, and with a wider array of exclusive games from its in-house studios – outperformed Xbox. It's also no surprise that Xbox have taken a different tack for the upcoming ninth generation: Microsoft are aggressively marketing the Series X as "the most powerful console ever made", and the software giant has bought a number of well-known development studios with a view to bolstering its games line-up.
Sony is moving towards digital purchases – will Microsoft follow?
But there's evidence that, if Sony is still emphasising its games line-up, it's also adjusting its strategy to suit the times. YouGov data indicates that three-quarters of console gamers (75%) prefer physical copies to digital – a strategy which forces publishers and developers to lose money on preowned games. But four in ten (43%) buy games digitally, which allows these businesses to keep more of the money they make from sales – and crucially, share less of it with retailers.
Sony unveiled a discless, digital-only Ps5 alongside a conventional model with a disc drive. The bet seems to be that gamers will be attracted to a (presumably) lower price point, even if it means they also forgo the option of buying from resellers.
Whether it pays off or not, and whether Xbox does something similar, remains to be seen.
Beyond digital or physical purchases, game streaming services have become a reality – and there's clear interest in it from some quarters. Overall, 8% of gamers in the UK are interested in signing up to a new gaming subscription service such as Apple Arcade, Google Stadia, or Microsoft XCloud. Xbox Game Pass, which allows access to a large library of first and third-party games for a recurring monthly fee, offers gamers another option.
The ninth generation, then, might not be a battle fought solely over price points, exclusives, and raw power: game streaming, subscription services, and digital versus physical purchases are likely to be instrumental in determining short and long term sales. With Apple, Google, and other giants joining the fray, we can't even decisively say that it'll be a battle fought solely between Microsoft and Sony.