The coronavirus outbreak has caused a record drop in global smartphone sales – but Brits are not more inclined to repair their devices than they were before the pandemic
New YouGov research shows that 48% of tablet, 45% of smartphone and 31% of laptop owners would buy a new device if the one they had stopped working, rather than attempt to have it repaired.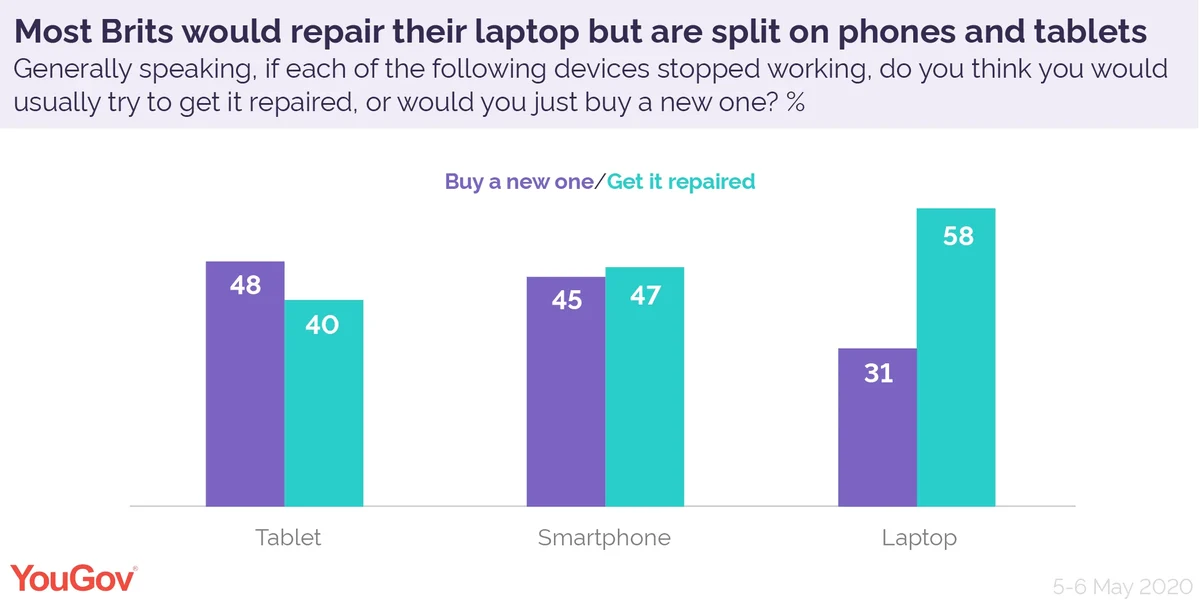 The numbers are in line with a survey from before lockdown in mid-March when a similar number of Brits said they would buy a new laptop (31%), smartphone (43%) or tablet (45%) under the same circumstances.
The figures suggest that despite coronavirus causing the steepest ever quarterly fall in global smartphone sales, Brits are not more inclined to resort to repairs to put off new device purchases.
The UK is among the world's largest e-waste producers per person.
The cost puts many Brits off repairing devices that stop working
Half of Brits who say they would not repair their device if it became necessary (53%) cite cost as one of the reasons. It's the most common answer along with having a device that's already old (53%).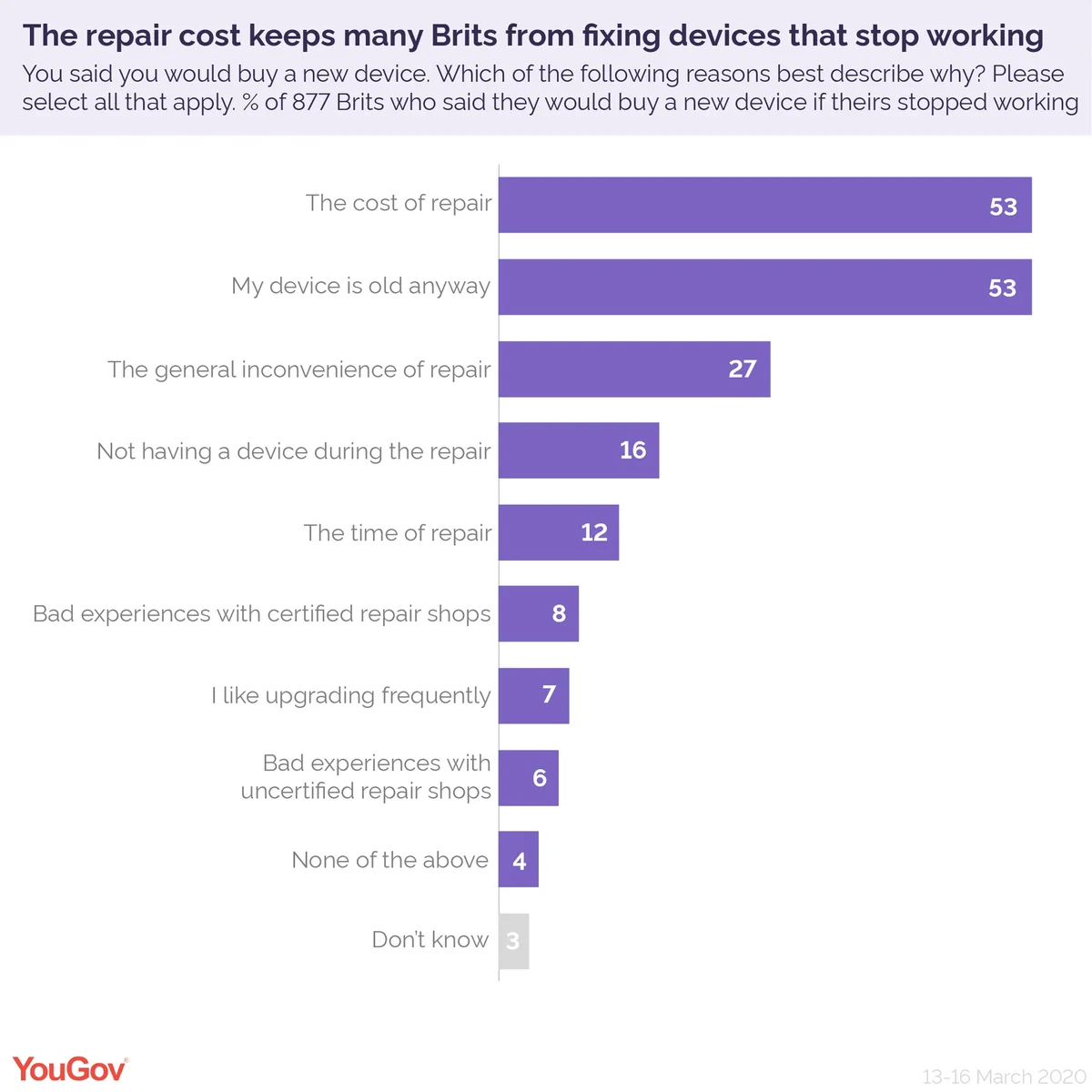 Other typical reasons for discarding a device instead of repairing it are the general inconvenience (27%), not having a device during the repair (16%) and the time it would take to get it fixed (12%).
Only 7% of those who would buy a new device say it's because they like upgrading frequently.
In March, the EU Commission proposed legislation that would address many of these issues by forcing manufacturers to produce laptops, tablets and phones that consist of repairable and recyclable parts. While the move would also benefit UK consumers, it has been postponed due to coronavirus.
Younger smartphone owners upgrade most frequently
Seven out of ten British smartphone owners (70%) replace their phone within four years. This includes 28% who buy a new phone every one to two years.
Younger people upgrade the most frequently, with 40% of 18- to 24-year-olds replacing their smartphone within two years. The figure drops for every subsequent age group.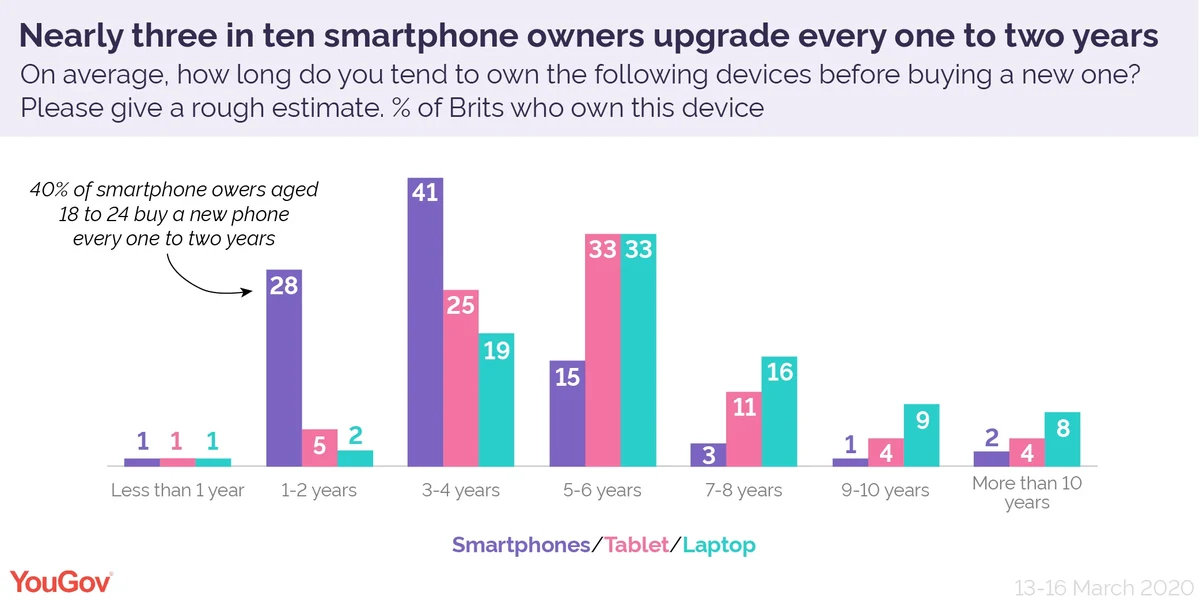 Brits who own tablets and laptops replace them less frequently. Three in ten (31%) tablets owners buy a new one within four years, while for laptop owners this figure is 22%.
A third of laptop owners use their device for at least seven years, compared with a fifth of people who have a tablet and only 6% of smartphone holders.