One in four (28%) companies are worried they'll actually have to spend more money on their tax affairs after changes take place to make filing taxes online mandatory
Making Tax Digital (MTD) is a new Government initiative that will make it mandatory for firms to file their taxes online, removing any option to do it on paper. But YouGov survey of 502 decisionmakers in UK micro businesses, defined as businesses with a maximum of nine employees, shows that one in eight (12%) haven't even heard of the initiative despite it coming into effect for most on April 1st.
Many are also unenthusiastic the prospect of MTD making things easier or more efficient.
Stress reduction
Half (54%) of senior decision makers whose micro businesses have already begun filing electronically feel the move will make accounting and tax reporting easier for their business, although one third (31%) disagree.
But a mere six percent of micro businesses overall think MTD will reduce stress, including those who have not yet moved to the new system. Just one in four (23%) think they'll have less paperwork to do, and one in five (19%) feel it will make managing their tax affairs easier and more efficient.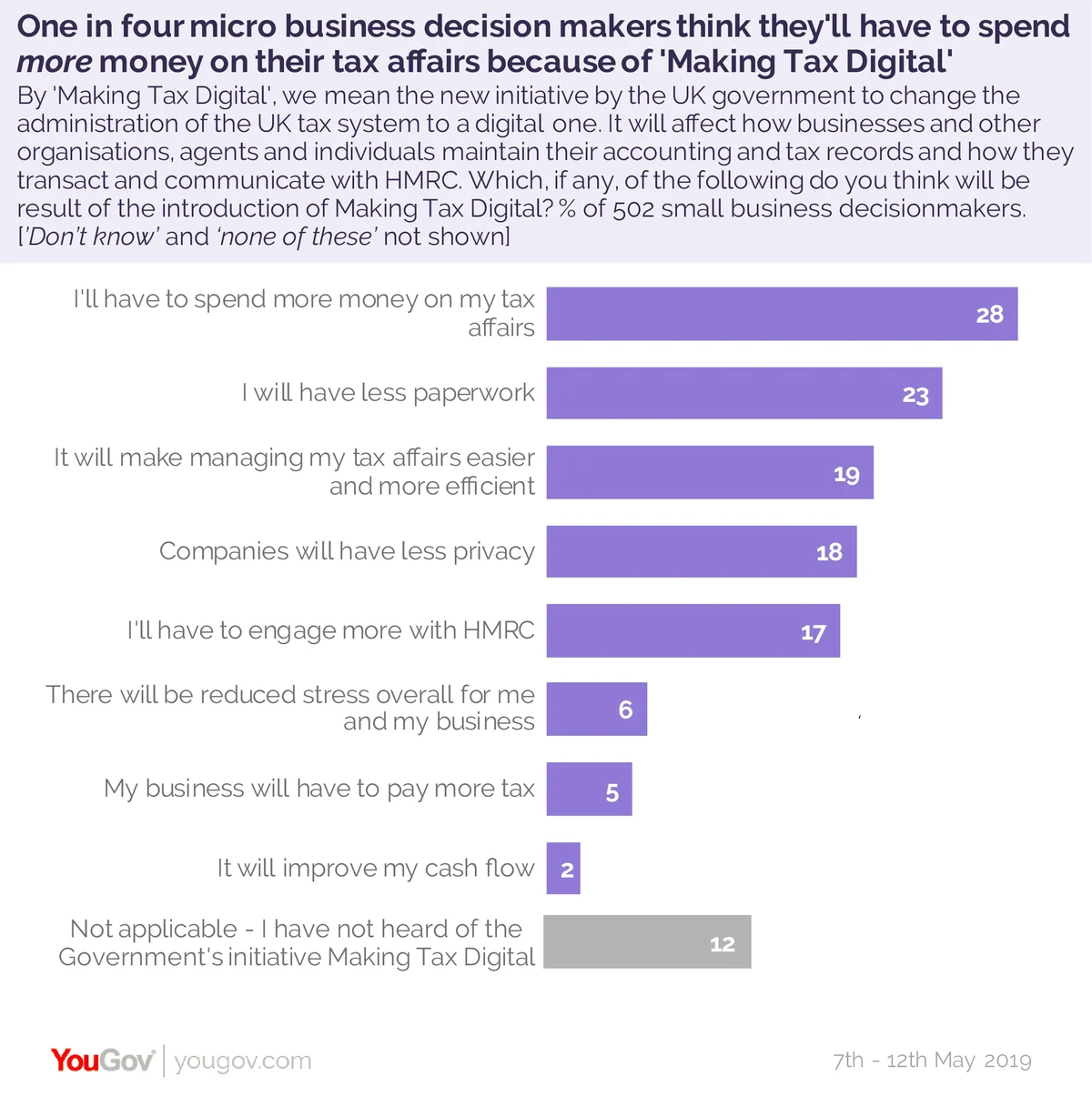 A small proportion of decision makers are concerned about the possible consequences of the change. Just over a quarter (28%) think they'll spend more money on tax affairs, one in five (18%) worry their company will have less privacy and one in six (17%) believe they will have to engage more with HMRC.
Shifting to digital tax in advance
Despite qualms from some quarters, one in four bosses whose businesses have already moved to digital tax say they did so over a year in advance of the deadline. One in seven (13%) moved between six and twelve months ahead, while just over a third (38%) left it to the last six months. One in eighteen (7%) scraped in just two to three weeks ahead of the deadline.
The majority of businesses did not need to pay for extra resources in order to make the move to digital tax, be it in the form of additional staff or new software. Just 2% needed a new bookkeeper, one in four (27%) purchased new software, one in ten (10%) introduced new training and one in nine (11%) set aside extra contingency funds.
More than half of senior decision makers in micro businesses which have not yet moved to digital tax feel unprepared for the change (57%). Just one in twelve (12%) are 'very prepared'.
Photo: Getty
See full results here