Recontact survey of Premier League fans shows Liverpool, Chelsea and Man U fans emboldened in their belief they can win the title this season
A new YouGov Direct survey of Premier League fans reveals that the opening weeks of the 2021/22 season have already prompted big swings in the opinions of supporters. Using YouGov Direct, we interviewed the same group of fans twice, once before the season in mid-August, and again during the international break, to see how the start of the season has affected attitudes.
Are fans confident in their team and manager?
Arsenal have had a rough start to the 2021/22 season, with three back-to-back losses sending them to the bottom of the table. As a result, confidence among Gunners fans has taken a significant dive. Before the season kicked off, 55% of Arsenal supporters interviewed with YouGov Direct said they were confident in the team. This figure has since dropped 27pts to just over a quarter (28%). This trend is not limited to Arsenal, with fans of several other teams having lost a lot of faith, including Leeds United (79%, down 14 pts from pre-season) and Leicester City (84%, down 13pts).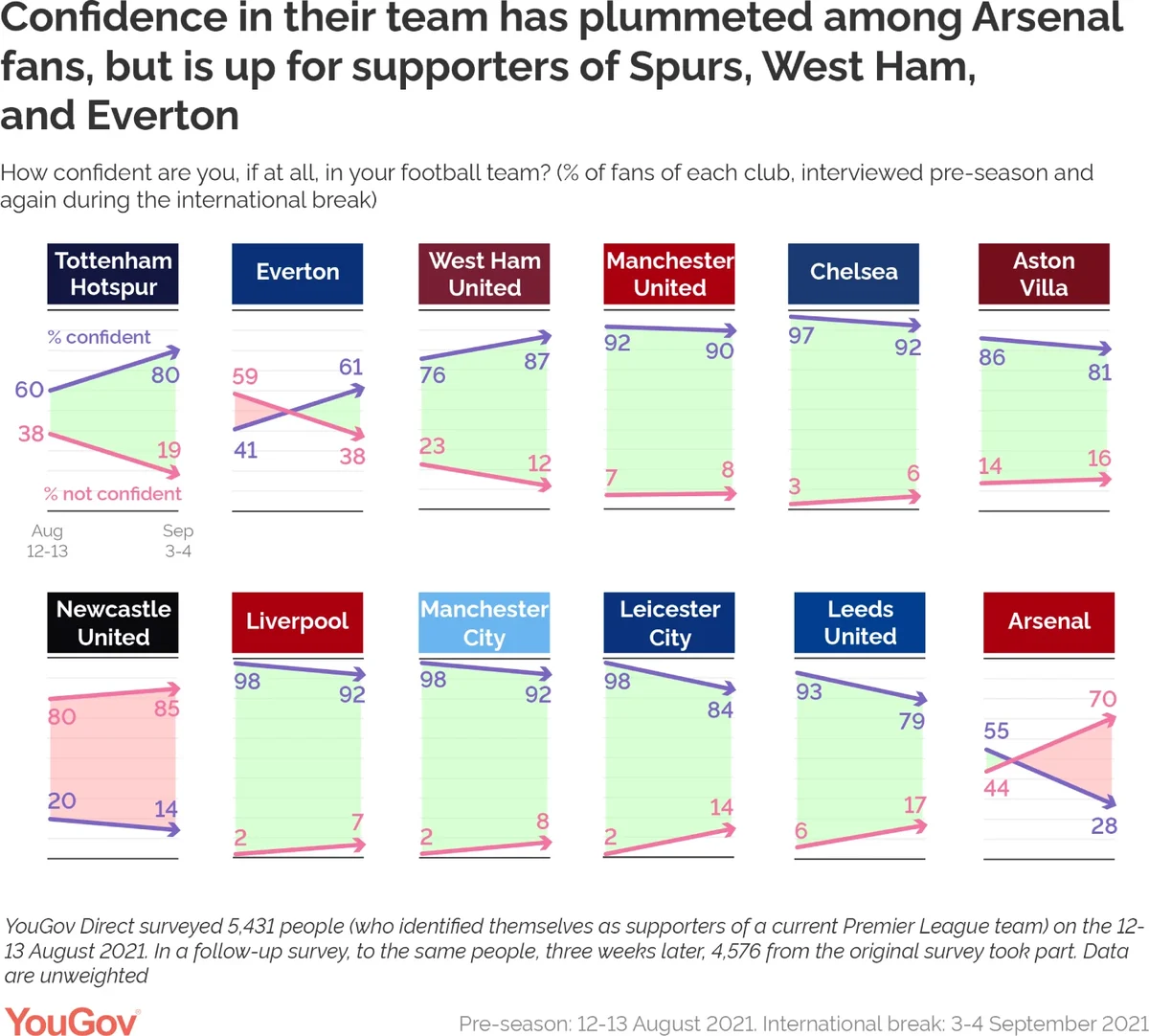 For others, however, it is quite the opposite. Tottenham Hotspur have seen three consecutive winners under new boss Nuno Espírito Santo. This winning streak, as well as successfully retaining key striker Harry Kane for the foreseeable future, could be behind the 20pt rise in confidence in the team. Some 80% of Spurs fans interviewed are now confident in the team, compared to 60% of the same group before the season began. Everton too has seen a 20pt boost in confidence, rising from 41% to 61% off the back of two wins and a draw in the first three games of the season.
Of the other teams in the league, Liverpool, Chelsea, and Manchester City all tie for the highest level of confidence, with 92% of fans for each team being confident in their squads. They are closely followed by 90% of Manchester United fans. Newcastle United fans are the least confident, at just 14%.
It is a similar story when fans were asked about their club's manager. Unsurprisingly, confidence in Nuno Espírito Santo among Tottenham fans YouGov interviewed grew from 64% to 83% following his successful opening campaign, including nearly a quarter who are now "very confident" in Nuno (24%).
The opposite is true for Arsenal his rival, Mikel Arteta. Following a poor start to the season, confidence among Gunners fans interviewed is down 32pts compared to before the season, with just a third (35%) now holding confidence in the manager. Some six in ten (61%) of the Arsenal fans YouGov interviewed are not confident in Arteta's leadership - including 26% who are "not at all confident" in their manager.
Only Newcastle United manager Steve Bruce receives less confidence. Just 19% of Newcastle fans interviewed say they have confidence in him, versus 71% who do not.
Who will win the league this year?
The big question, of course, is whether Manchester City will make it another back-to-back Premier league win this year. They are the bookies' favourite to lift the trophy, but research with YouGov Direct shows that the proportion of fans predicting another win for Pep Guardiola has fallen since the start of the season.
Overall, 32% of fans interviewed pick City as the winner, down 18pts from 50% before the season began. Elsewhere, 19% say Chelsea are the likely victors, up 7pts since the beginning of the season. Another 17% think that Manchester United could secure their first Premier League win since Sir Alex Ferguson left the club – also up 7pts since August.
Following their strong start to the season, the proportion of Spurs fans saying thinking Tottenham stand a chance of winning has risen an additional 27pts on the pre-season survey – the biggest increase among the teams surveyed. Tottenham fans are now split between 34% who think Spurs could win, and 32% who think Manchester City will again.
Elsewhere fans of teams also jostling for the top spot back themselves, including 69% of Chelsea fans who think Chelsea will win – up 12pts from 57% in August. Six in ten (60%) Manchester United fans back themselves, 20pts more than did so before the season began, and 59% of Liverpool fans think Liverpool will win, increasing 8pts versus pre-season.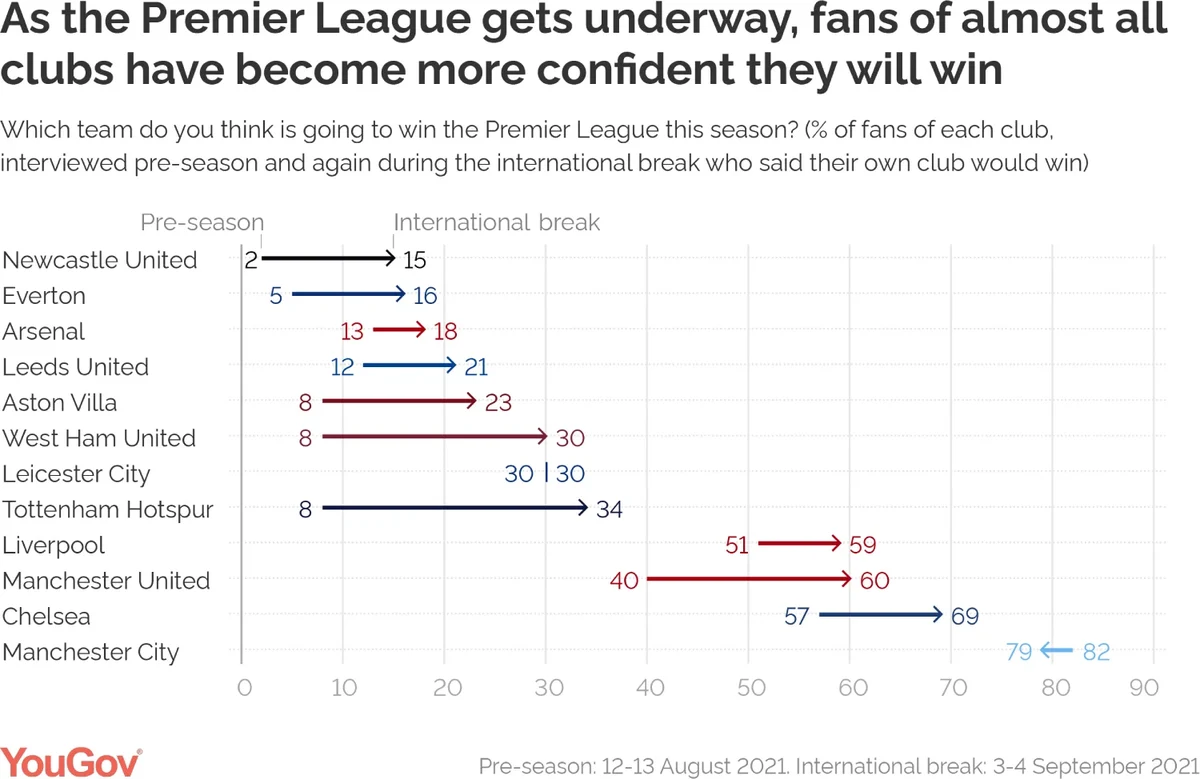 Some 15% of Newcastle fans think the Magpies could bring it back for a win, up from 2% before the season. Hopes have risen among nearly all teams, in fact, even among Arsenal fans. Some 18% now say that Arsenal will win the Premier League this season, up 5pts from 13% in August.
Manchester City supporters are the most confident they will win (79%) – however they are the only team to see a decrease in confidence following the start of the season. Before the season, 82% predicted a City win.
Who is expecting a top four finish?
Beyond the trophy, there are four Champion's League spots up for grabs for the top four teams, and while there are clear favourites among fans YouGov interviewed, there is sure to be stiff competition. Some 96% of Liverpool fans interviewed are confident in a top-four position, as are 93% of United supporters, 92% of Manchester City fans, and 91% of Chelsea fans. Elsewhere, some 65% of Leicester supporters think they could pinch a top-four spot, although this is down 10pts since the beginning of the season.
Emboldened by early victories, nearly two-thirds of Spurs fans interviewed think Tottenham could see a return to the Champion's League this year. This represents an increase of 23pts from mid-August. At that time, most fans (55%) had instead been predicting a mid-table finish.
Just one in eight Arsenal fans (13%) are confident they will finish among the top four, down from 33% in mid-August, with the majority (60%) now expecting a mid-table finish. However, nearly a quarter (23%) expect to be near the bottom of the table by the end of the season.
Newcastle United fans do not hold out high hopes for the 2021/22 season either: 25% fear relegation is likely for the team this year, up from 5% before the season began. Some 60% expect to finish towards the bottom of the table, a figure largely unchanged from pre-season, while the 30% who initially thought a mid-table finish was possible has since dropped to only 10%.
YouGov Direct surveyed 5,431 people (who identified themselves as supporters of a current Premier League team) on the 12-13 August 2021. In a follow-up survey, to the same people, three weeks later, 4,576 from the original survey took part. Data are unweighted
Start building a survey now with YouGov Direct