Brits are impressed with Leeds, ranking the team in the top five two weeks into their return to top flight football
It has been an exciting start to the Premier League, with some teams performing better than expected and others not so much. With that in mind, what do Brits make of the teams so far? YouGov FootballIndex shows us which teams adults in the UK think have played the best quality football in the opening throes of the new normal.
Top of the table, in their usual spot, is Liverpool who Brits think have played the best quality football so far. In second place is Manchester City despite only playing one game so far. City are followed by Arsenal, who together with Liverpool have both won their opening two games.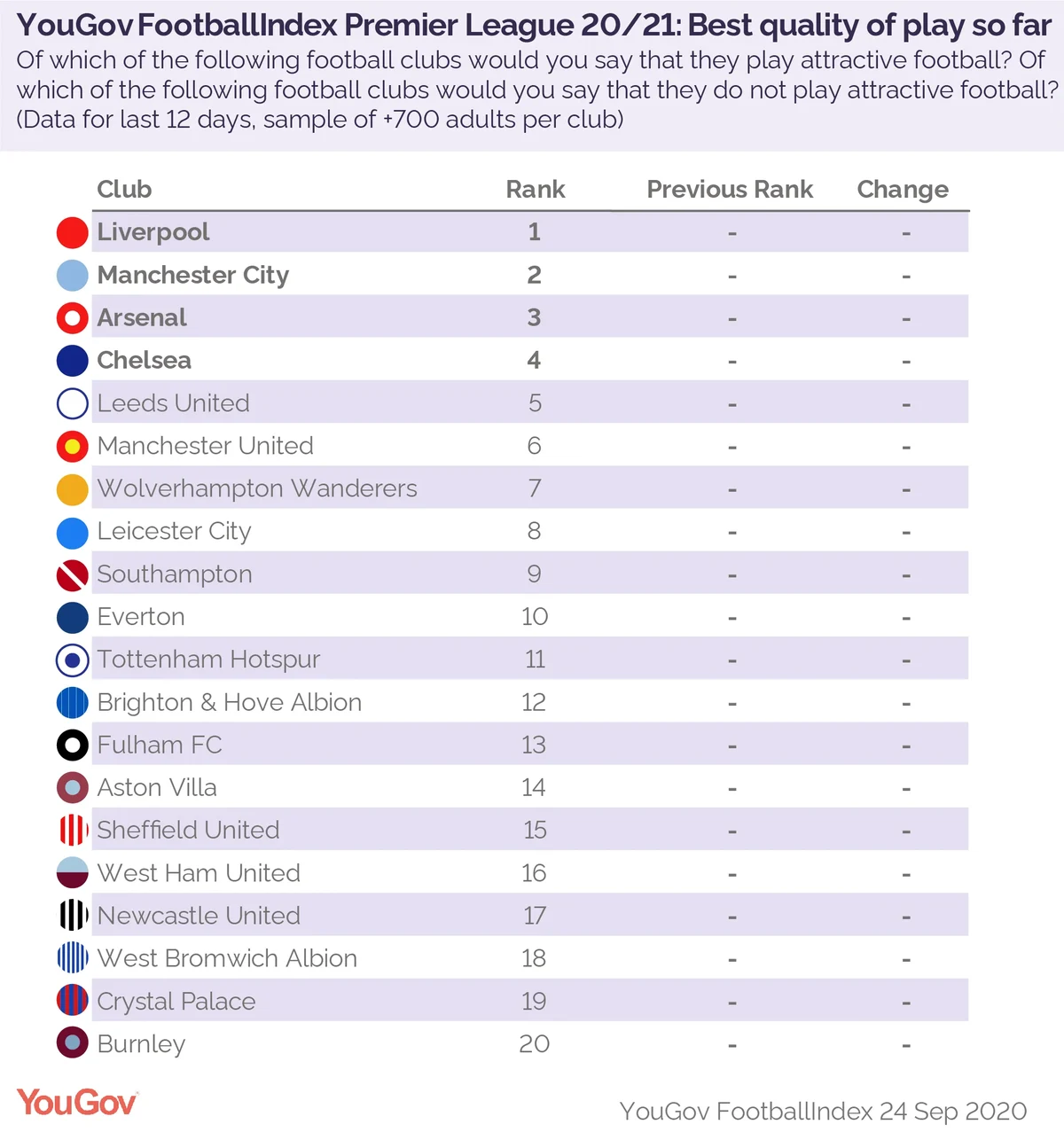 Brits rank Chelsea fourth, despite a loss to Liverpool last weekend. Fourth-placed Leeds, promoted to the top flight for the first time since 2004, have impressed with their play early on. Adults rank the team 5th for their quality of play ahead of more seasoned Premier League teams such as Manchester United (6th) and Wolves (7th).
Despite a top-five finish for the Foxes last season, Leicester rank 8th so far this term. Southampton (9th) are ranked generously by Brits. Despite back-to-back defeats, adults are impressed with the team's quality of play. Everton place 10th, with a tough start to the season leaving Spurs in 11th place. However, the long-term impact of major new signings by Mourinho since the season began remain to be seen. Brighton follow the Lilywhites in 12th place.
Despite their relegation in 2019, Fulham are back in the Premier League, placing 13th for their quality of football. Following are Aston Villa in 14th, and Sheffield United who are 15th, probably because of double losses going into the new season.
Newcastle comes in 17th, and more poor form see West Brom in 18th. Double wins for Crystal Palace fail to make an impression on Brits, who ranked the team 19 out of 20 for their quality of play so far, ahead of Burnley in last place.