Football fans still say VAR makes the game less enjoyable, but has improved refereeing decisions
The 2019/20 Premier League season saw unprecedented changes to the beautiful game, even before the COVID-19 pandemic began. The controversial decision to introduce the Video Assistant Referee (VAR) system into the Premier League was initially met with heavy criticism, but now the first season is over how is it seen by fans?
How well has VAR performed?
VAR has certainly had ups and downs during its first year, and our latest research shows that perceived performance among fans has improved slightly in the second half of the season.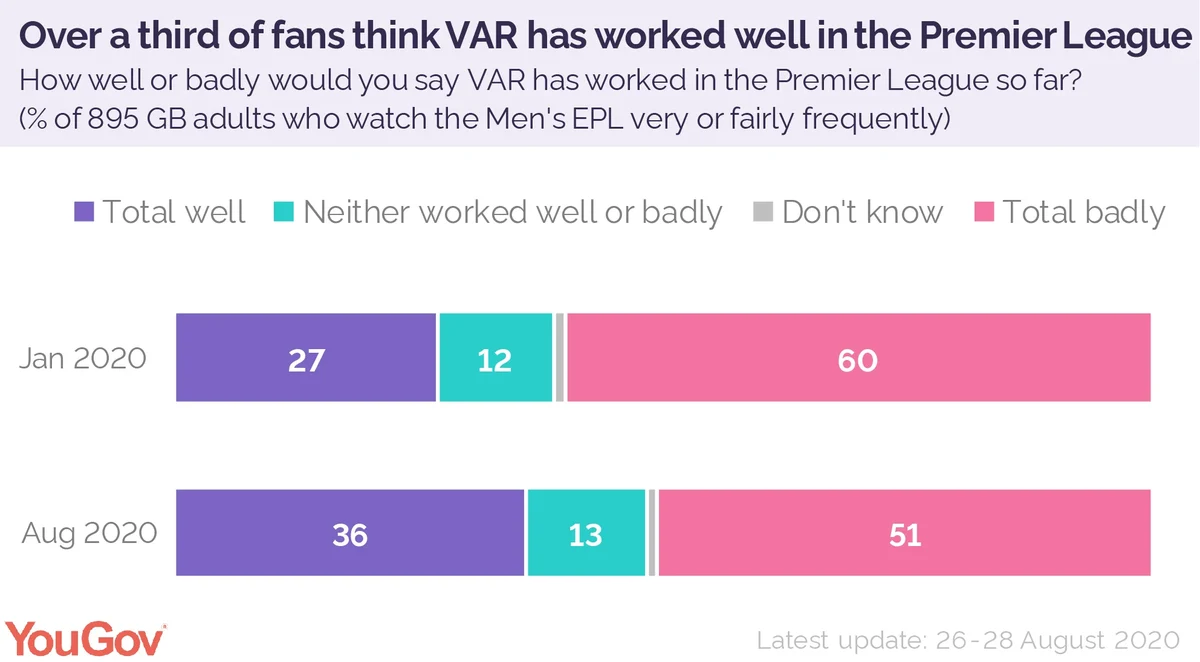 Over a third of fans (36%) now say the system has worked well so far, compared to 27% who said the same in January. However, despite this improvement, half (51%) of fans still think the system has worked badly overall – with 21% saying it's worked very badly.
Back in November, VAR chief Neil Swarbrick gave the system's performance a 7/10, so YouGov put the same question to Premier League fans in January, and again in August. Now half of fans give the system a score of five out of ten, compared to the average score of four in January.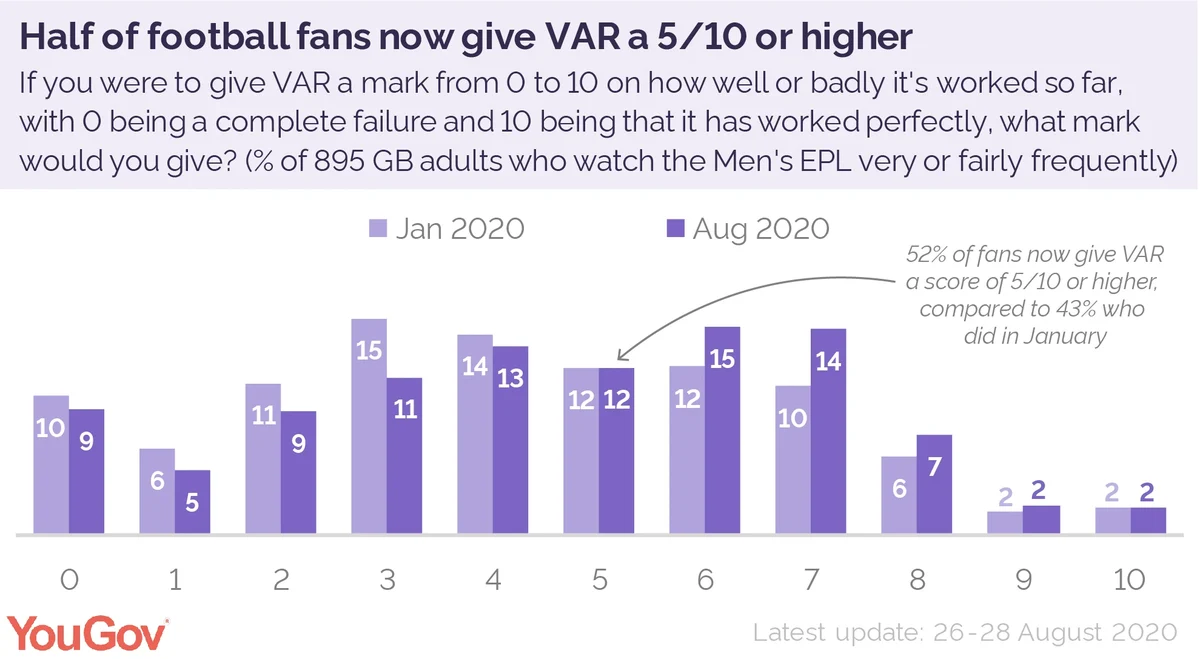 The number of fans agreeing with Swarbrick on giving VAR a seven out of ten has also risen, from 10% to 14%. One in eleven fans still give VAR a flat zero, however.
Female Premier League fans are more likely to view the system positively, with 60% giving it a five out of ten or above, compared to 48% of men.
How has VAR changed the game?
Despite the improvements in perception, most still say it makes the game less enjoyable. Just shy of two thirds of fans (63%) say that VAR has made the game less of a pleasure to watch. This is compared to 67% who said the same in January. Around one in six (16%) of fans say that in the introduction of VAR has actually made the game more enjoyable than it was previously.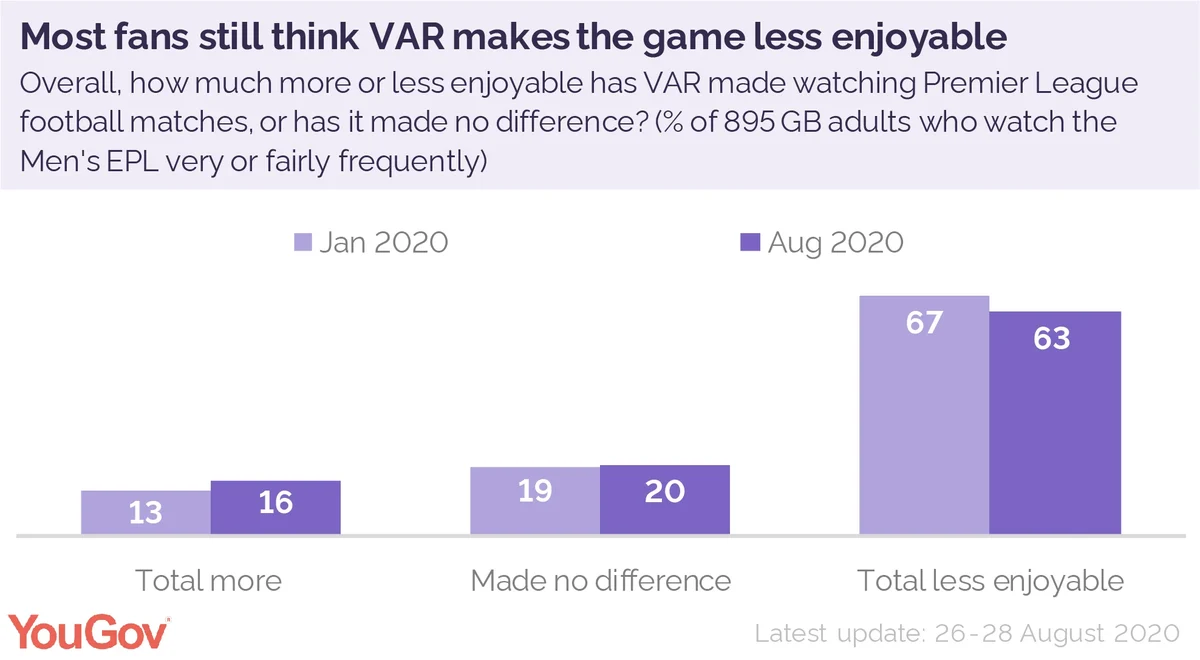 Following this, YouGov asked fans how VAR had affected certain aspects of the game, and despite fans saying VAR makes watching football less fun, nearly half acknowledge it has improved the quality of refereeing since its introduction.
Overall, approaching half (48%) of Premier League viewers say that VAR has improved the accuracy of referee decisions, compared to 25% who think VAR has worsened the accuracy of pitch officials' decision-making.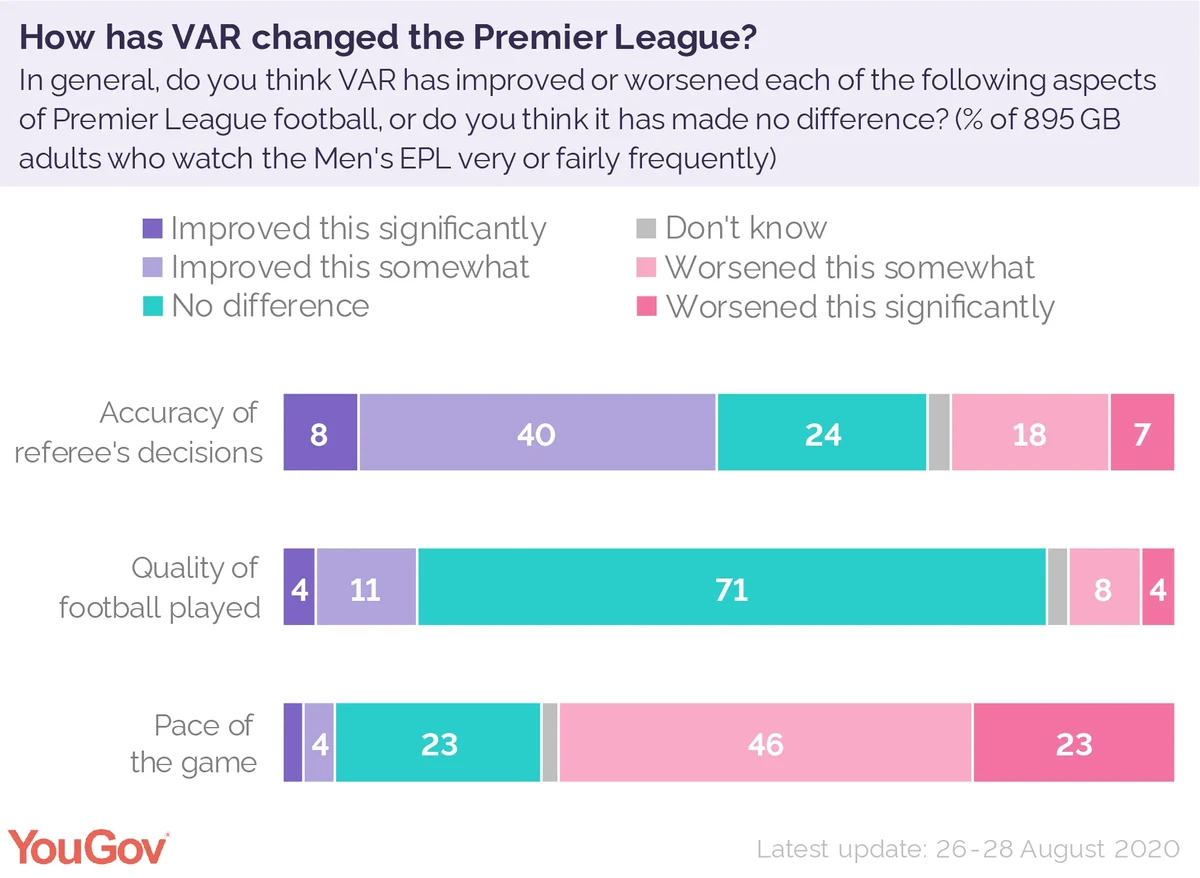 The majority (71%) of Premier League fans also say VAR has not had an impact on the quality of play, however 15% of fans do say it has improved the quality of football played. Despite this, fans also say it has had a negative effect on the pace of the game - over two thirds (69%) say VAR has worsened the pace of top-flight football.
How could VAR be improved?
The majority (71%) of Premier League fans are still in favour of making changes to VAR, but what do they want to see? Premier League officials have already released the list of upcoming changes to the system for the 20/21 season, and fans are broadly in favour of what's been announced - but would also like to see more.
The most supported amendments of the ones YouGov suggested involved fans getting the same information the referee does. For example, 87% of fans are in favour of seeing the same video footage that the referees are shown during the decision-making process, and another 77% support the idea of hearing the conversation between the VAR and pitch officials. Another 76% would also support a time limit on how long VAR and pitch referees have to make a decision.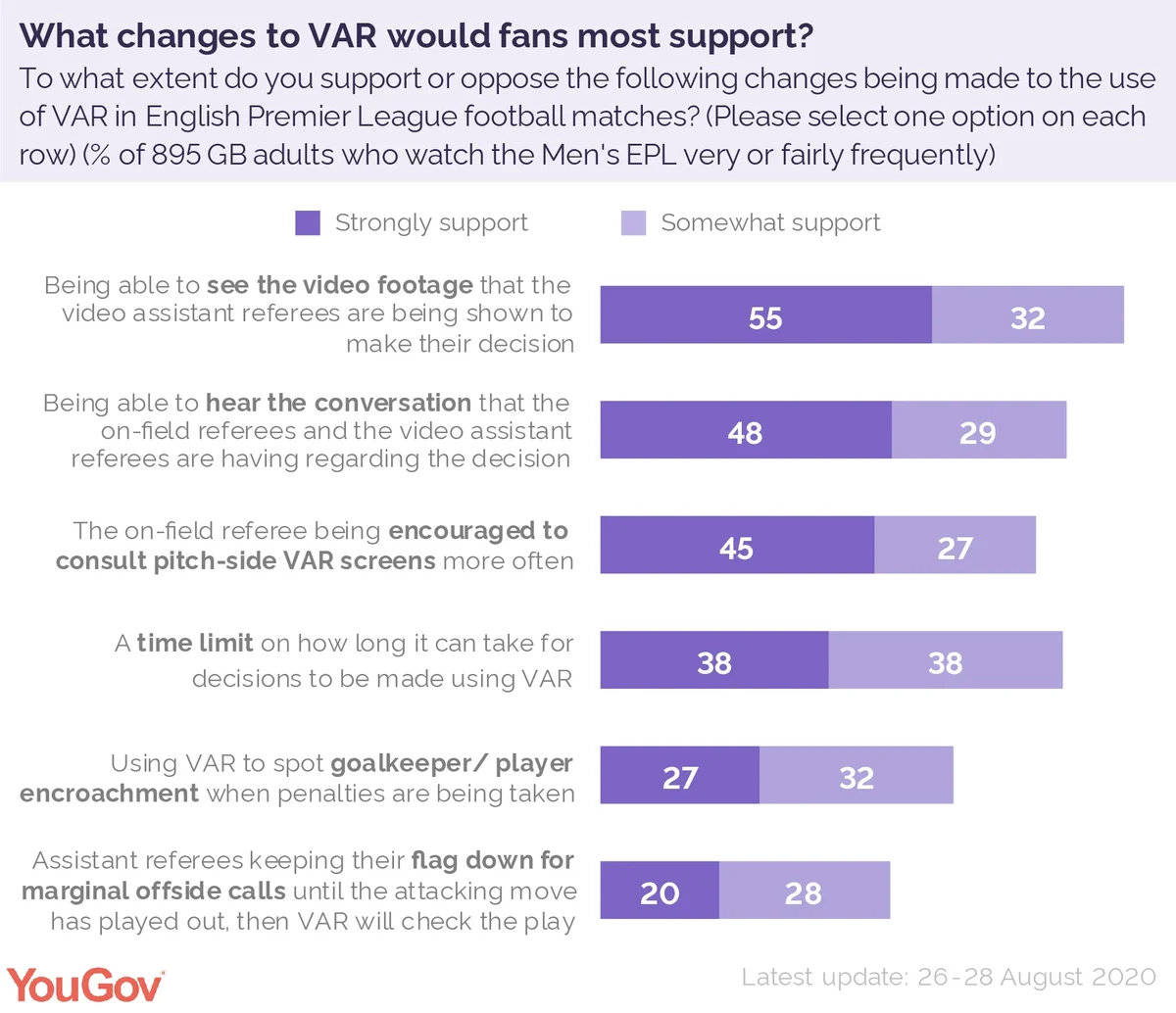 Fans are critical of some of the coming changes that have been announced for the next season. While 58% are in favour of using VAR to spot player or goalkeeper encroachment during penalties, less than half (48%) support assistant referees allowing potential offside plays to continue, and analysing them after the fact – a change that's being made for the 20/21 season.
Fans are also in agreement that there should be a time limit for VAR decisions to be made if a potential foul occurs but play continues, with 70% overall think there should be a time limit on such decisions:
Up to 10 seconds after play continues 11%
Up to 15 seconds after play continues 17%
Up to 30 seconds after play continues 26%
Up to 45 seconds after play continues 4%
Up to 60 seconds after play continues 11%
Over half (54%) of fans say VAR decisions should be made within 30 seconds of play or not at all. One in nine (11%) fans think VAR decisions should not be made at all if play continues after a possible foul, and another 11% say the exact opposite, and that there should be no time limit on VAR decisions if play continues.
Learn more about YouGov Sport here