Rugby fans who took part in our SportsLab poll prior to the start of the Six Nations have predicted that France will finish the tournament on top.
We asked fans to predict the results of each of the tournament's fifteen games, and based on these predictions, we have drawn up how the final table would look if each SportsLab prediction were correct.
England and France are tipped to pick up four wins each, with fans expecting England to be beaten in Paris, and the French to come unstuck in the tournament's final game against Wales at Cardiff.
Wales and Ireland are both expected to record three wins and two losses over their five games (though the Welsh win as the two met last weekend went against the majority of participating panellists' predictions), while only one Scotland victory is forecast, against hapless Italy.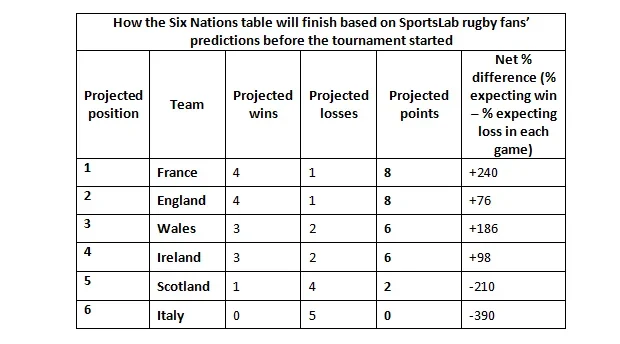 Digging deeper into the results, however, demonstrates that France is more fancied than England, despite the fact that around half the participants in our poll support England.
Three of the four French wins forecast were predicted by more than three quarters of respondents: 98% expected a French win over Italy, 77% believe France will beat Ireland, and 77% also tip the French to win in Scotland.
Additionally, 74% expect England to lose to the French in Paris. Only around a third (35%) expects France to complete a potential grand slam with a win over Wales, however.
England is also tipped to pick up four wins, but by a rather less decisive proportion of respondents. Indeed, for only one of England's matches, against Italy in Rome, more than three quarters of respondents expect Stuart Lancaster's men to triumph.
56% called the win against Scotland, while 58% believe England will beat Ireland and 51% predict a win over Wales.
Taking into account the different proportions of votes for each result gives the net score, which we have used to differentiate between teams tied on points.
Wales are also expected to do better than Ireland on this basis: although we predicted three wins and two losses apiece, the Welsh wins were predicted by a greater proportion of respondents: 90% expect Wales to pick up a win against Scotland, 97% feel they will beat Italy, and 60% think they will win against France. Only 53% predicted that Ireland would win against Wales (in fact, Wales snatched a narrow victory), 94% tip them to beat Italy, and 87% expect an Irish win over Scotland. Meanwhile, 18% back the Irish to beat France.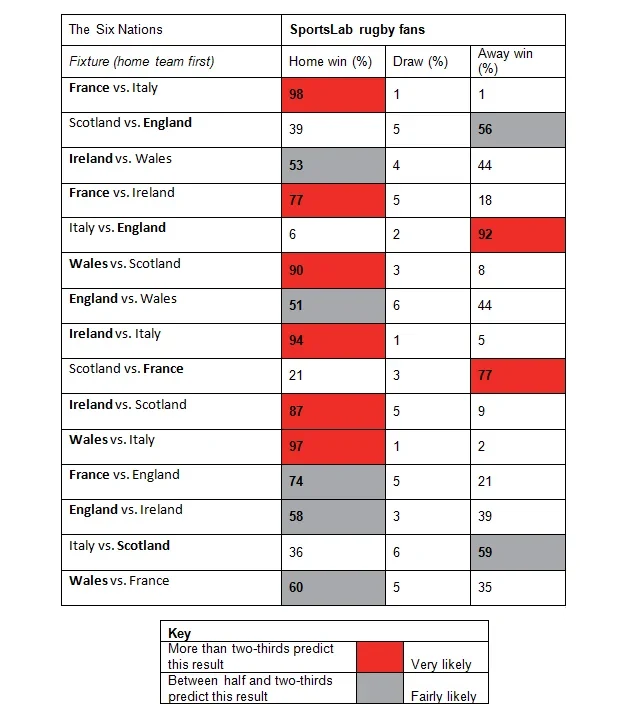 Since the World Cup: is your squad stronger or weaker?
We also asked fans of each of the Home Nations teams to let us know whether they felt their team was stronger or weaker now than during the World Cup. Opinion was split for each side, but a selection of the arguments made appear below.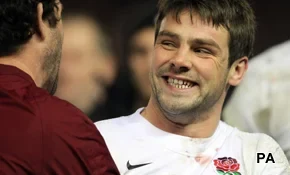 "Younger players with lots to prove - not living on past reputations. Better manager with a more professional approach" Pip S, Essex
"We have got rid of the 'play boy' element; and the 'will to win' [feeling] as opposed to 'let's just enjoy ourselves' will take over" John Durham
"The world cup squad was too rigid in structure and lacked unpredictability and a cutting edge to score tries against the better teams. The newer squad has younger, hungrier players who can mix up the play better, especially in the backs, so that the team can (hopefully) move away from a kicking game and attack with purpose" Ben van Loo, Leeds
"We have got rid of some dead wood (eg Tindall) and have some talented new blood available. Also I believe/hope that England will no longer feel it acceptable to play the straitjacketed kind of rugby they have been dishing up in recent years" Bill G, Peckham
"Motivated by pride rather than money and arrogance, and lead by someone who knows what they are doing" Geoff E, Dunmow
"It can't get any worse than it was, surely? Logic dictates that if you hit rock bottom, the only way is up..." T
"Getting rid of the old guard for various reasons has weakened the strength of the team, it may take 2/3 matches settle in and understand each other's strengths and weaknesses" John H, Halifax
"It's going to take time to rebuild & gel… that won't happen straight away" Terry, Northamptonshire
"Inexperienced at this level" Houghy 026, Yorkshire
"The average six nations team fields somewhere in the region of 200 to 250 caps amongst its players. Currently the England team has the fewest international caps of any of the participating nations, so we start off - very firmly - on the 'back foot'" Bill Riddiford, Amesbury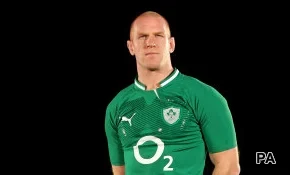 "They finished on a high [at the World Cup]. They will be very strong psychologically" Trevor Y, Northern Ireland
"They have brought in new young players. The squad was getting old" Joan, Belfast
"The physicality is back and the displays in the European Cup match for the 4 Provinces have been superb" Rooster, Belfast
"Three of the four provincial sides are in the quarter finals of the Heineken Cup and a lot of the players are Irish. There is no 'iconic' figure anymore and they can be a distraction" Anon, Bangor, Co. Down
"Not playing as well; they peaked at the World Cup" Anon
"Missing Brian O'Driscoll", Barry M, Newtonards
"Many players have retired since the last World Cup" KMC, Wellingborough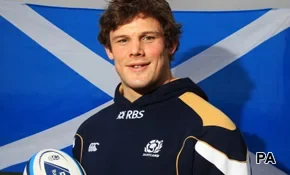 "Good coach and young players coming through", Andy M, Rutland
"Greater depth to squad while still having vast experience behind them" Douglas J, Aberdeen
"Mental toughness from going out of the World Cup early", Steven M, Kilmaurs

"Injuries have hit us. Losing Joe Ansbro, who adapted very quickly to international Rugby, is a big setback" Anon
"Some players have dropped out" Anon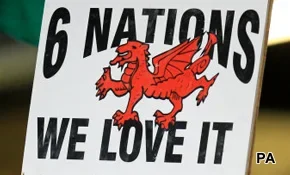 "Already a strong squad in the world cup but will have learned from the shortcomings during the WC campaign", Kristian, Exeter
"The players have been together longer and have more international experience" Roy C, Swansea
"The added experience of their World Cup campaign will make a young squad mentally stronger"Anon
"Retirements (Shane Williams) and injuries. Plus a long tiring pre-World Cup campaign and not enough time to fully prepare for 6 Nations" Anon
"Psychologically weaker at beginning of 6 nations. Much depends on first match" H Watts, Cheshire
"Wales have lost players through injury. By definition the replacements are second best" Cymro, Scotland
Labs Method statement
YouGovLabs research is anecdotal, with polls being open to all panellists who wish to take part. In contrast to YouGov's Public Opinion polling, YouGovLabs seeks to understand the attitudes of specific subsets of people: sports fans tell us how they feel about sports and music fans tell us how they feel about music, for example. YouGovLabs results are unweighted, and figures reported do not reflect the attitudes of the population as a whole.
Percentages are quoted to the nearest whole number.