Sports fans say they want to see classic highlights, and the likes of Joe Wickes and Mr Motivator fill in for postponed sports coverage
Up and down the country British sports fans are lamenting the loss of virtually all live sports coverage, as leagues and competitions postpone matches due to coronavirus. Yet, the show must go on, and a wealth of new content has appeared to fill the void. But what content are British sports fans most interested in watching while on lockdown?
A third of Brits who watch sport (33%) say airtime should be filled with classic replays and highlights of games gone by. More interesting however, are the 23% of sports fans who want to see interactive exercise programmes on TV.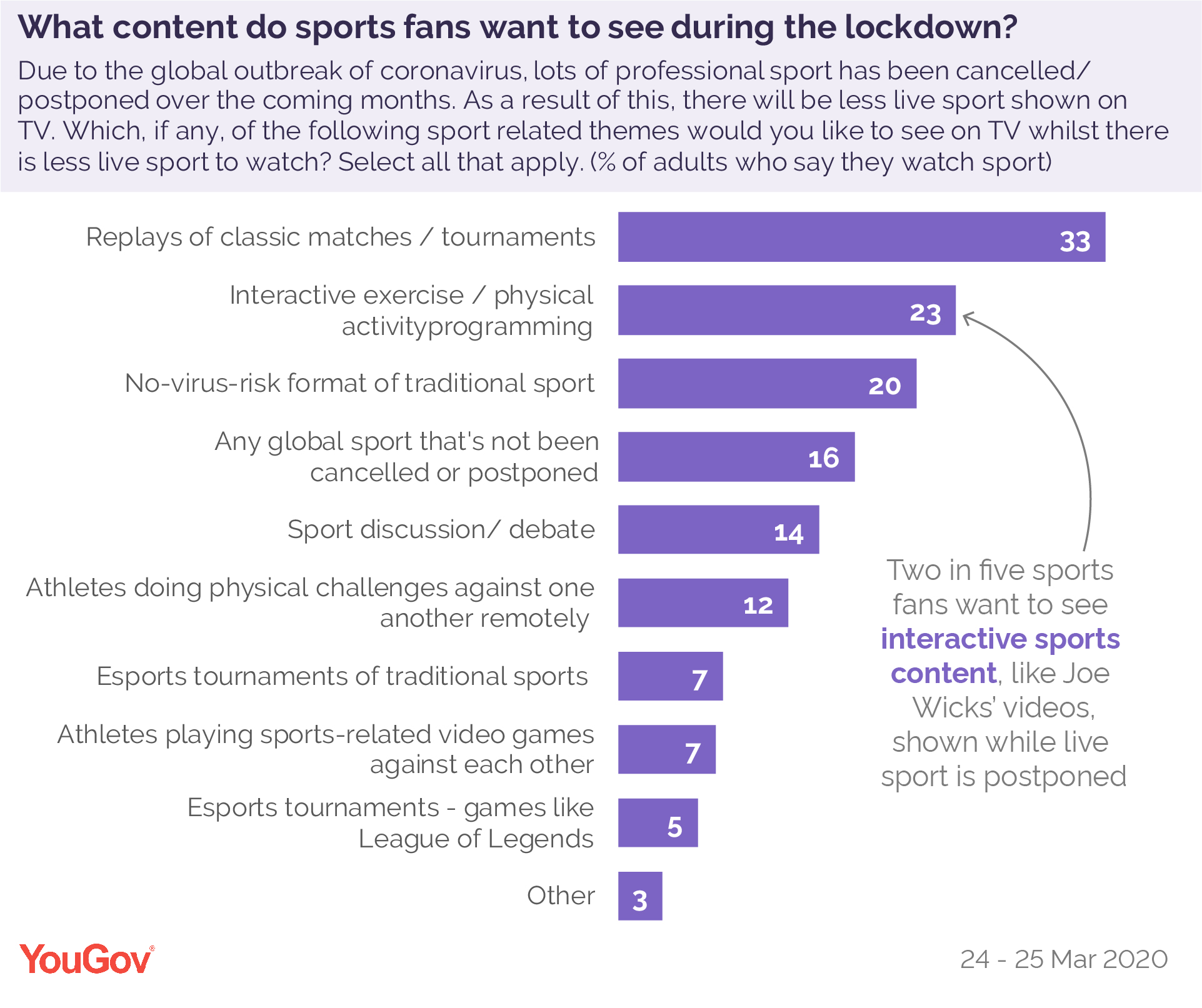 Click to enlarge
Those 23% won't have to wait long to get their exercise either, with Joe Wicks already instating himself as the nation's PE teacher with his daily exercise classes broadcast from his living room. The big broadcasters aren't far behind either with fitness coach Derrick Evans, better known as Mr Motivator, is also set to return with live exercise show on BBC One.
Another 20% of sports fans want to see sports played under special conditions to prevent any risk of virus transmission, e.g. players who have passed through a quarantine period playing one another in special games. The NBA has mooted a similar idea, which while technically difficult, will likely have a big appeal to sports fans.
One in six (16%) sports fans want to watch any other live sport that's not currently postponed, so they may want to keep their eyes open for the next Russian Hockey League match.
YouGov also asked about Esports which, after only a few days of lockdown, don't seem to taken off just yet. One in fourteen sports viewers (7%) say they would be interested in tournaments of traditional sports played out digitally.
Younger sports watchers are more keen for Esports, among fans aged 18 to 24, 17% want to see Esports televised.
Another 7% said they would be interested, in athletes going head to head in the video-game versions of their sports. compared to 5% who say they would be interested in watching some of the more established Esports leagues, such as League of Legends.
Image: Getty
Learn more about YouGov Sport here