With every German team facing an English side in the last 16 of the Champions League this season, we thought we would take a look at the perceptions of the property in the two countries.
It's worth noting that in Germany, following years of at least one game being broadcast on free-to-air TV, the tournament is now only available on subscription TV – something likely to have had an impact on the results.
So first of all, which nation is most likely to watch the Champions League?
Well, taken over the course of the last three months, almost 4% more Germans watch the tournament than English. But when you drill down and ask only football fans, the reverse is true – almost ten percent more English fans are watching than Germans.
So which group of football fans thinks most highly of the competition? Here there is an even bigger difference. 13.2% more English soccer fans perceive the Champions League to be a Quality tournament than German fans. That's despite a German team having won the tournament more recently (Bayern Munich lifted the cup in 2013).
But here we need to factor in that German fans are simply more low-scoring in general about sports properties. They are, for example, also 15% less likely to believe the Bundesliga is a quality property than English fans are to say the same about their domestic football league, the Premier League.
Finally, let's drill right down into our data and look at the perceptions of fans of the teams still left in the tournament. We'll compare fans of Liverpool, Manchester City and Tottenham to fans of their opponents in this round – Bayern, Schalke and Dortmund.
Well, given what we've seen so far, it's no surprise to see that over the last quarter, it's fans of the English teams who have experienced the most Buzz about the Champions League.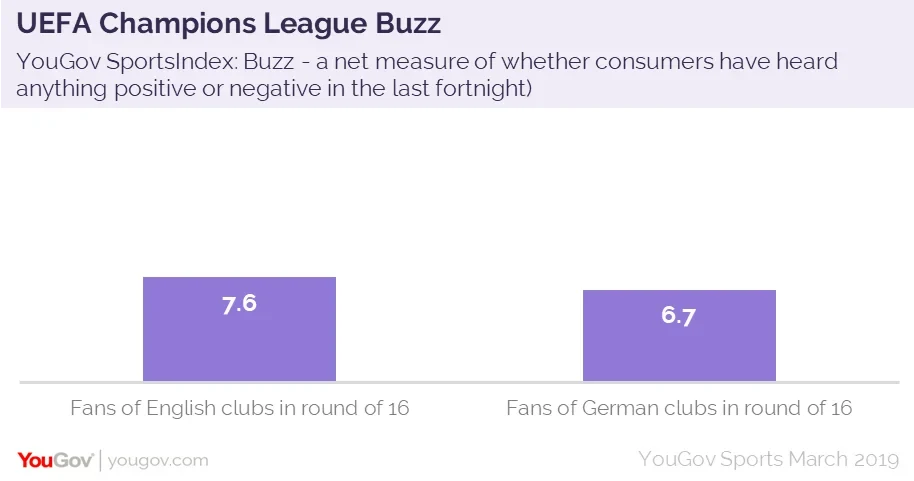 Will that translate into wins for English sides? No – but it may well heighten their excitement (and the disappointment) at their teams' results. Let's see which country runs out the winner on the pitch.