Despite it being widely recommended as a fun, lively way to get fit, and the subject of the Government's Change4Life fitness campaign (fronted by Britain's Got Talent winners Diversity) most British people do not dance regularly because of time constraints and fear of embarrassment, a survey by The Aldridge Foundation has shown.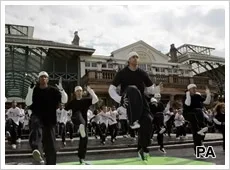 An overwhelming 89% of people admit to not dancing regularly (defined as at least once a week over the previous three months), and men are worse than women, with 91% of men claiming they do not dance compared to 88% of women.
Two left feet
And despite more young people than older reporting regular dance activities than others (a comparatively smaller 76% said that they didn't dance regularly), those between the ages of 18 and 24 are the most self-conscious of all respondents, quoting embarrassment as the reason they do not dance as much as they might. While 21% of the whole list self-consciousness as a key reason for their reticence, this figure rises to 34% among 18-24 year olds. This group is also the most likely to say that taking a friend or partner with them would encourage them to dance more (at a dance class, for example) with 36% of young people claiming this would help compared to the GB average of 29%.
It seems that this fear of embarrassment feeds in to people's tendency to stay at home. Nearly a quarter of respondents who do not dance blame their own poor, potentially embarrassing, coordination for their lack of dance habits: 23% lament their two left feet. Poor skills are unlikely to help boost confidence, and 16% said that if they felt more confident, they might dance more. The figure rises once again among the youngest participants of the survey – a rather unhappy 29% of 18-24 year olds claim that a rise in confidence would encourage them to dance more regularly.
Time constraints
Among 25 to 44 year olds, though, it is not confidence, but time, which is lacking. A quarter of those asked said they did not have enough time to dance regularly, with married couples and those living as married feeling the pressure the most - 25% and 32% respectively. Unsurprisingly, having children didn't help matters; 39% of those with 2 children felt they did not have enough time to factor regular dancing into their daily lives. On average, 24% of 25 to 44 year olds stated that they would dance more if they could fit it round other time constraints. Other reasons for not dancing include it being too expensive (11%) and not knowing about any dance classes being offered locally (again, 11%).
This is despite most people having an overall positive view of dancing. 68% of respondents either agree or strongly agree that dance is a good way to bring together people from different cultures, age groups, abilities and social backgrounds. And a remarkably open-minded 64% said they would be happy to dance with people from a different age group, culture, social or religious group to them.
As the Government's NHS Change4Life campaign is offering free dance lessons to families on 6th March and 7th March as an attempt to introduce them to new ways of getting fit, it seems that building up confidence, increasing opportunities for communities to mix, and factoring in classes that fit in around daily lives will be the key to success.
For full survey details and results, please click here