Beards have supplanted stubble in terms of popularity
In 2013 a gaggle of top male actors, including George Clooney, Ben Affleck and Bradley Cooper, kickstarted a facial hair renaissance when they attended that year's Baftas and Oscars with full beards.
YouGov surveys since then have tracked the growth of Britain's facial fuzz over the last decade, with our latest poll finding that most men (54%) now say they currently sport some form of facial hair, up from 42% in 2016 and 37% in 2011.
Full growth has now fully supplanted stubble as the top choice among men with facial hair. Currently 34% of men say they have a beard and moustache, compared to 13% who have stubble, 4% a beard only, and 2% a moustache only.
By contrast, in 2011 stubble had been the most popular option, at 19%, with only 11% of men saying they had a beard and moustache. As of 2016, these choices had drawn level, with 18% then sporting a combined beard-moustache compared to 17% for stubble.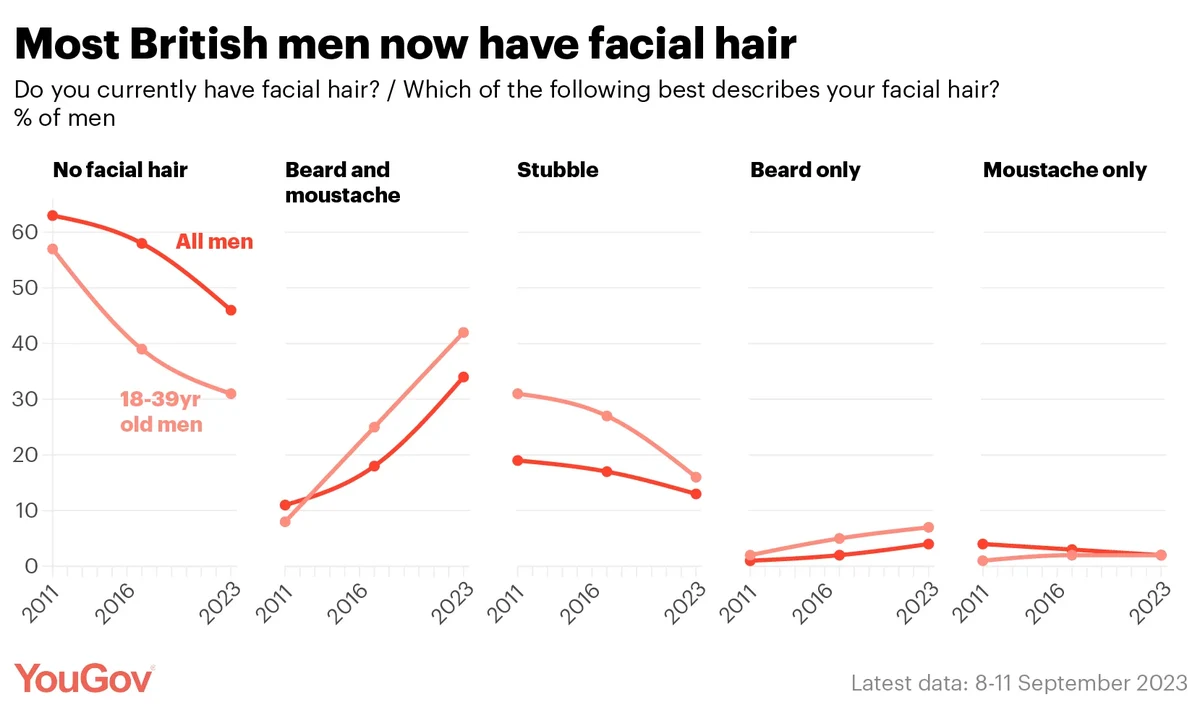 Facial hair is particularly fashionable among younger men (those aged 18-39). Fully seven in ten men in this age group have some form of facial hair (69%), with a beard and moustache being the most common (42%).
Beards are growing on Britain's women
Facial hair on men is increasingly popular with British women, with one in five (19%) now saying they prefer the appearance of a man with a beard, up from 6% in 2011 and 13% in 2016.
Perhaps more notable is how far dislike for beards has dropped: in 2011 fully 66% of women said they preferred the appearance of a man without a beard. That figure is now just 36%. Instead, 44% of women say they don't have any preference either way (up from 27% in 2011).
These results are virtually identical among heterosexual women specifically.
Younger women are the most into fluffy faces, with 34% of 18-39 year olds saying they prefer a man with a beard (up from 7% in 2011). A quarter prefer the look of men who are clean shaven (24%) while 41% have no preference. (Again, these results are effectively unchanged among heterosexual women).
For their part, most men don't have strong feelings either way (62%). One in five prefer no beards (19%) while 15% say they look better.
However, men who describe their sexuality as something other than heterosexual (gay, bisexual, or 'other') are more likely to come down on one side of the line or the other. A quarter (23%) prefer men with beards, while 33% prefer the absence of a beard – 44% have no preference.