Men tend to prefer the bushier varieties compared to women
Across the country, new moustaches of all shapes and sizes are sprouting from their humble stubbly origins. This annual parade of fancy facial hair is of course in the name of the charity Movember, which aims to raise awareness for several men's health issues including prostate cancer and mental health.
But this begs the question, with so many styles on show throughout the month, which are Britain's favourite moustache styles?
YouGov showed the public 16 styles of moustache and asked them to pick their top three. The result is a dead heat between the "Handlebar", "Chevron", and "Pencil" moustaches – each of which is a favourite of one in nine (11%) of the public.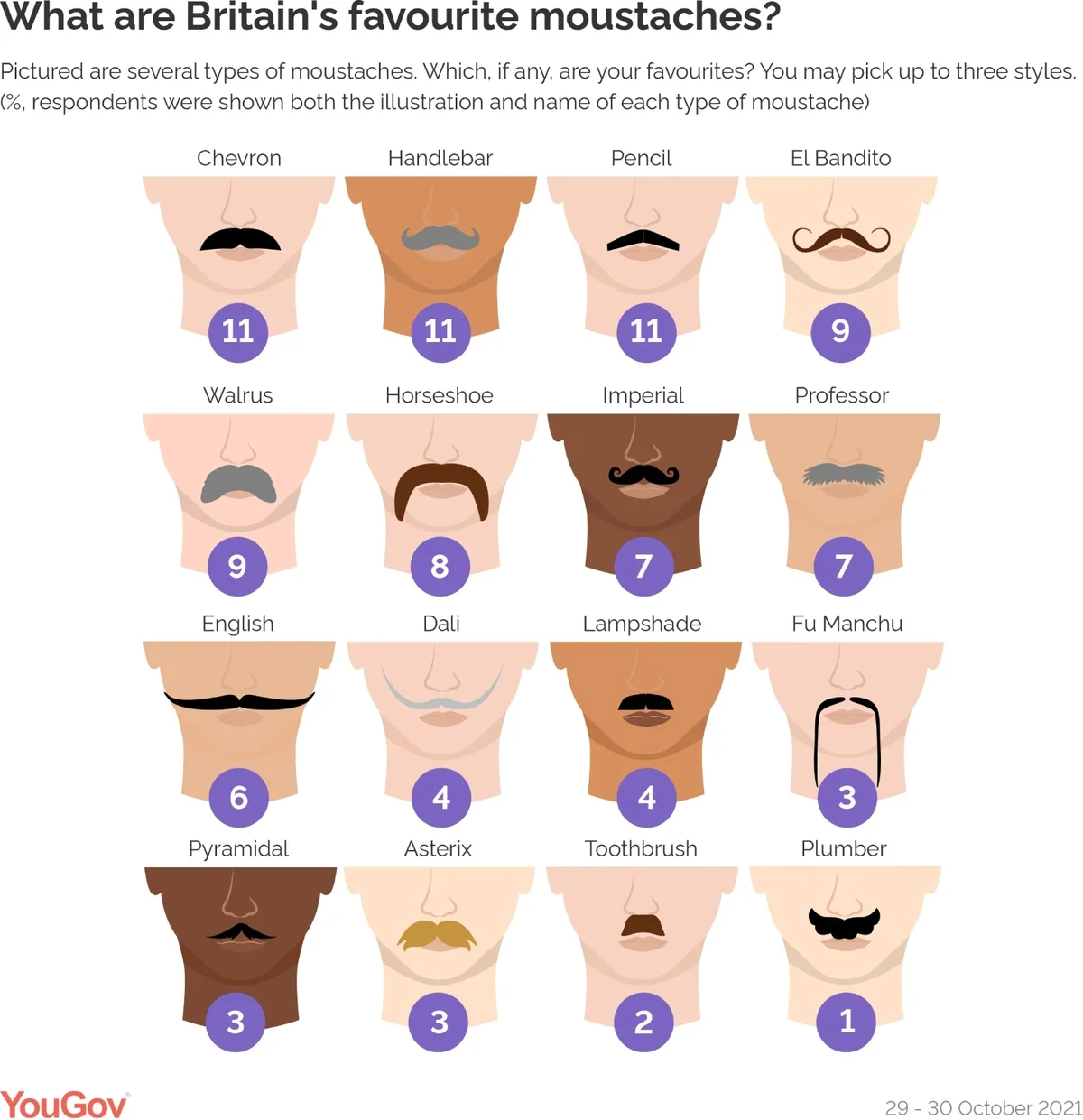 Closely following are the "Walrus", and the "El Bandito" which share 9% of the vote each, while the "Horseshoe" has 8%. The "Imperial" and "Professor" styles both are preferred by 7% of people, while 6% pick out the "English" style of top lip fuzz.
The more eccentric styles are less well-liked, including the "Dali" with 4% and the "Fu Manchu" with 3%. Coming bottom of the list is the "Plumber" moustache with just 1% of the vote. However, just over half the public (54%) did not pick any style, with women more likely to do so (59%) than men (49%).
Men tend to prefer the larger moustaches, with their favourite being the "Walrus" (13%) – however, only 5% of women say this bristly number is a favourite of theirs as well. There is a similar gender gap for the large "Horseshoe" moustache – favoured by 12% of men and just 4% of women. However, the more restrained "Chevron" nets 12% of the male vote and 10% of the female vote.
See full results here