Approaching half of men say a woman is too old to become a mother at 36, despite only one in five having the same opinion on a man becoming a father at that age
Supermodel Naomi Campbell announced on 18 May that she had become a mother for the first time – four days before her 51st birthday. The news prompted well wishes but also speculations about her method and discussions about the challenges of having a child at an age where many people become grandparents.
Campbell is not the only one taking on motherhood later in life. The number of women having children after the age of 45 in England and Wales has nearly risen by half in the past decade. But YouGov data shows that the public – and men in particular – remain sceptical of older parents and especially older mothers.
According to the public, the ideal age for a woman to become a mother is at 28 – about a year below the 2019 average for first-time mums at 28.9. There's no difference in opinion among men and women, but Britons aged 25 to 44's views of the ideal age is slightly higher at 30, while people who are 55 and older say women should have their first baby at 25 (which was the average in 1983). There's also a difference between the preferences of parents and non-parents at 27 vs 30 respectively.
There's less contention about when men should become fathers, with Britons saying 30 is the ideal age. This view is consistent across groups, although the median among Britons aged 55+ is slightly lower at 29. The Office for National Statistics doesn't release data on the age of first-time fathers, although the average age across all parents (not just first-timers) is three years higher among fathers, at 33.3 compared with 30.3 among all mothers.
When are you too young or too old to become a parent?
Around eight in ten Britons (81%), regardless of gender, would consider Naomi Campbell and other women who have a child between the ages of 46 to 50 too old. A small minority of 9-10% of men and women say the timing is "about right". But when it comes to older fathers, the public are more open-minded, with a quarter of women (27%) and one in five men (21%) deeming it okay.
Both genders are most likely to approve of women becoming mothers between the ages of 26 and 30 (89% of men/92% of women) and for men to become fathers at 31 to 35 (89%/93%). Britons are also overwhelmingly are on board with women having their first child aged 31 to 35, although one in nine men (11%) say it's too old, compared with one in twenty women (5%).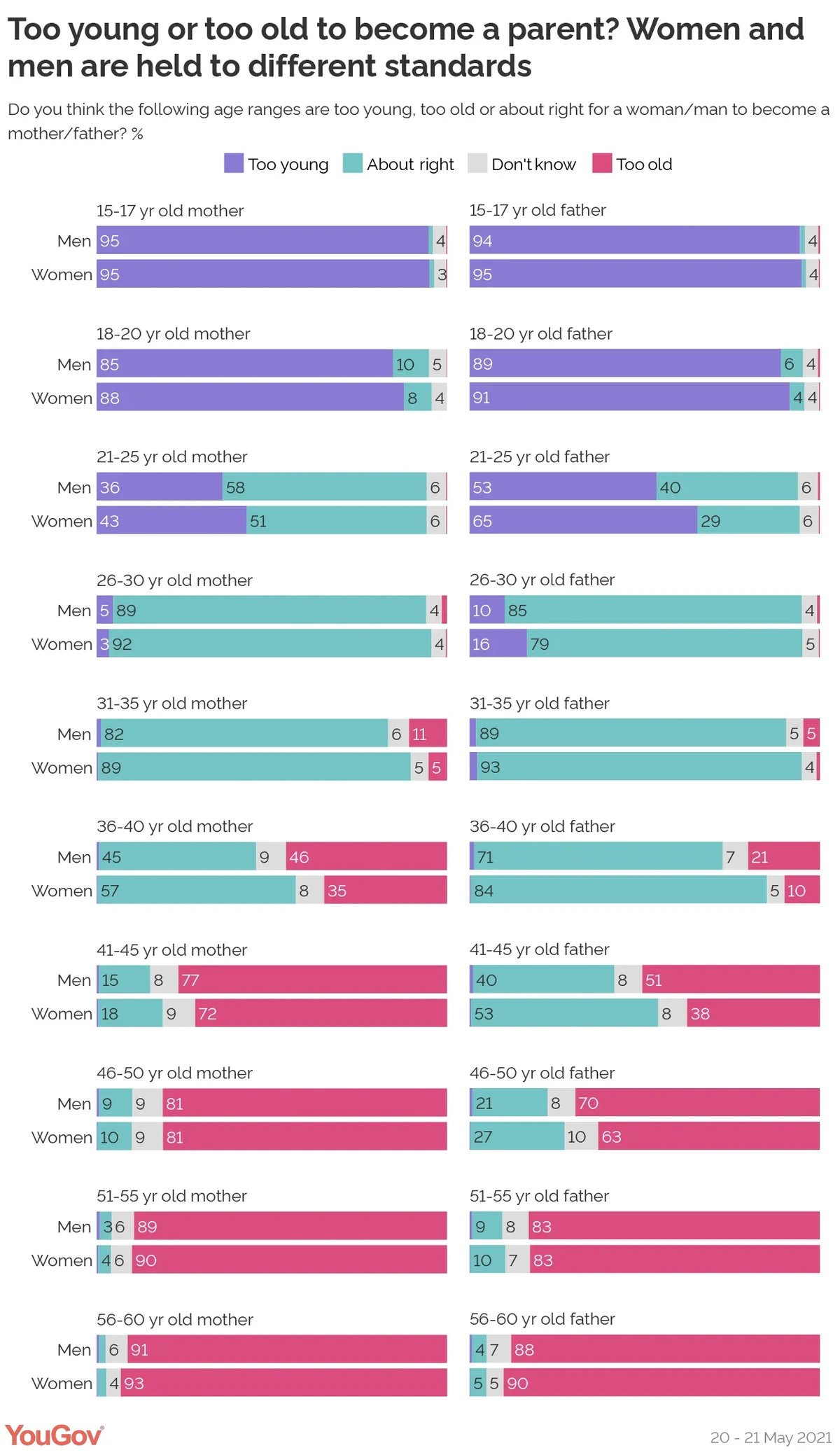 While many women only start having children in the latter half of their 30s, men are split on how they feel about it. Although 45% say it's about right for woman to become a mother between 36 and 40, 46% believe it's too old. In contrast, a majority of women (57%) say it's fine, while only a third (35%) feel the moment has passed.
Britons becoming dads at 36 to 40 are unlikely to face the same scrutiny, with 71% of men and 84% of women believing it's an appropriate age to take on fatherhood.
Regardless of gender, the public are more likely to accept young mothers than young fathers. Most men (58%) and half of women (51%) say it's fine to become a mother at 21 to 25. But only two in five men (40%) and three in ten women (29%) feel the same way about a person of the same age becoming a father.
See the full results here