New research by YouGov looks into perceptions of support for dyslexic students and adults
Dyslexia is a common learning difficulty causing problems with reading, writing, and spelling. However, the condition can affect different people in different ways, making it hard to spot, with diagnoses of the condition normally made by specially trained dyslexia assessors.
New YouGov research poses the question to teachers and parents; could they spot dyslexia in a child?
The symptoms, which can include things like confusing the order of letters inside a word or writing letters the wrong way around, usually start to appear when a child starts going to school.
Most teachers (83%) in the UK think they are confident that they would recognise the symptoms of dyslexia in a student, including 63% who are "somewhat" confident they could do so and 20% who are "very" confident.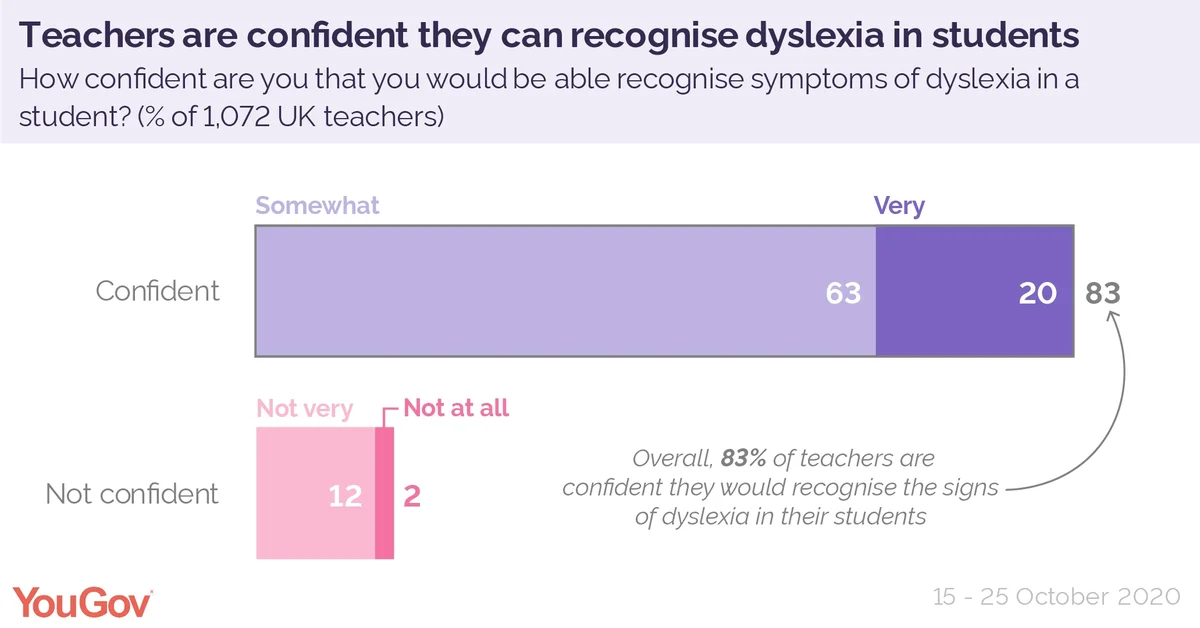 Parents report a similar level of confidence that they could spot dyslexia symptoms in a child, with seven in ten Britons (70%) with a child under the age of 18 confident they would recognise the condition, compared to 26% who are not confident they could.
How many Britons might have dyslexia?
Overall 3% of Britons reported that they have had a dyslexia diagnosis in the past. The number who have the condition could be noticeably higher, however, with another 5% suspecting they have dyslexia, but have not been tested for the condition.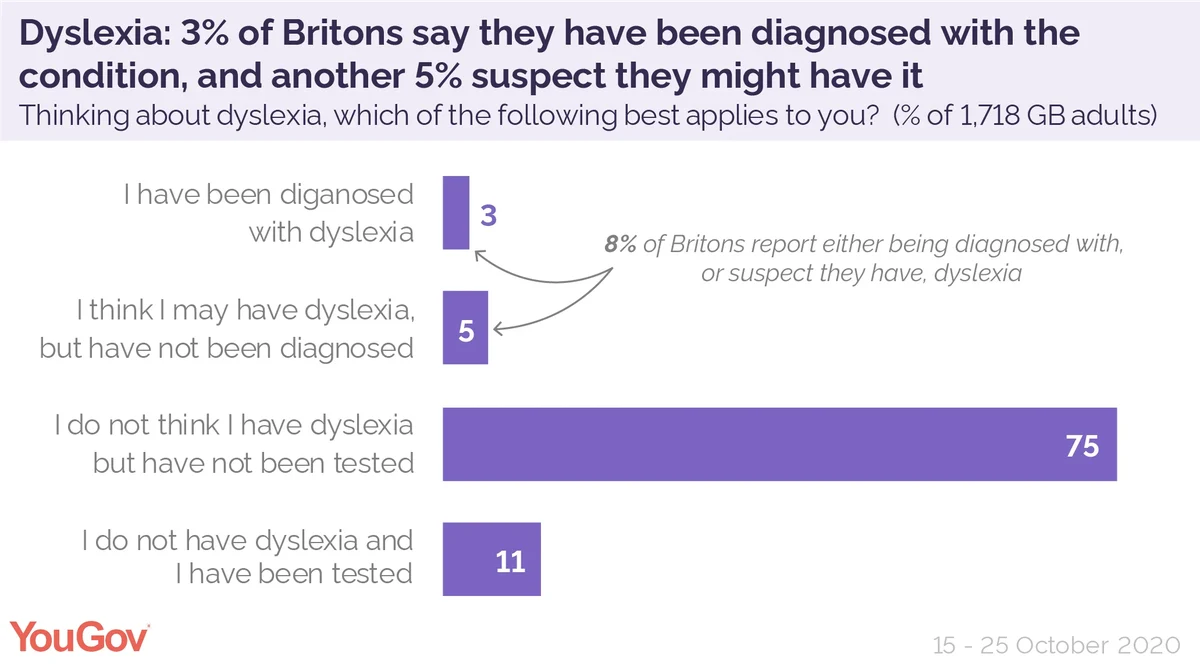 Another one in nine (11%) report that they have been tested, but were not diagnosed with the condition - meaning 14% of the adult population has had a test for dyslexia. The majority (75%) of Britons do not think they have dyslexia, and have never been tested.
Most teachers say their schools offer good support for dyslexic students, but the general public are unsure
As awareness of condition has increased, so too has the support on offer for students with dyslexia. Overall, 71% of teachers say their school or institution supports dyslexic students well. However one in five (20%) say their organisation does a bad job in supporting these students' needs.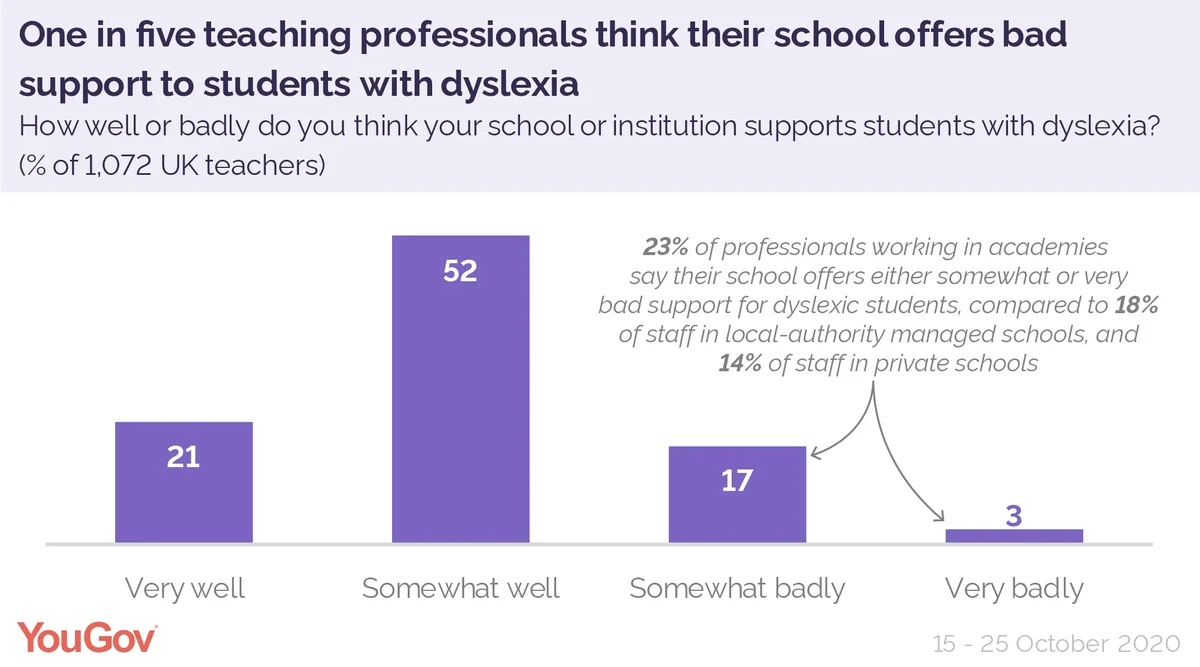 While a majority of teachers from all school types think they offer good support for these students, there is a difference between state and private schools. Nearly a quarter of staff in academy schools (funded by central government rather than local authorities) say their organisations support for dyslexic students is bad (23%), compared to 14% of staff at private schools say they same.
Three in ten private school staff (32%) also say their school supports dyslexic students "very well" compared to 18% of academy staff who say the same.
While many among the general public are unsure about support for people with dyslexia, there is a general perception that schools offer better support for dyslexic people than workplaces.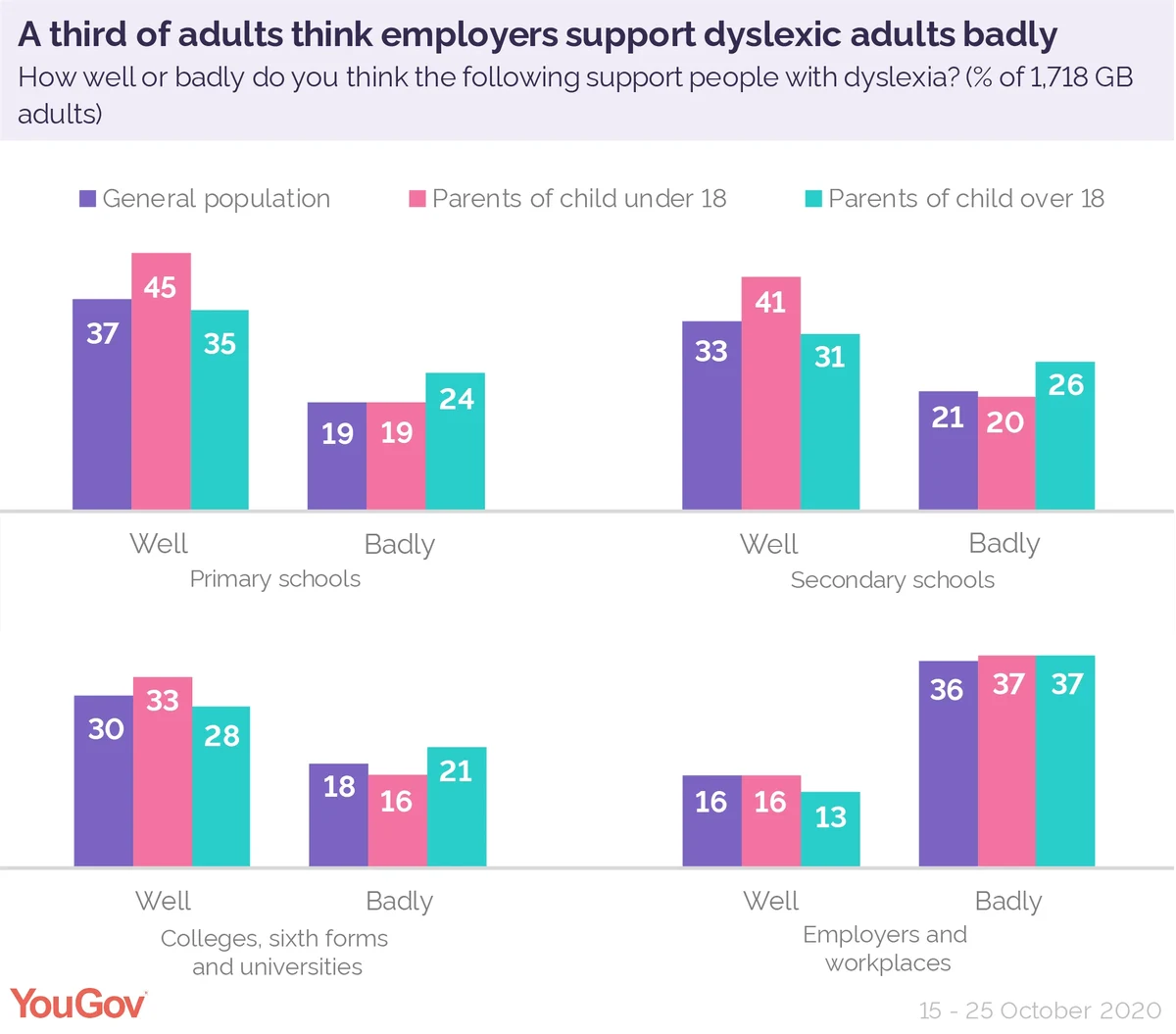 Primary schools (37%) are seen as the most like to support these students well, followed by secondary schools (33%), colleges and universities (30%), and finally workplaces and employers (16%). Around a third of each group (36-37%) think that workplaces and employers do a bad job of supporting dyslexic employees.
Academic support isn't seen as conferring an unfair advantage on dyslexic students
Some of the support given to dyslexic students, which will be tailored to their needs, can include additional time in examinations or scribes to help them write their answers. Most Britons (61%) think that the additional support does not confer an unfair advantage on students receiving it, and instead puts them on the same level as their peers.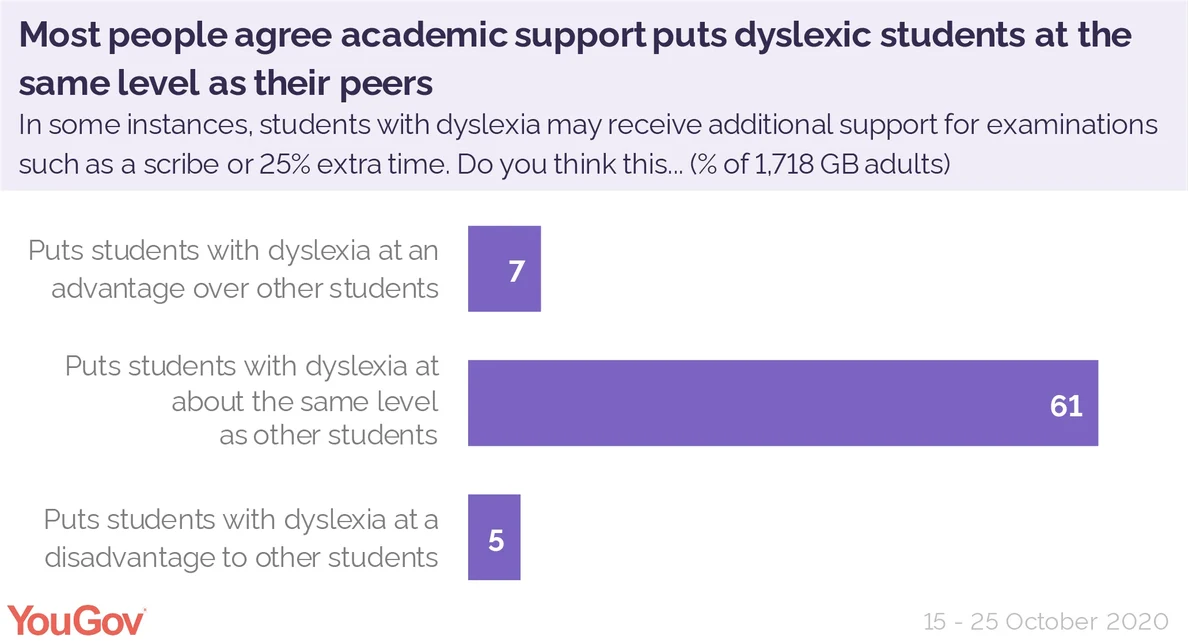 Only 7% of Britons think that this additional support puts dyslexic students at an advantage compared to their peers.
See full results for the general public here
See full results for teachers survey here