We use the YouGov mood tracker to look back at the emotional rollercoaster that was this year
Every week the YouGov mood tracker asks Britons to say which emotions from a list of 12 they have experienced over the prior seven days. No-one here could have predicted when the tracker was launched in summer 2019 the enormous changes in the public mood that would come less than a year later.
The onset of the coronavirus crisis rocked the nation's mood, with the big negative shifts primarily happening over the course of three surveys covering the period from 5 March to 23 March. Thereafter recovery began, slowly in some cases, and with the exception of boredom which was only by then starting to take hold of locked-down Britons.
Despite all the twists and turns in the coronavirus saga since then, subsequent events seem to have had little to no immediate impact on the nation's mood. It could be that Britons have adjusted to the new normal – with vaccinations rolled out over the course of next year we will see if Britain's mood begins to look more like it used to.
Happiness
Average level, Jun-Dec 2019: 50%
Average level, 2020: 42%
The impact of coronavirus on the nation's happiness was substantial, dropping from 50% in early March to just 25% two weeks later. Although figures began to slowly recover thereafter, they have not since recovered to the 2019 average of 50%.
The closest it has come has been 47%, on three occasions throughout the year, including the most recent survey which covers the Christmas period. This means that coronavirus has seriously taken the shine off Christmas this year: in 2019 the nation's happiness rate saw a 13-point boost, from 48% the week before to 61% for Christmas week. This year there has only been a more modest 8-point bounce, from 39% to 47%.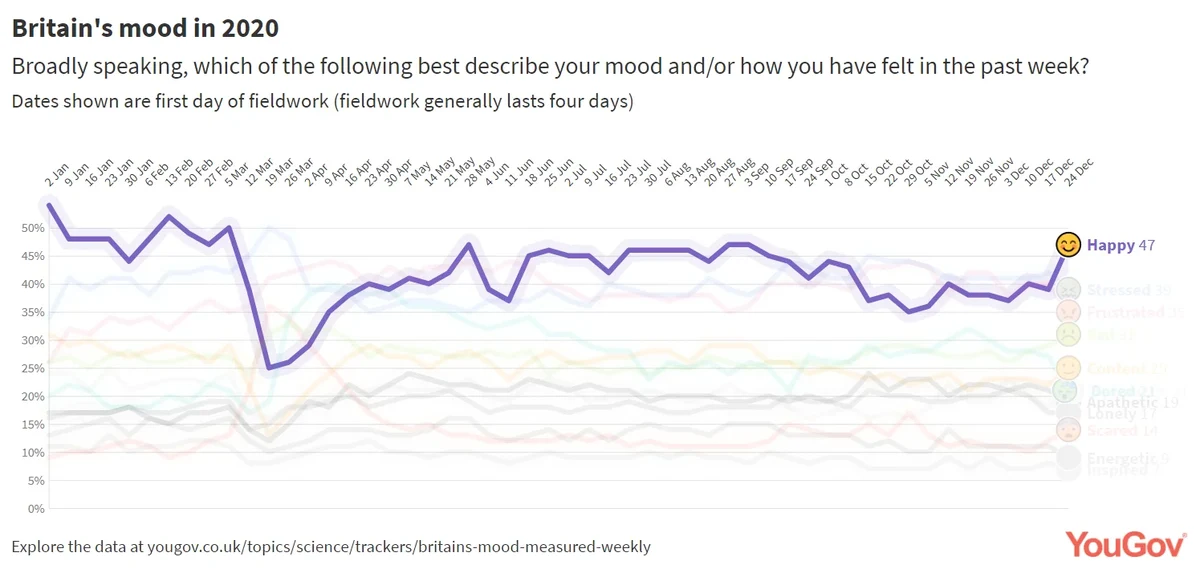 Boredom
Average level, Jun-Dec 2019: 19%
Average level, 2020: 28%
The other big shift has been in the nation's boredom level. Britons' boredom levels shot up in late March, from 19% to 34% in the space of a week. This is undoubtedly due to the first national lockdown, which took effect at that time. Boredom levels would continue to rise, peaking at 40% in mid-April. They would only slowly recede over the next few months, and – like happiness levels – have not once declined to the 2019 average of 19%. The closest they have come is 21%, with Christmas again being one such occasion.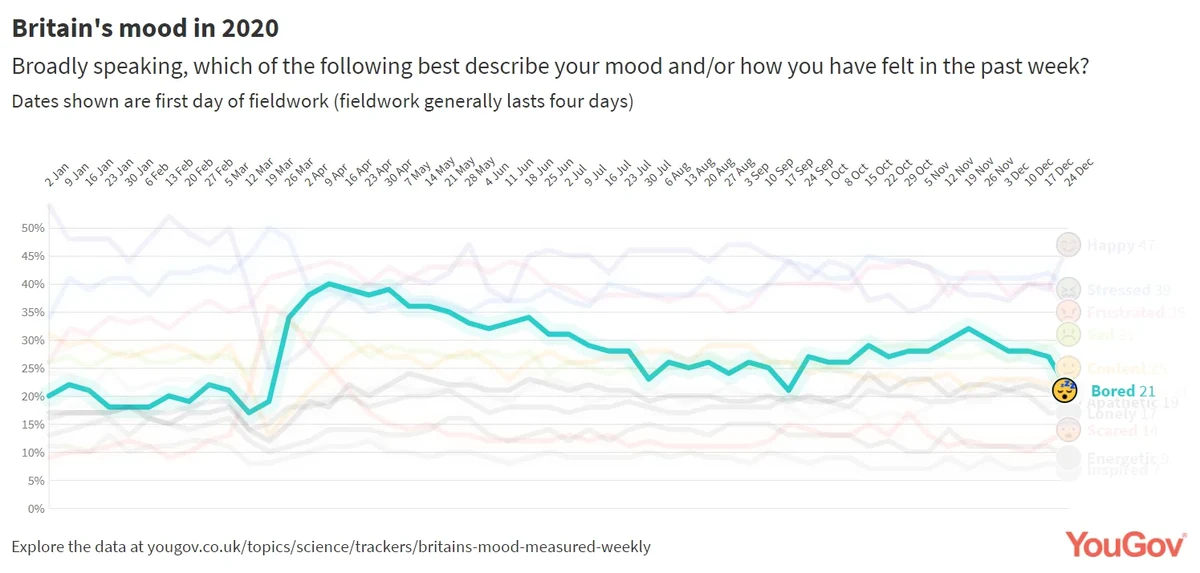 Scared
Average level, Jun-Dec 2019: 11%
Average level, 2020: 14%
The marginal difference in fear levels belies a huge shift in mid-March, when they jumped from 13% to 36% in two weeks. They hovered at this level during the first week of lockdown (34%) before declining fairly quickly – by the end of April they were down to 15%. They have remained at about this level ever since, regardless of further developments in the coronavirus saga.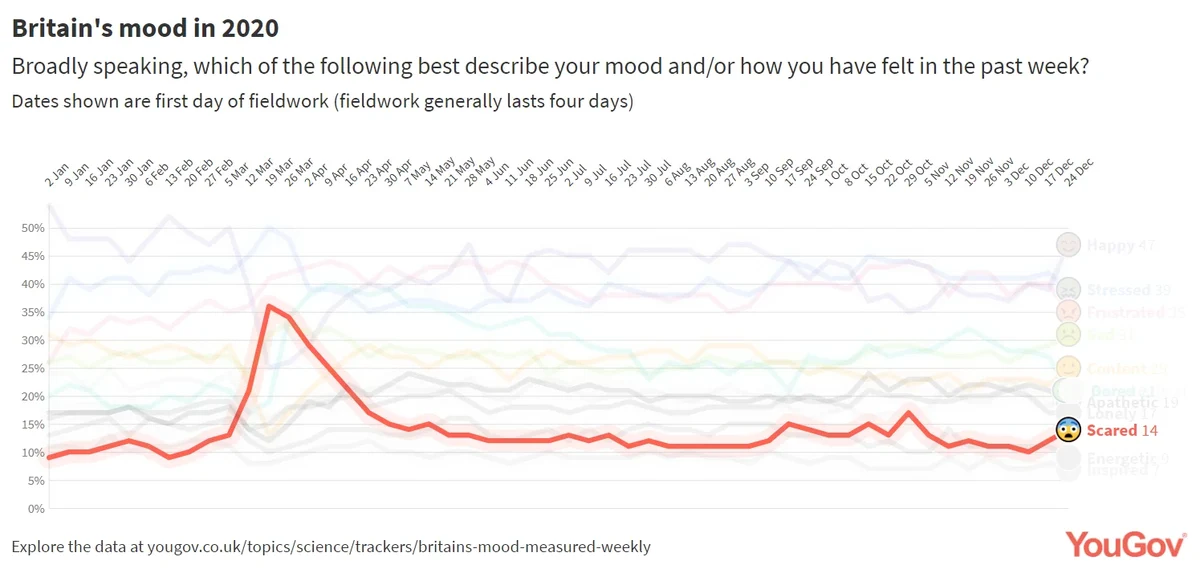 Stressed
Average level, Jun-Dec 2019: 41%
Average level, 2020: 40%
Again, the limited shift in average stress levels disguises big changes at the onset of the COVID-19 outbreak. Britons' stress levels rose from 42% to 50% in two weeks from early to mid-March. They rapidly returned to normal, however, falling back down to 39% over the next two weeks.
As with happiness, however, the coronavirus situation has deprived Britons of the chance to de-stress over Christmas that they experienced last year. In 2019 stress levels fell from 43% in mid-December to 34% by early January. This year there has been no such change, with stress levels remaining between 39% and 42% for the festive period so far.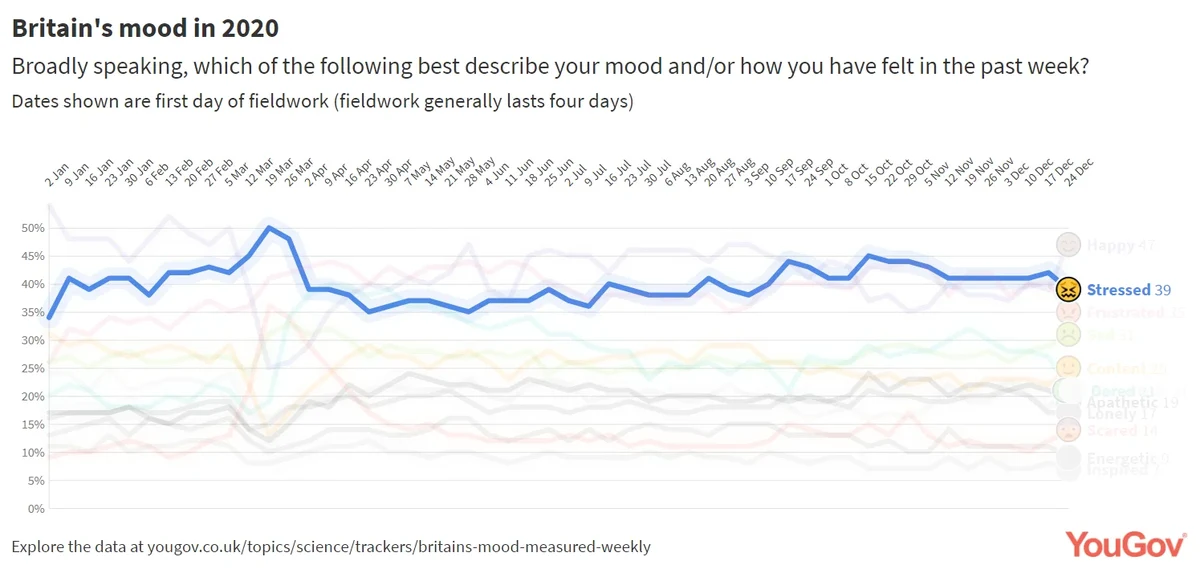 Content
Average level, Jun-Dec 2019: 28%
Average level, 2020: 26%
As with several of the other emotions, Britons' contentment levels were rocked in March in a way not reflected in the annual averages. Over two weeks in March, the proportion of Britons feeling contented fell from 29% to 13%. Emotions immediately began to recover, however, and by late April they had returned to their pre-crisis levels, and have stayed at around the average level ever since.
Britons have missed their Christmas contentment boost this year. In 2019 the festive season saw levels of people feeling content rise from 21% to 35%. This year there has been no shift outside the margin of error, with reported levels ranging from 22% to 25%.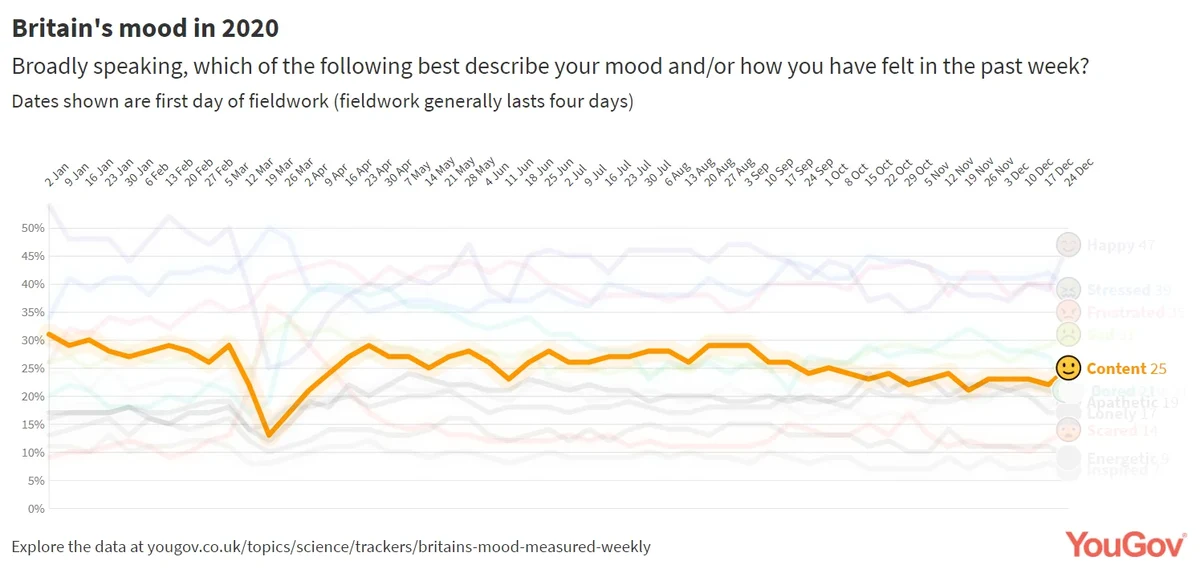 Frustrated
Average level, Jun-Dec 2019: 36%
Average level, 2020: 39%
Frustration levels saw a more modest increase at the onset of the coronavirus crisis, rising from 36% to 42% over the initial period in March. They would remain elevated until early July, before returning to pre-crisis levels. The rose again slightly in September, and rose again in October, remaining higher than average since.
As with stress, Christmas this year has not provided the same opportunity to let go of one's frustrations. In 2019 frustration levels fell from 38% to 22%. This year there has only been a drop from 40% to 35%.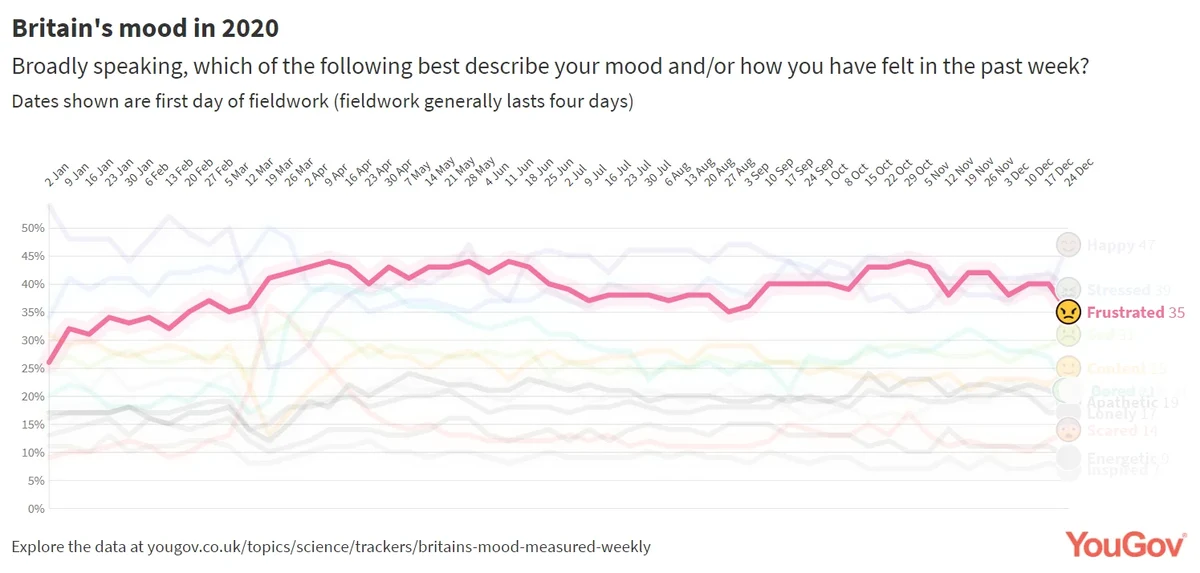 Sad
Average level, Jun-Dec 2019: 25%
Average level, 2020: 27%
Sadness levels also saw a notable increase as the coronavirus crisis made itself known, rising from 24% to a peak of 33% - about the same level as the sadness spike when the Conservatives won the 2019 general election. From mid-April sadness levels returned to about average, although they have risen slightly over the course of December to 31%, perhaps a consequence of the Christmas restrictions.