The general public largely support teaching Black history but in many aspects their views differ from Britons from BAME backgrounds
New YouGov figures show overwhelming support for making Black history part of the national curriculum. Two thirds of the general public either strongly (31%) or somewhat (36%) support it, with around one in five being either fairly (13%) or very (8%) opposed.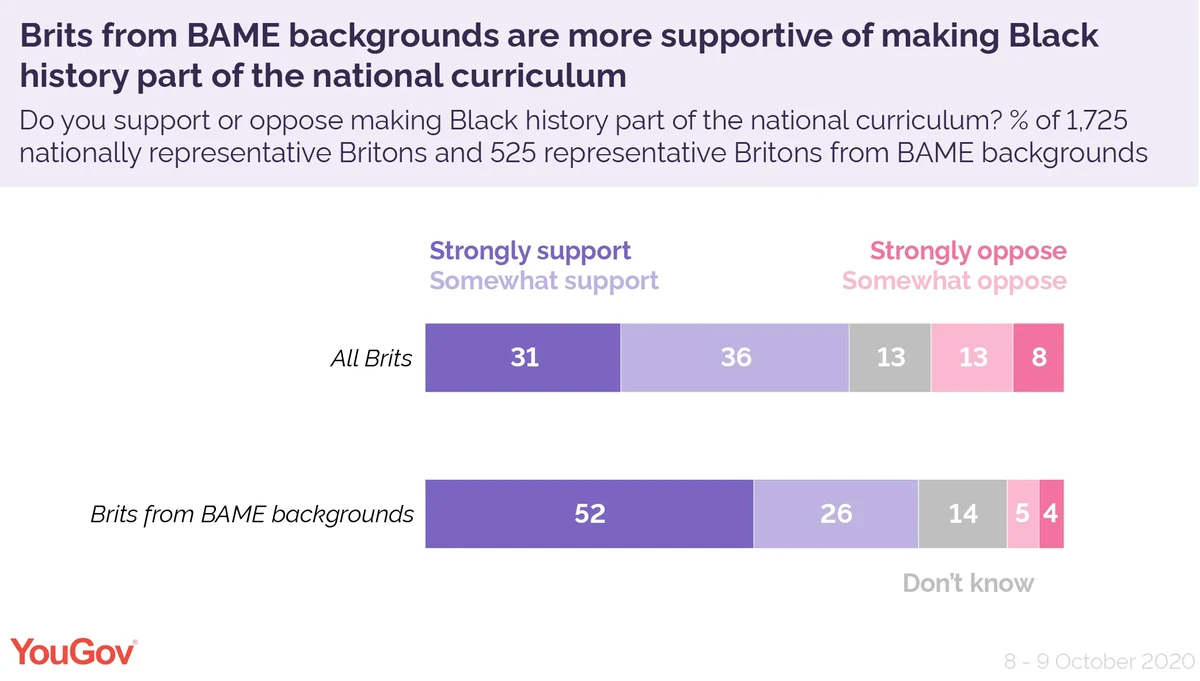 Backing is higher among those from Black, Asian and Minority Ethnic communities, with over three quarters either strongly (52%) or somewhat (26%) supporting it. Among this group disagreement is much rarer, with just one in eleven being either fairly (5%) or strongly (4%) opposed.
Largest gap in knowledge
Among ten historical themes they were asked about, the public are least likely to say they have good knowledge of the history of Black people in Britain. Only three in ten say they know either a fair amount (27%) or a lot (3%) about British Black history. This figure is only marginally higher among those from BAME backgrounds (37%, including 9% who know a lot).
The Second World War scores highest in terms of knowledge (84%) but less common subjects such as the Norman Conquest (37%) and the English Civil War (35%) are also more familiar to the public than the history of Black people in Britain.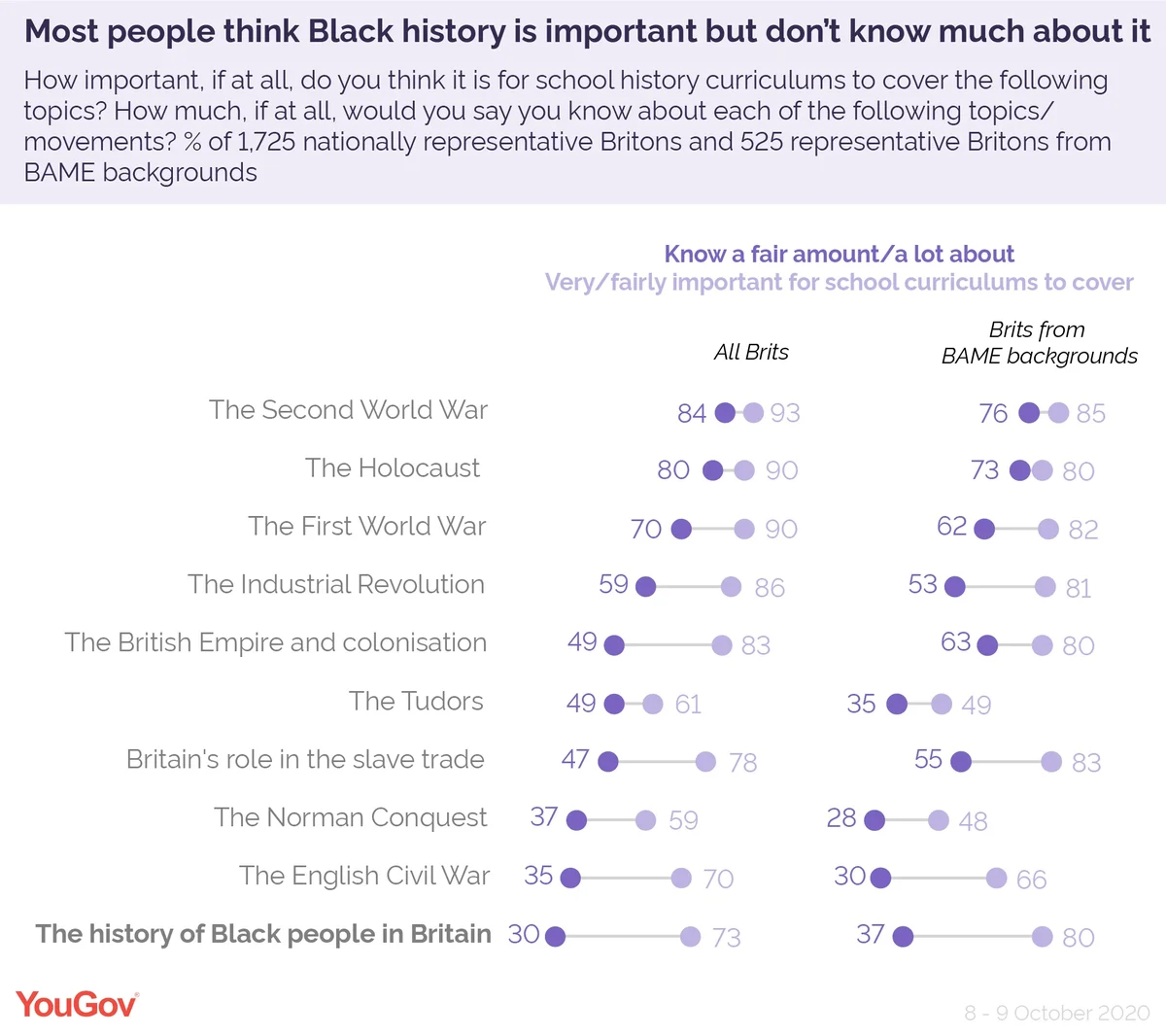 The research shows that a majority of people believe it's important to teach the history of Black people in Britain in school curriculums. This opinion is only slightly higher among people from BAME communities (80%) compared with the wider population (73%).
At 37 points, it the historical theme with the largest gap between the proportion of people who deem an important topic and the proportion of people who feel well-versed in it.
Different views on which topics are most important for curriculums
A closer look at which topics the general public and Brits from BAME backgrounds consider very important for school history curriculums also reveals some significant differences.
Among the ten topics presented, most people say the Second World War (65%), the Holocaust (64%) and the First World War (56%) are very important.
Among people from BAME communities, the historical areas seen as being very significant are slightly different – with the top most important being Britain's role in the slave trade (53%), the Holocaust (52%), the British Empire and colonialization (52%) and the history of Black people in Britain (51%).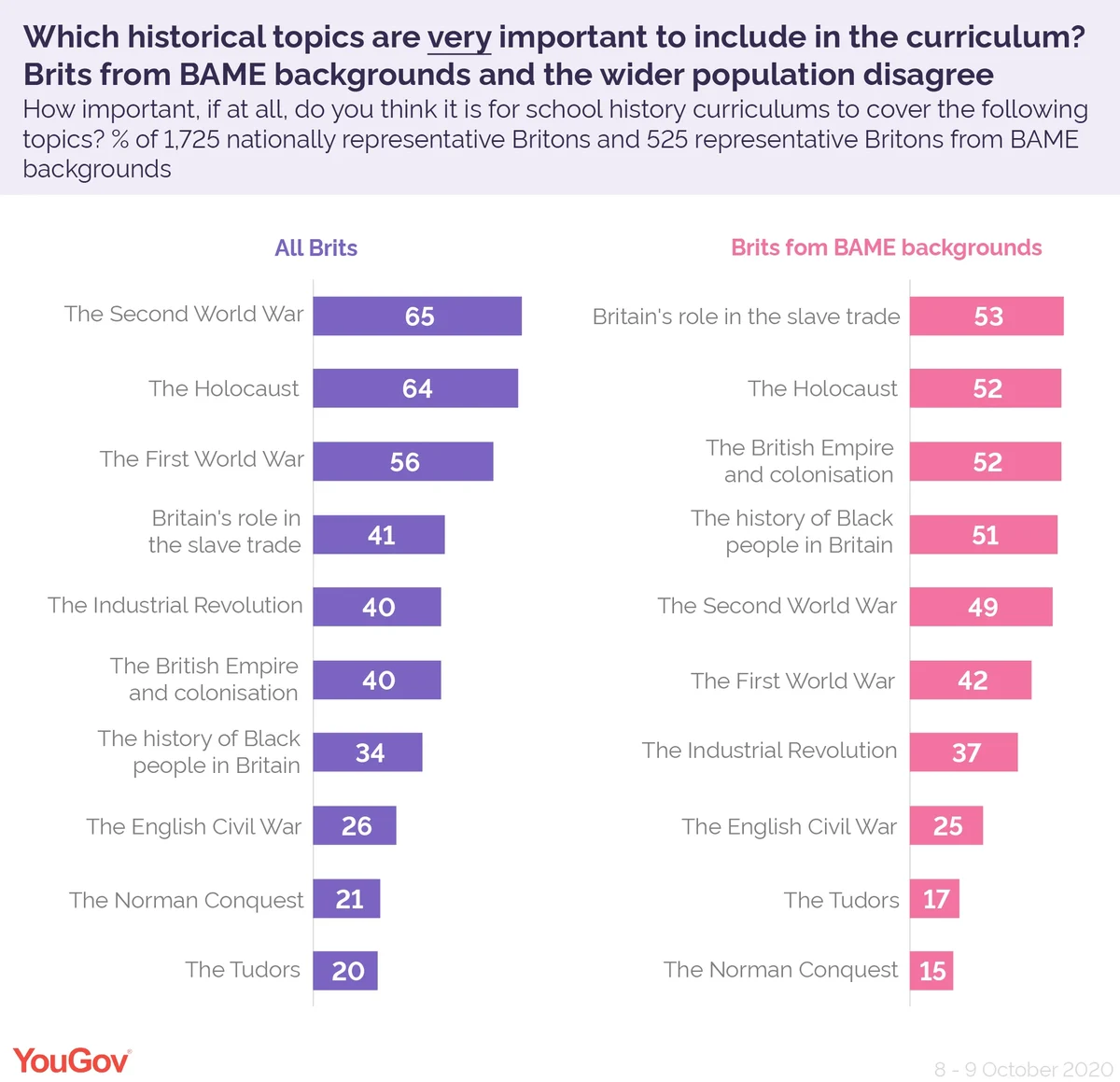 Apart from the Holocaust, the wider population are considerably less likely than those from BAME backgrounds to say these issues are very important. Two in five describe the UK's role in the slave trade (41%) and the British Empire and colonisation as such (40%), while a third (34%) see Black history as very important.