Large numbers of degree-educated Brits end up working in a different field, but a majority still say university was worthwhile
This year's university applicants must make their final choices by tomorrow (18 June) despite uncertainties over whether teaching will be moved online. Can they learn anything from how degree-educated Brits feel about their studies now?
The good news first: Most people with a degree say going to university was worthwhile. Gaining knowledge and skills is the reason that ranks highest among graduates at 87%.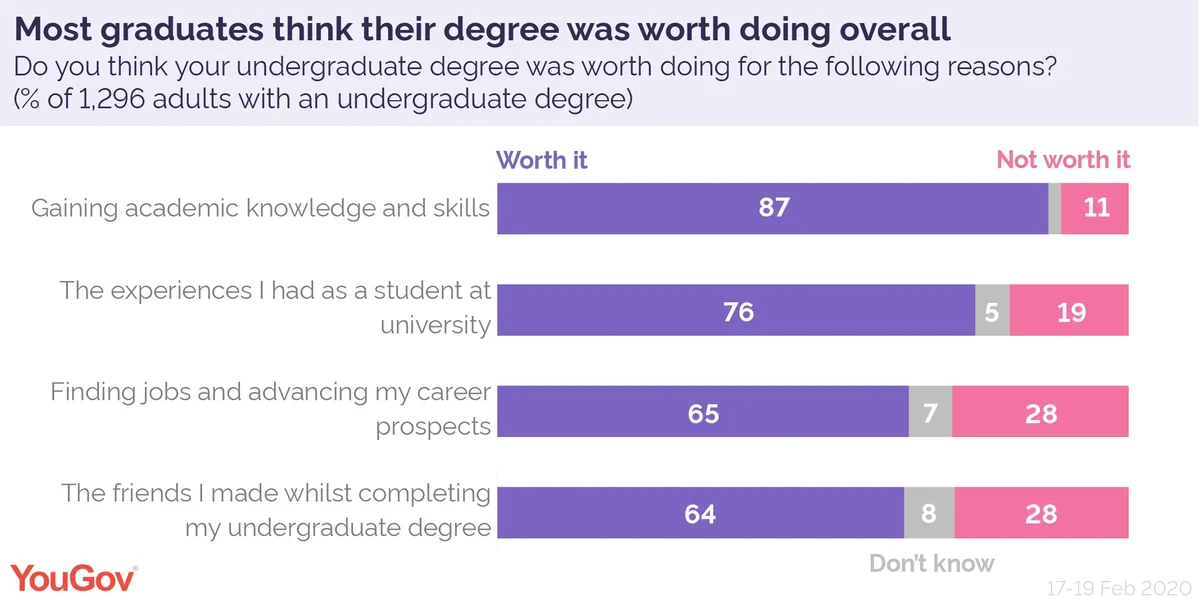 But Freshers' Week on Zoom may not live up to the experiences of past graduates. University life is important, with 76% saying their degree was worth it for the experiences they had as a student.
Just under two thirds say better career prospects (65%) and making new friends (64%) made their degree a good investment.
Many people choose the wrong degree
YouGov research shows that 44% of workers with a degree work in an entirely different field to their studies. About a third work in a related profession, while a minority of 23% have stuck with their subject.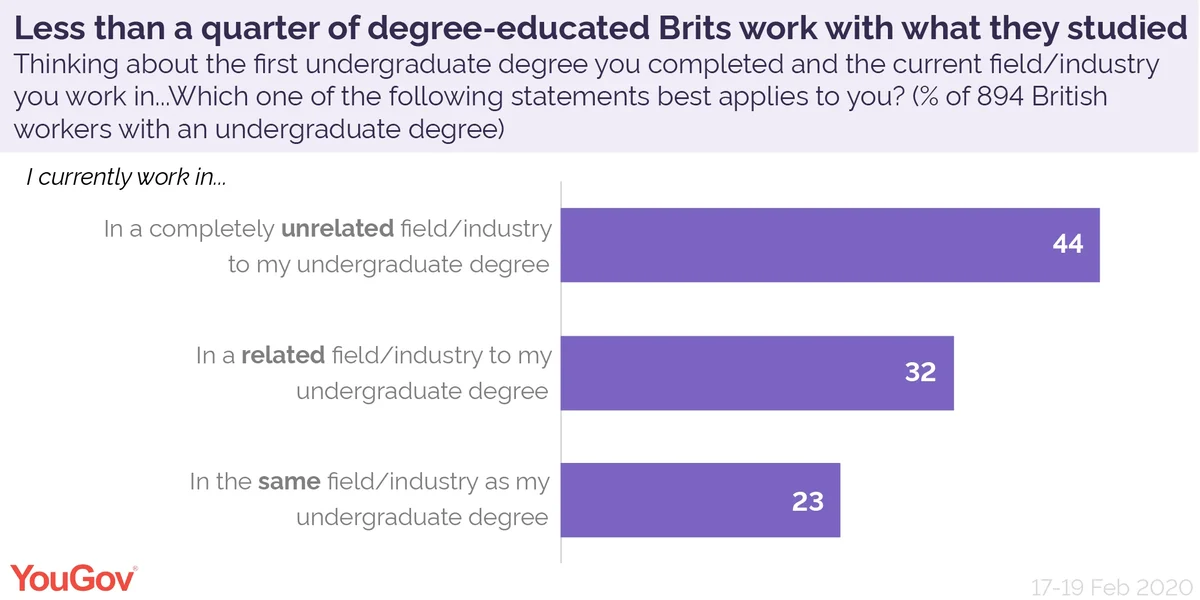 This does not necessarily mean that getting a degree is a waste of time. Only 8% of all graduates wish they hadn't gone to university at all.
But many seem to choose subjects they end up regretting. Nearly two in five Brits with a degree (38%) would choose a different one if they could decide again. This leaves just under half (46%) who would stick with their original choice.
A degree is useful… if you stick with what you studied
Many employed degree-educated Brits (46%) say what they learned at university is not applicable to their day-to-day tasks on the job. This includes 17% who say it's not at all useful.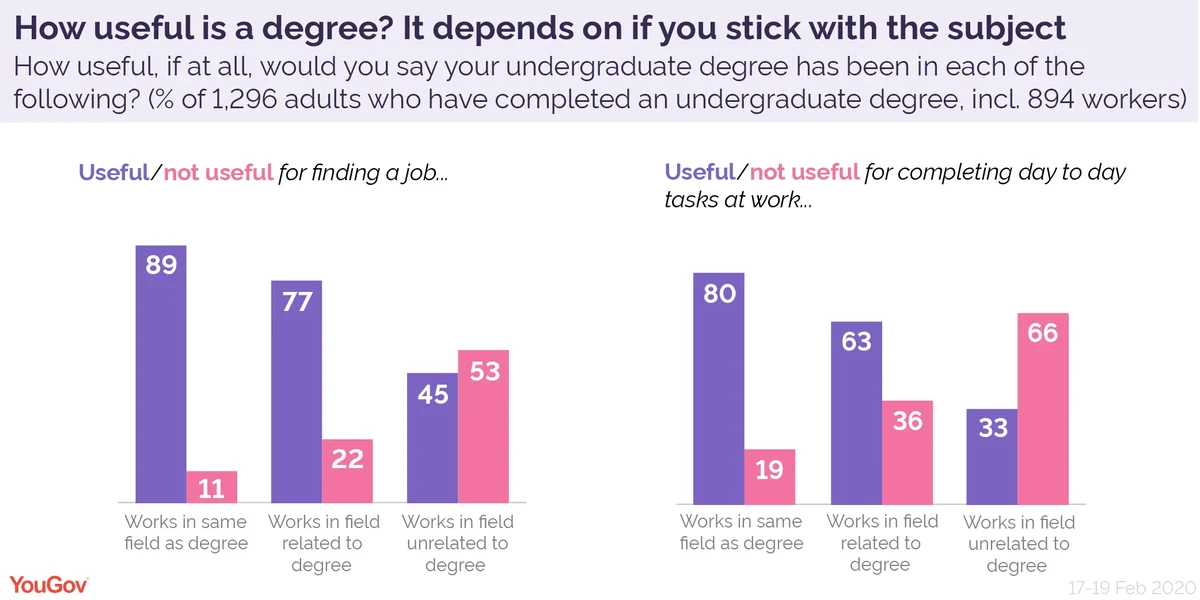 Three in ten also believe their qualification made little difference when job-hunting, including 13% who say it was 'not at all' helpful.
These figures should be seen in the light of that only a small group work with what they studied. Among this group, a large majority say it was useful for finding a job (89%) and for their day to day tasks at work (80%).
Brits who do a job that's related to their degree subject also largely believe it has been useful. Nearly four out of five say their qualification helped when job-hunting and 63% believe it makes them better at their job.
The number of people who say they have not benefitted from their degree is, as one would expect, much higher for those who work with something completely unrelated to their studies. About half (53%) say it didn't help them find a job, including a quarter who believe it was not at all useful. Two thirds also say they can't apply what they learnt to tasks at work.
On the flip side, this means that even among graduates who have chosen a new career path after university, 45% still believe their degree made job-hunting easier, while a third believe it makes them better at their job.
Higher fees, more regretful graduates? Not quite…
There's no obvious correlation between how much people pay to go to university and how they feel about their choice later in life.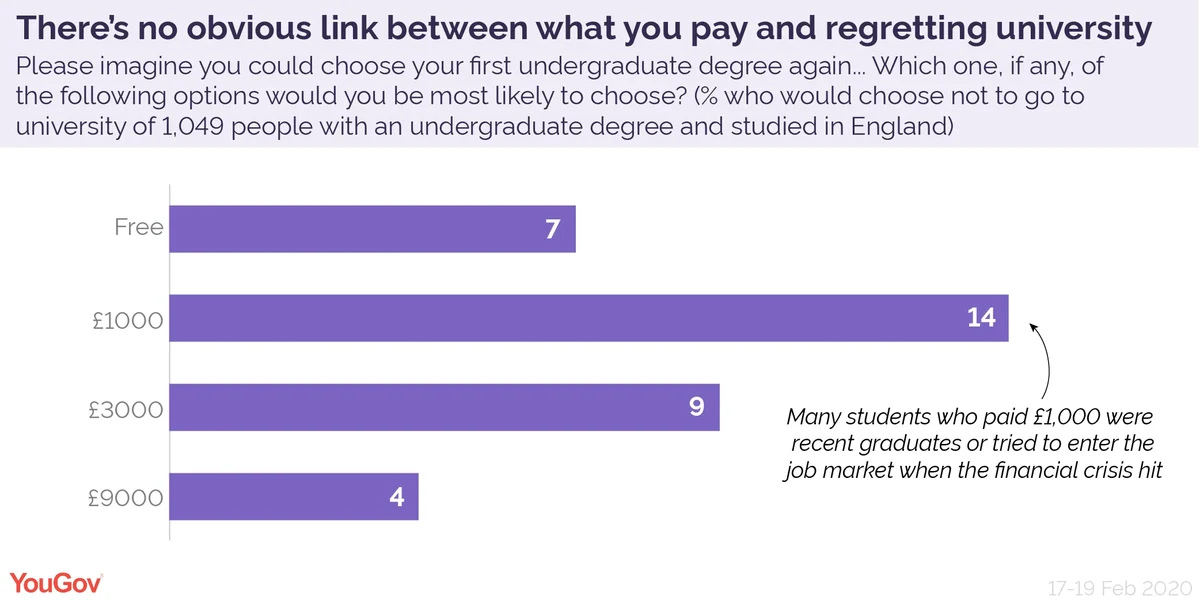 In fact, only 4% of graduates who paid £9,000 per year to study in England regret going to university. This is the lowest figure when comparing graduates who paid different fees. But the numbers might change over time, as many people in this group are still at the beginning of their career.
People who studied in England and paid £1,000 a year report the highest level of dissatisfaction - one in seven (14%) regret going to university. The most apparent reason is that they started their studies between 1998 and 2005, meaning many would have been recent graduates or trying to enter the job market when the financial crisis hit.
This indicates that more so than missing out on fun experiences, current students' feelings about the value of their degree will hinge on the unemployment level in the years after coronavirus.
Among those who studied for free in England, 7% regret going to university – which is just below the average among all graduates at 8%.