While many single Britons have put their love life on hold during lockdown, some are spending more time on dating apps, going on virtual dates and rekindling with old flames
About 60% of single Brits are not actively dating, preferring to remain alone, and a slighter higher number (67%) went on no dates at all in the six months before the coronavirus outbreak.
Among the active daters, 45% have stopped searching for companionship completely during the pandemic, while others are managing to maintain some sort of love life – at a safe distance.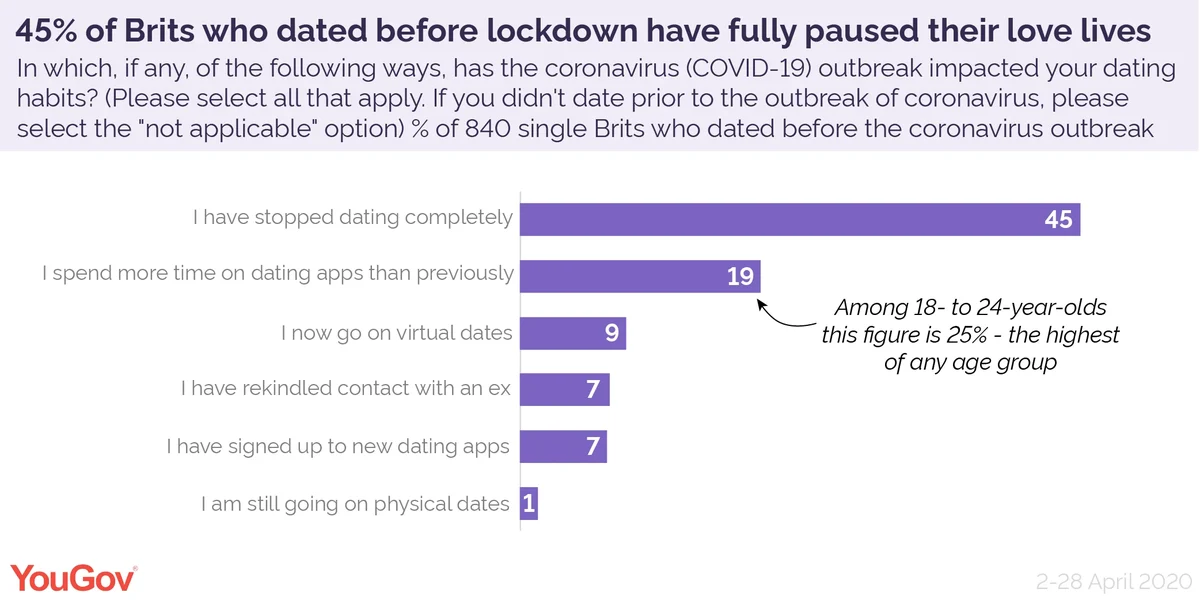 People aged 18 to 24 are least likely to have stopped dating (just 39%), while 45- to 54-year-olds are the most likely (55%).
A fifth of single Brits who had an active love life before lockdown are spending more time on dating apps. As one would expect, this figure is higher among younger people, with a quarter of those aged 18 to 24 now swiping more.
Additionally, 7% have also signed up to new dating apps.
Dating apps have confirmed they're seeing increased traffic. Tinder reported the highest number of swipes ever on March 29th and has announced that it will launch a video chat function.
Taking the plunge from chatting to going on virtual dates is less common among Brits who are dating but 9% have done so since lockdown. Others prefer familiarity and have starting talking to an ex again (7%).
A tiny minority of actively dating single people are flouting the lockdown rules and still go on physical dates (1%).
Remember sex?
The impact of the pandemic on the nation's love lives is not limited to those who are single and dating. A fifth of all Brits say they've had less sex since the start of lockdown, including 14% who answered 'a lot less'.
A small minority are however not only staying home and saving lives but potentially also creating new ones, with 7% saying they're having more sex than previously.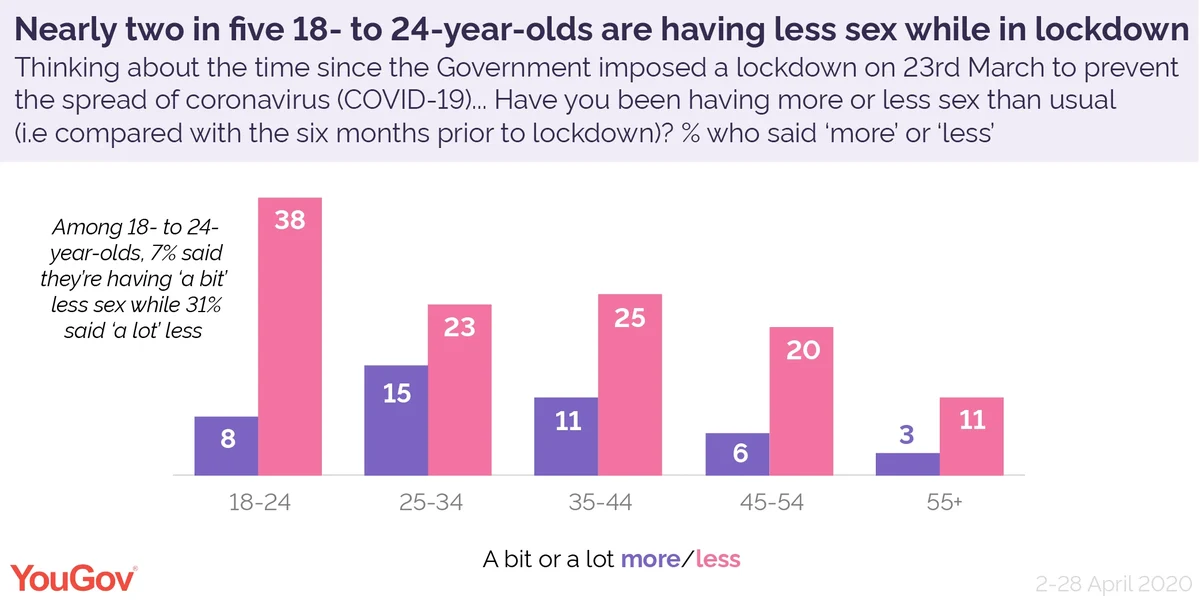 Younger people's loves lives are bearing the biggest brunt of being in lockdown, with 38% of 18- to 24-year-olds reporting that they're having less sex. This includes 31% who say it's "a lot less".
In contrast, 15% of people aged 25 to 34 say they're having a bit (12%) or a lot (3%) more sex than previously – the highest of any age group. But even among 25- to 34-year-olds, 23% still report a decrease.