Two thirds of parents who are home schooling children during the coronavirus lockdown are struggling to maintain discipline and motivation
Reception and year one and six pupils returned to school last week, and YouGov data suggests parents may have a new-found appreciation for the teaching profession.
Nearly three quarters of parents with school-age children (73%) have spent time home schooling their kids during the coronavirus outbreak. Among this group, two thirds said keeping their children disciplined and motivated was very (26%) or fairly (39%) hard.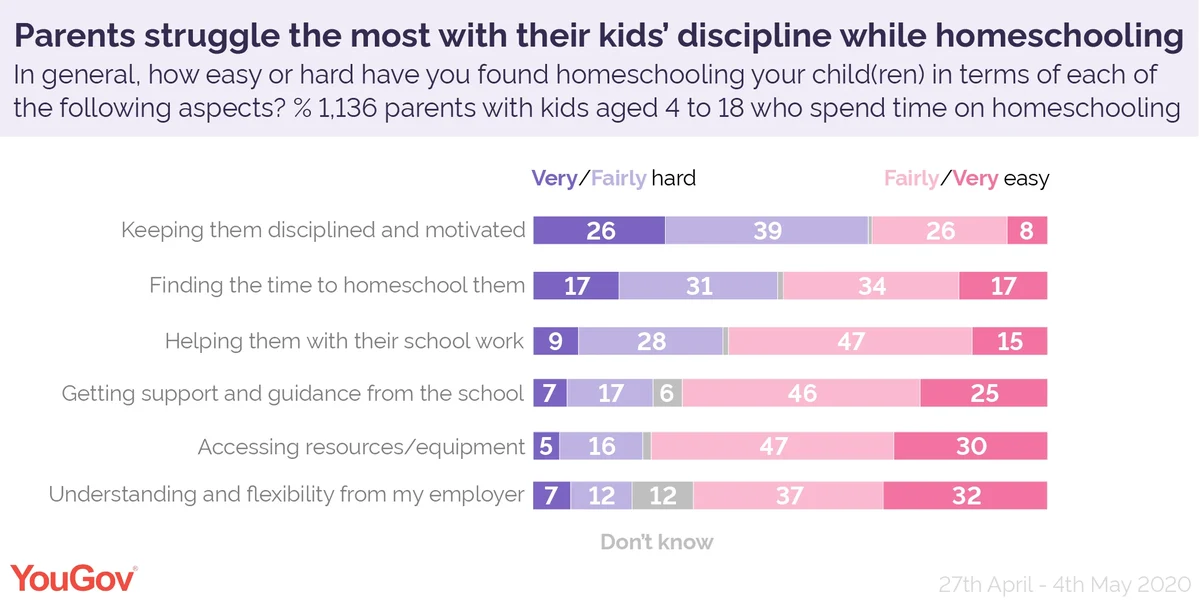 The second most cited challenge was finding enough time, with half of home schooling parents saying it has been very (17%) or fairly (31%) hard.
Similarly, having to step in as a teacher after decades away from school books has been challenging for 35% of home schooling parents, including 9% who say it is very hard.
Some have also struggled to get support from schools (24%), accessing resources and equipment such as laptops (21%) and being shown understanding from their employer (19%).
Middle-class parents report better access to support from schools
Several experts and commentators, including the head of Ofsted Amanda Spielman, have expressed concerns that home schooling will disadvantage students from poorer backgrounds. While this is a complicated issue, the data does reveal two interesting findings.
Firstly, parents in the C2DE social group, who tend to work in manual professions, have spent more time home schooling their children - at an average of 2.7 hours per day. Among ABC1 parents, who are often professionals, this figure is 2.5.
Another YouGov survey shows that higher numbers of ABC1 employees are working from home, while C2DE workers are more likely to have been furloughed during the lockdown. The numbers suggest the latter group have been in a better position to spend time home schooling their children.
Secondly, home schooling C2DE parents are more likely to report that they've found helping their children with schoolwork hard (40% compared with 35% of ABC1s). But it's a modest gap. What's more striking are the differing levels of support that ABC1 and C2DE parents say they have received from their child's school.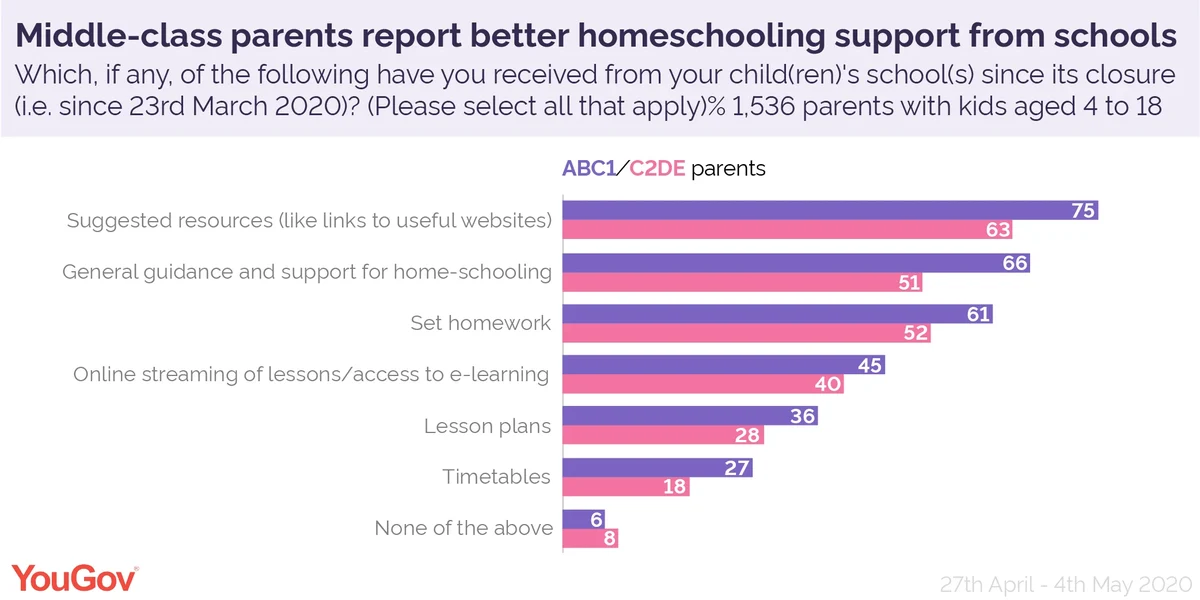 Two thirds ABC1 parents with kids of school-age (66%) said they have received general guidance and support for home schooling, such as information packs and having access to teachers, compared with 51% of C2DE parents. This was the most significant difference, at 15 percentage points.
The second largest difference was in teachers sharing useful resources (75% of ABC1 parents received this versus 63% of C2DEs). Providing set homework (61% versus 52%) and timetables (27% versus 18%) came third.
In every instance that we asked about, ABC1 parents were more likely to say they had received this form of support.
A small minority of parents with children of school-age did not receive any support or materials (7%).
Fathers have higher expectations but spend less time home schooling
Fathers are more likely to say their children should do the same amount of work at home that they would do in school. Just under two thirds of fathers with school-age kids (64%) say it's very (23%) or fairly (40%) important. In contrast, this figure is lower among mothers at 55%, including 19% who say it's very important.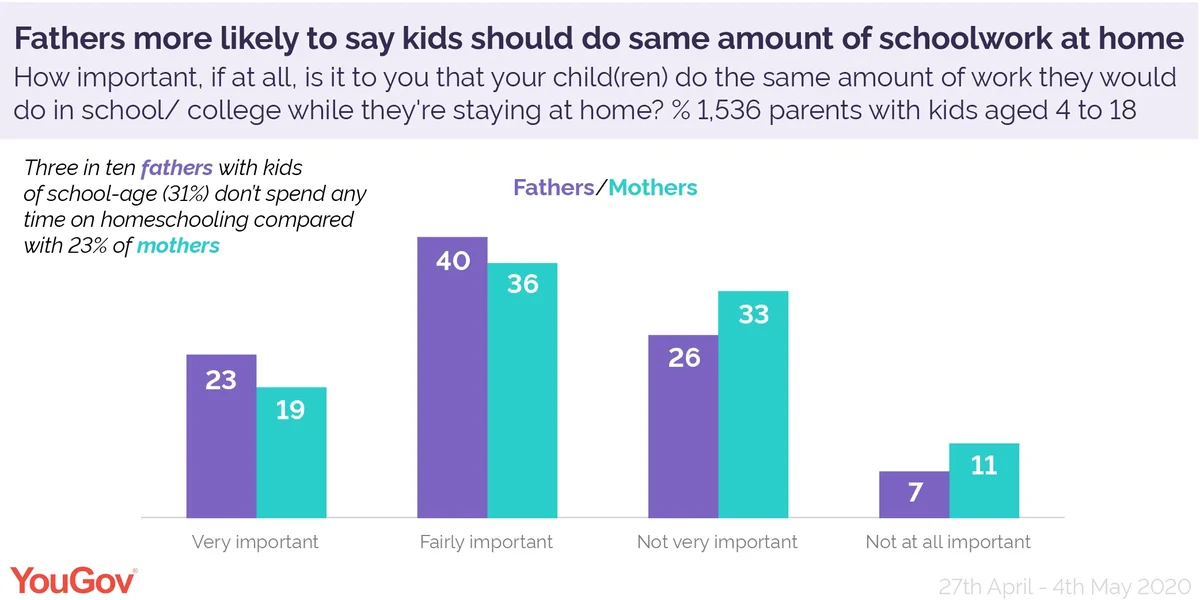 But while men may have higher expectations, they tend to do less of the actual teaching: 31% of fathers with school-age kids have not spent any time home schooling them, compared to 23% of mothers.
During lockdown mothers report that they've spent on average 2.7 hours daily home schooling. Among fathers this figure is 2.4 hours. And they reported feeling more pessimistic (28%) about being able to cope with the demands of home schooling than fathers (18%).
Among home schooling parents who work full-time, a higher number of women (24%) than men (18%) also said they found it hard because their employer lacked understanding and flexibility.