Brits can't wait to see their friends and family again after lockdown, but a majority also think spending more time at home has been positive
New YouGov research shows that the priority for 42% of Brits after COVID-19 lockdown is to see their friends and family again, with 4% also specifically looking forward to hugging loved ones once social distancing ends.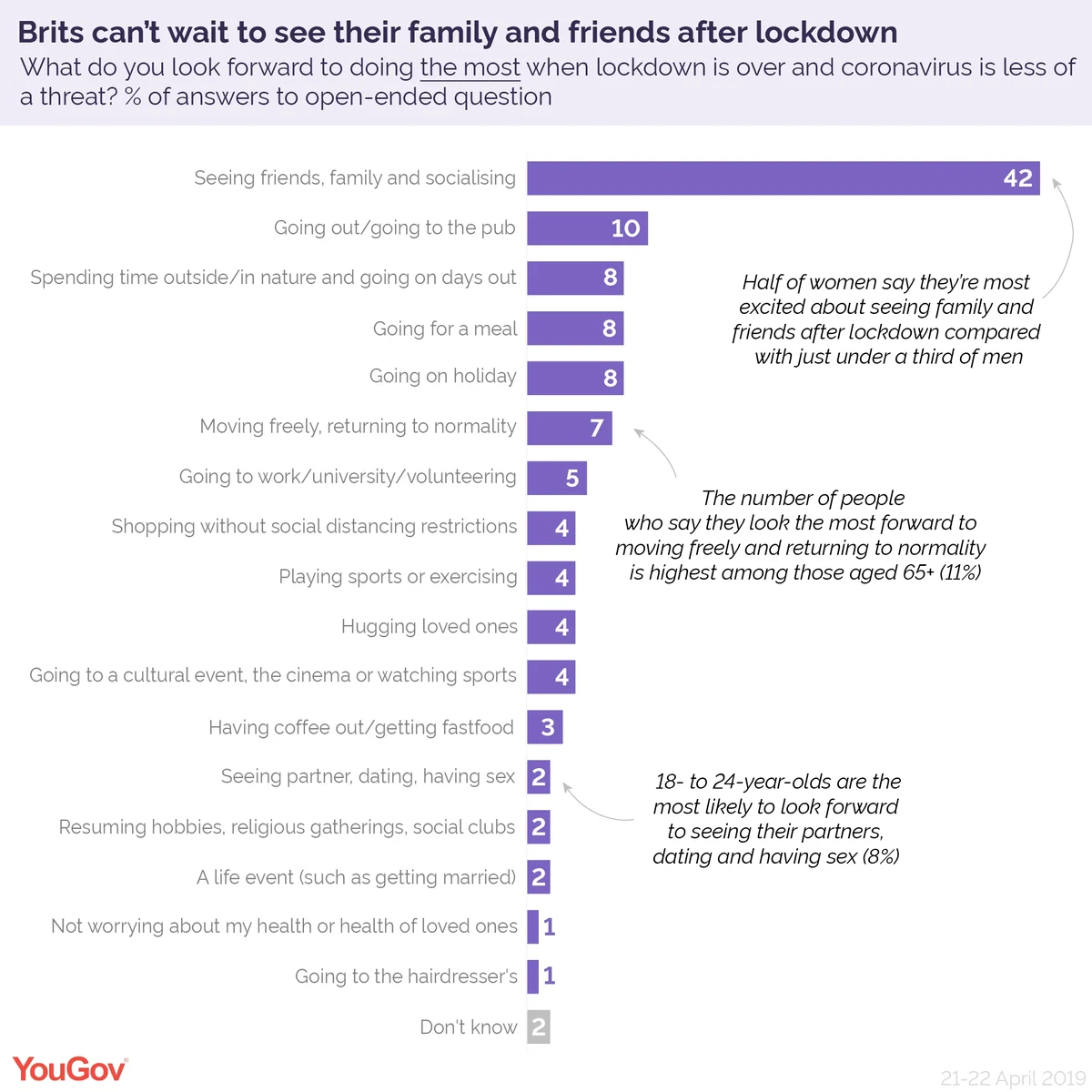 While people across all age groups are equally excited to see their friends and family, there's a noticeable difference among genders. Half of women (52%) cite this in their answer, compared with under a third of men (31%). Men are in contrast slightly more likely to say they look forward to going to the pub, or out in general, at 13%, compared with just 7% of women.
While seeing friends and family is by far the most popular answer, going to the pub or out in general comes second at 10%
Brits are also looking forward to being outside more and in nature (8%), having a meal out (8%) and going on holiday (8%).
People aged 65 and older are the group that looks forward the most to being able to move freely and getting some sense of normal life back at 11%, compared with 7% of all Brits.
Meanwhile, younger people aged 18 to 24 are the most excited to see their partner, go on dates and have sex again, at 8%.
Brits say spending more time at home has been positive
Being in lockdown has its ups and downs. A majority of Brits (56%) think spending more time at home has been a plus. Londoners are the most content, with 62% citing more time at home as an upside.
Only 11% of Brits say staying at home more has been negative. This figure is higher among younger people, being reported by 16% of 18- to 24-year olds.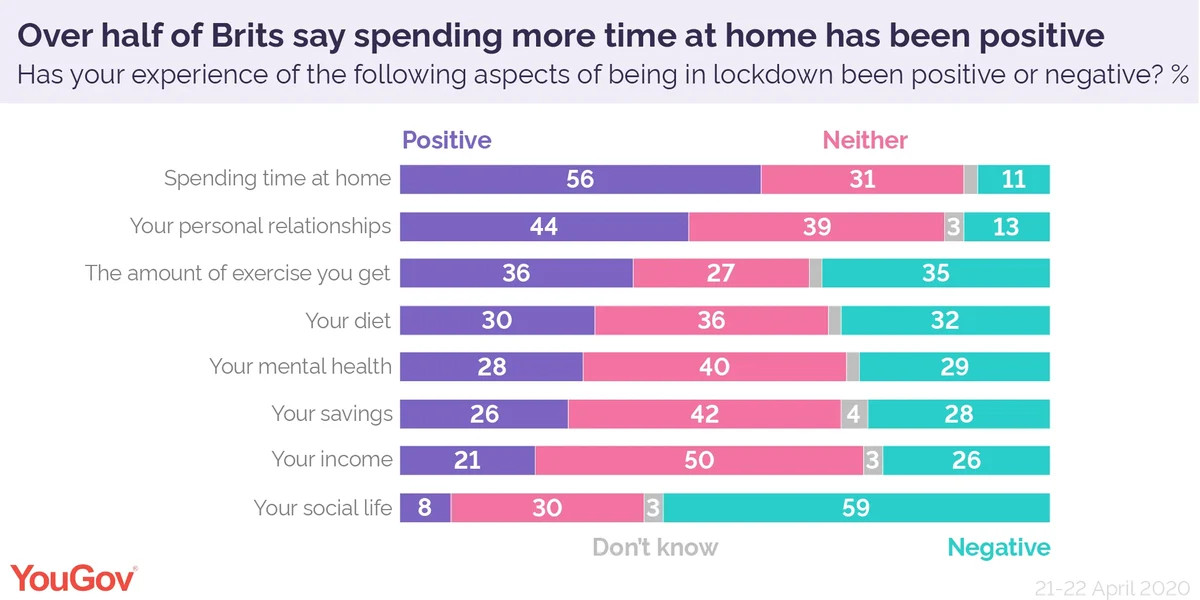 Over two in five Brits (44%) say lockdown has benefitted their personal relationships, while one in seven Britons (13%) say it has been damaging. This figure who say it's been positive is highest among people aged 65 and older (50%).
In contrast, only 8% believe the restrictions imposed because of the coronavirus outbreak have been good for their social life, while a majority (59%) say it's been bad. However, three in ten people say it's made no difference.
An equal number of people say being in lockdown has been positive (28%) and negative (29%) for their mental health. But there's a clear divide in terms of age. While 40% of people who are 65 and older believe it's been beneficial, 45% of 18- to 24-year-olds say it's taken a toll.
The public are torn on whether lockdown has been good for the amount they exercise (36% positive versus 35% negative) and their diet (30% versus 32%).
More Brits also say lockdown has been negative for their income (26%) than positive (21%). And while 26% of Brits say their savings have benefitted, 28% say the effect has been negative.