YouGov asks more than 800 teachers about the impact of coronavirus
Four weeks after schools in England were shut in response to COVID-19, education secretary Gavin Williamson said he cannot give a date for when they will be reopened.
A new YouGov survey of more than 800 teachers finds that educators tend to think the government's response to the coronavirus crisis has been good. Almost half (48%) feel this way, compared to 30% who think it has been bad (30%) and 19% who say it has been neither.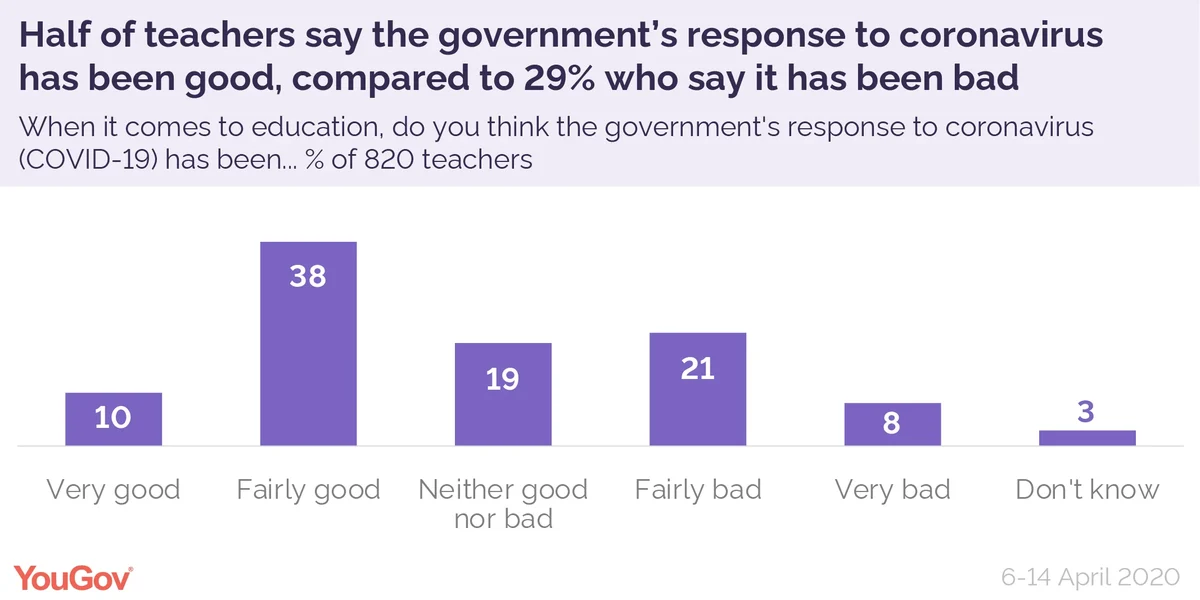 One of the biggest consequences of the COVID-19 outbreak on education in Britain has been that exams will not be taking place this year. The government has said that instead GCSE and A level results will be based on teacher assessments.
The overwhelming majority of teachers – 82% – say that this is the right call given the circumstances. Only 10% think it is the wrong step to take, and a further 9% aren't sure.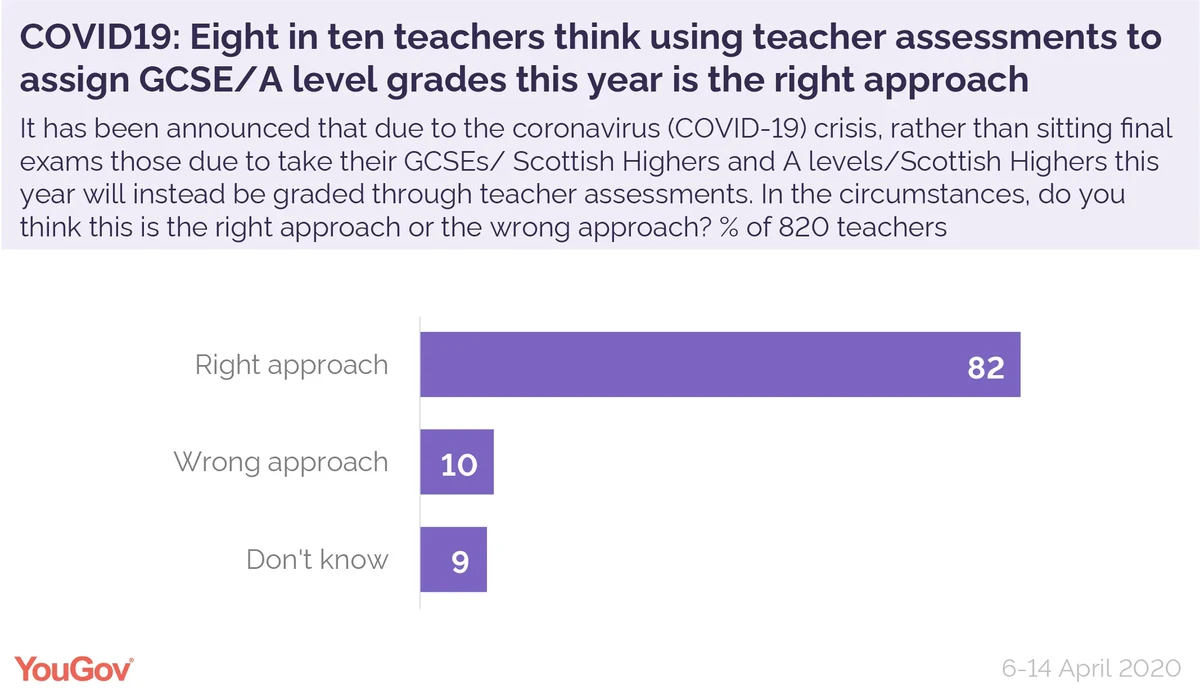 The level of support may be down to teachers' confidence in their ability to predict the grades their pupils would have received. Fully 90% of teachers who teach at GCSE level are very or fairly confident they will give their students an accurate grade, as are 84% who teach A-levels.
Most schools are teaching online, but this means many pupils are being left behind
Nine in ten teachers (90%) told us that their schools are setting work electronically (e.g. over email or through a dedicated portal or site). Only 18% said that live lessons are being taught online, for instance over webcam.
One in three (37%) told us that lessons to children on the school premises were still taking place – most likely the teaching of the children of key workers. Only 7% reported that no teaching or work was being set for some or all subjects.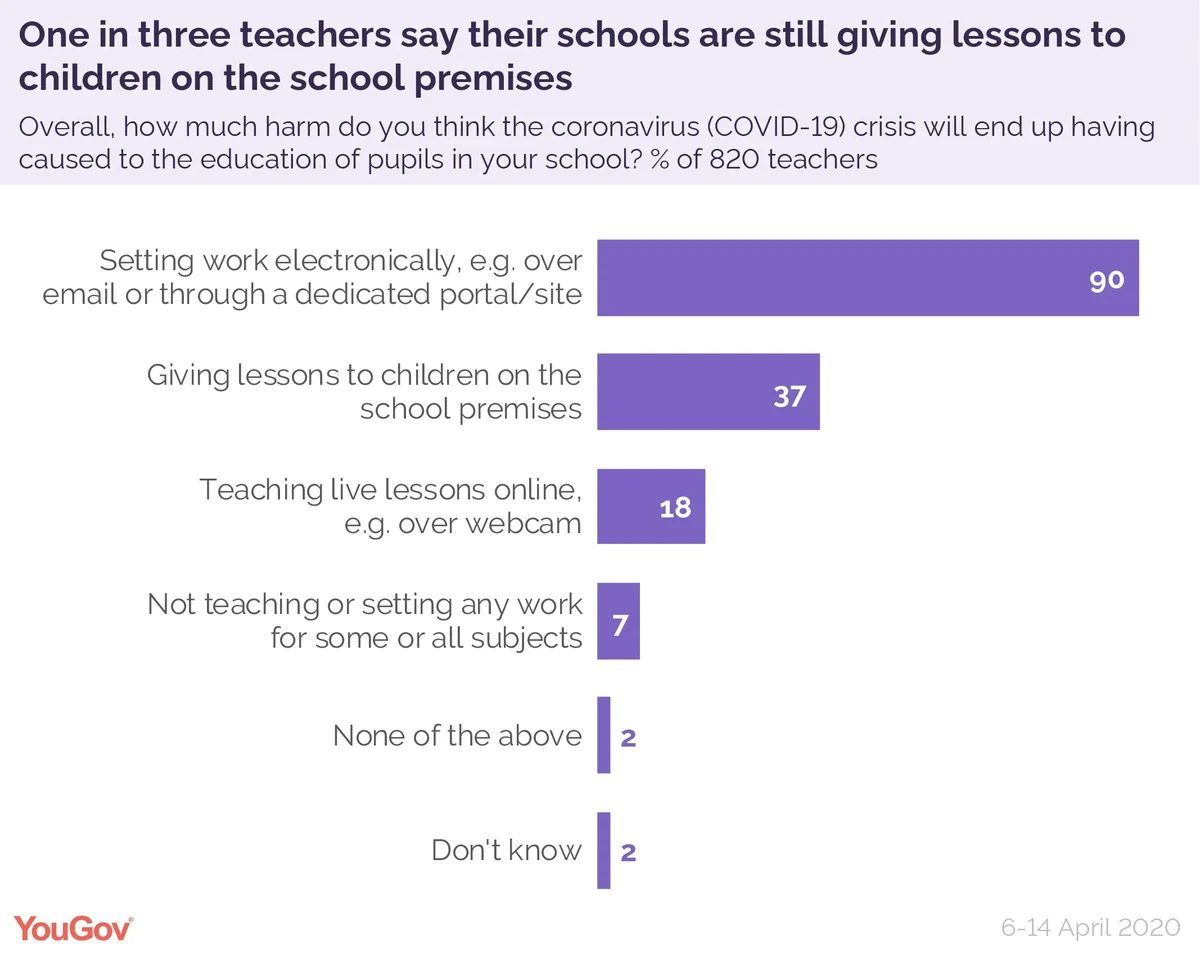 While the overwhelming majority of schools are setting work online, the shift is clearly leaving some pupils unable to access their education. Disadvantaged pupils in England are set to be able to borrow laptops in order to continue learning and there have been calls in Northern Ireland to give children in lower income families iPads.
When asked how many of their pupils they were unable to teach because the students lack good enough technology or internet connectivity. Overall, 44% of teachers know at least one pupil who hasn't been able to access education because of tech issues, and a further 45% aren't sure how many they've lost. Only 11% say they haven't had any pupils unable to connect.
Among those who gave a number, the average answer was that 8 pupils were unable to access learning due to tech issues. (Among teachers who know at least one people with connectivity problems, that figure rises to 10).
The fact that schooling is no longer taking place in person means that some children have been able to drop out of education altogether. Half (51%) of teachers know at least one pupil who is no longer participating, and another 43% aren't sure. Only 5% say they've had no students dropping out.
Among those who gave a number, the average response was that 10 of their pupils have fallen out of contact. (Among those teachers who know at least one pupil not participating that figure rises to 15).
Most teachers think their pupils' education is going to be significantly damaged by coronavirus
While most schools are still educating their pupils, teachers are clearly concerned that the quality of teaching they are able to provide isn't up to scratch. Just 16% think the standard of education their school is providing during lockdown is as good as normal or better. By contrast, eight in ten think it is worse than normal, including 34% think it is much worse.
As a result teachers are worried the crisis is going to damage their students' education. Most believe it will cause serious harm (19%) or moderate harm (36%) to their learning. A further third (35%) think it will only cause mild harm, while just 7% think it will have no impact at all.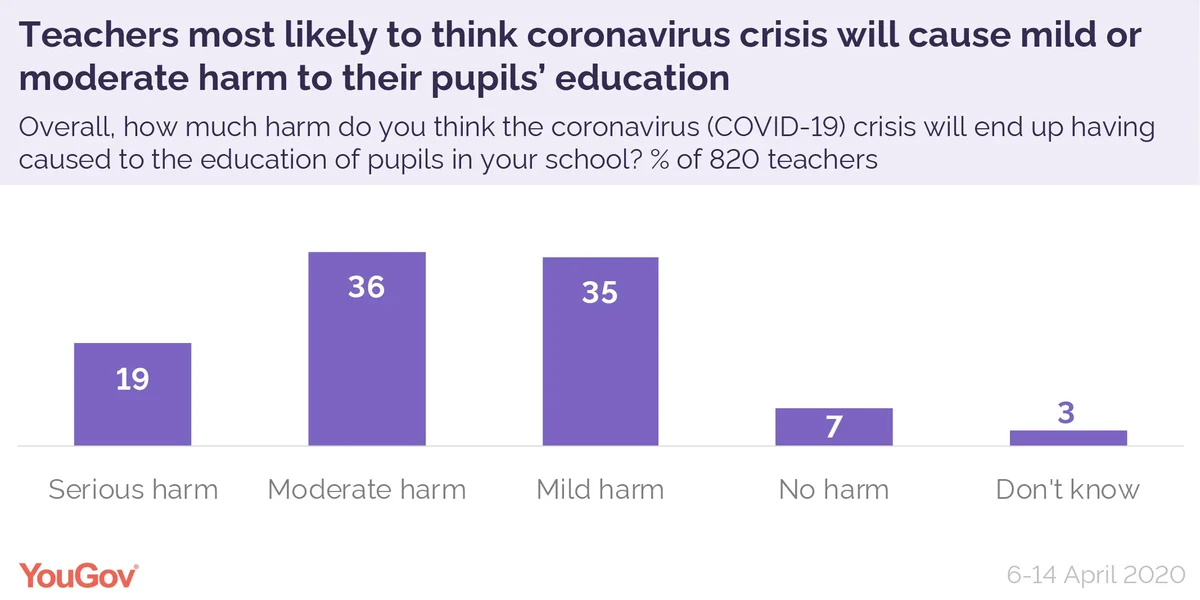 Teacher Track is a fast turnaround survey that enables to access up-to-the-minute views from a representative sample of teachers on a range of topical issues. For more details click here