Watercooler wooing and flings with friends of friends are the most common ways – but younger people are increasingly turning to dating apps
The office romance is a pop culture classic, riddled with awkward advances and sexual tension - think about Dawn and Tim's longing looks in The Office or Mark and Sophie's miserable marriage in Peep Show. In fact, YouGov research shows that nearly a fifth of Brits met their current or most recent partner at work.
If you're still hopeful this cuffing season (winter officially ends on 20 March), another equally popular route to love is meeting through mutual friends (18%). More niche options include finding a partner through a shared hobby (5%) or through family (3%).
Speed dating and similar face to face events are unlikely to yield results. Less than 1% of people who have been in a relationship found their current or most recent partner this way.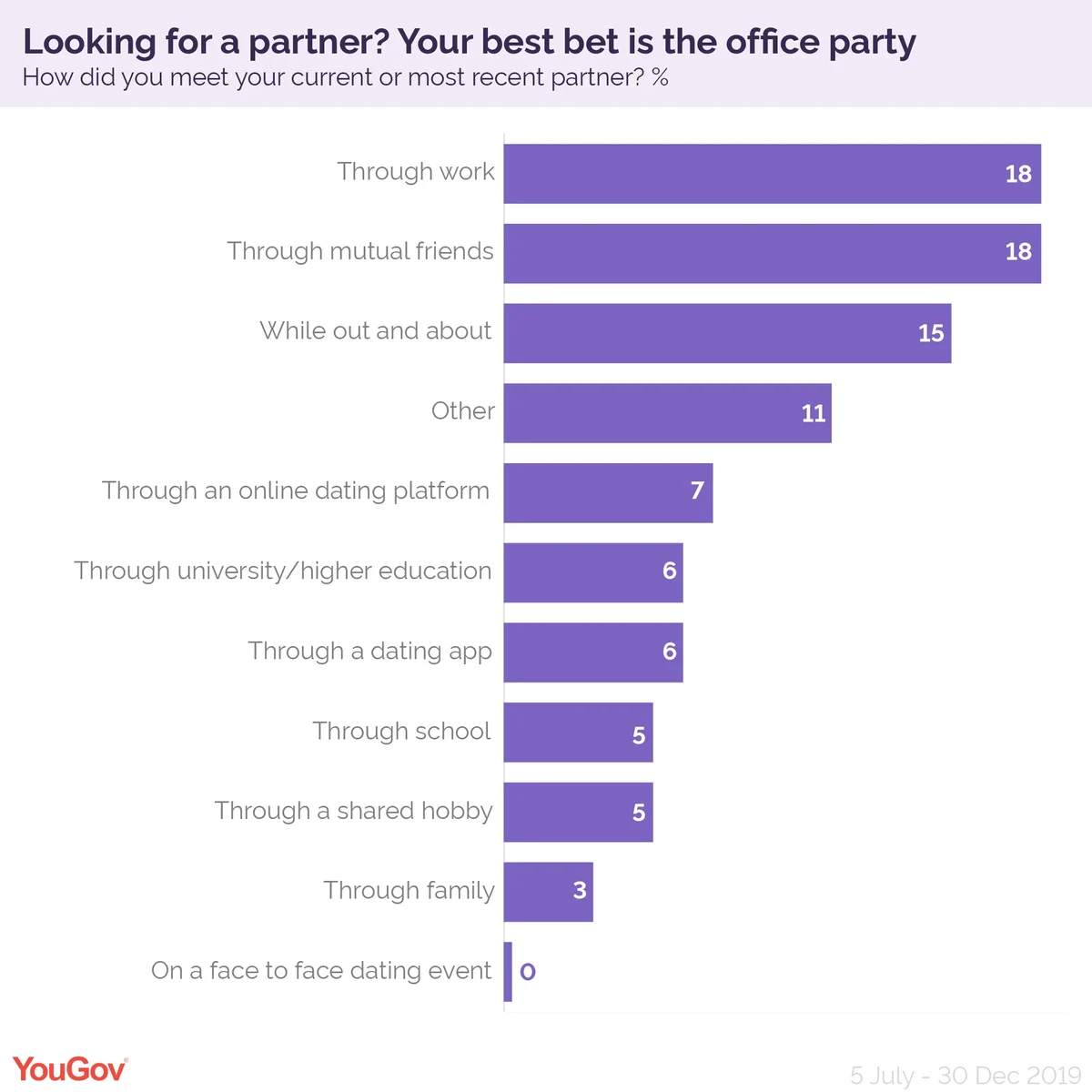 Young people are less likely to 'bump into' the love of their lives
Countless love stories in films and TV shows start with an unexpected encounter in a bookshop or at a bar. It does happen in real life too: one in five people aged 50 to 64 met their partner by chance while out and about.
For younger generations, such encounters are increasingly rare. Only one in twenty people aged 20 to 29 met their partner at a bar or elsewhere by chance. So if no one is asking for your number on a night out - it's not you, it's just your generation.
Millennial love takes a more practical approach: swiping through digital photographs. Over a fifth of 25- to 34-year-olds met their partner online – 13% through dating apps and 9% websites such as OKCupid or Guardian Soulmates.
Dating websites are most popular with people who are slightly older. One in nine 40- to 44-year-olds (11%) met their partner on a website, while apps are somewhat more unusual at 7%.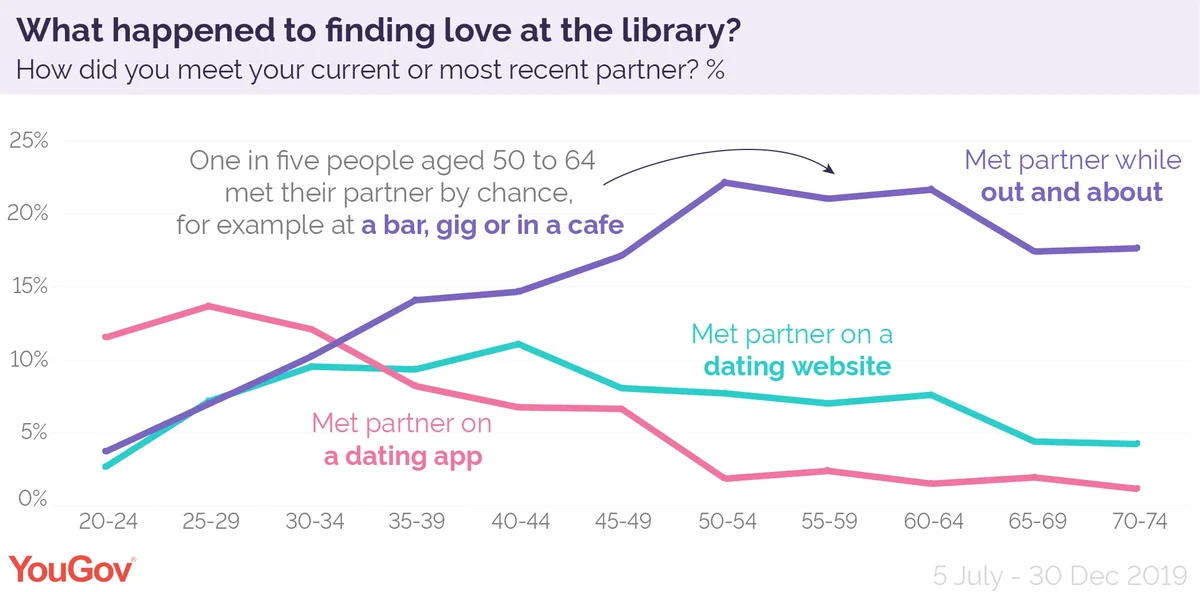 What's the best place to look for a partner?
It depends on your age but most people still meet their partner offline - and it tends to happen where one spends a lot of time.
Young people aged 18 to 24 first spot their crushes at university (18%), school (18%) or with mutual friends (15%). In contrast, 45- to 54-year-olds meet tend to meet at work (22%), by chance (19%) or through friends (16%).
Older couples who, like Homer and Marge Simpson, met at school are rare. Only 4% of 45-to 54-year-olds met this way, while 3% found their current or most recent partner at university. These figures may change over time, as attending university is more common among younger people.
Keep an eye on our new trackers for the most recent numbers on how Brits meet their partners.