Over-indebted and financially distressed Brits say the festive season gets harder to afford every year – and most say they're probably going to spend more than they should
For much of the UK public, Christmas cheer comes at a hefty price: new YouGov polling reveals that Brits' festive costs add up to £1,116 on average – with £381.60 going on presents alone. Though gift-giving is the most significant expense by far, a significant chunk of seasonal spending is taken up by hotel stays (£197.20) and food & drink (£159.90).
It's a costly time of year in general, but our research also highlights the strain that Christmas can place on Brits who are financially distressed (those who are struggling to keep up with financial commitments or worried they're going to fall behind) or over-indebted (Brits who are three months behind on their bills/financial commitments or more).
Struggling Brits spend less during the festive season – but not much less
Almost three quarters of distressed Brits (73%) and eight in ten over-indebted Brits (79%) agree that Christmas gets more expensive every year, compared to 38% of the general population. But what's making it so costly?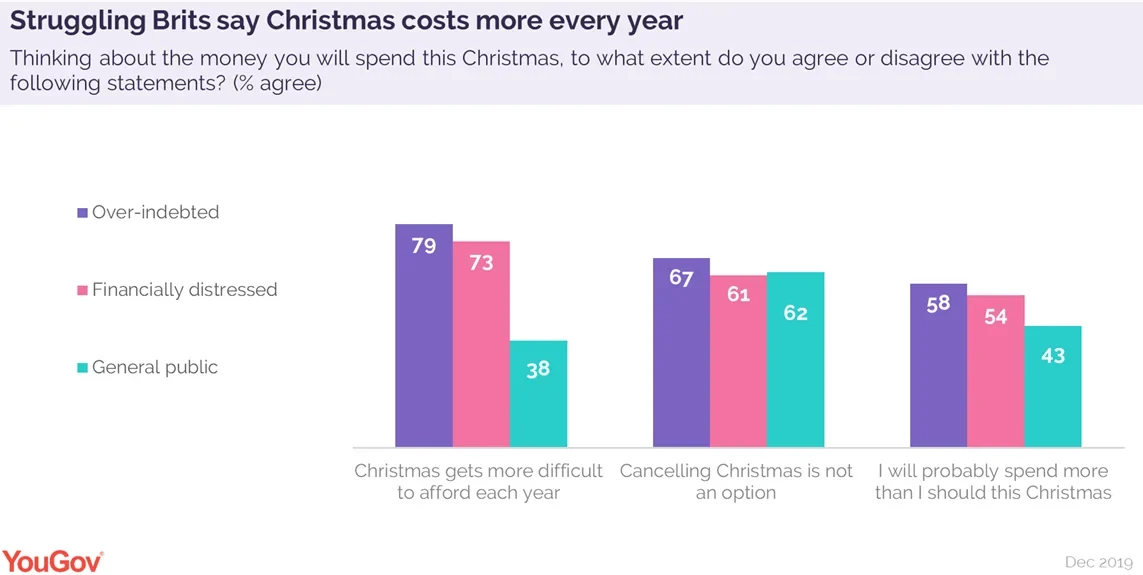 Unsurprisingly, gifts represent the most significant proportion of their overall outlay – and neither of our financially struggling groups spends much less than the average. Those in the "distressed" category fork out £361.50 (around £20 less), and the over-indebted spend £320.20 (around £60 less).
Financially stable and unstable people spend around the same on presents, but they diverge in key areas. Distressed Brits are more cautious with their finances in every category than the general public, and spend less than the over-indebted in every category except gifts.
Most notably, they pay dramatically less for hotel stays: on average, forking out £46 on lodging compared to a national average of £197 – and an outlay of £224 for the over-indebted. If the distressed are more careful with their money, it seems the over-indebted are more resigned to being behind on their finances.
Cash-strapped Brits won't cancel Christmas
Six in ten financially distressed (62%) and seven in ten over-indebted respondents (71%) say Christmas increases their levels of stress. Over half (58% over-indebted; 54% distressed) also think they're going to spend more than they should, while just a quarter (25% to 28%) say they save up for the season compared to a national average of 45%.
This can seriously hit their wallets: over-indebted and distressed Brits believe it will make their debts worse (49% to 43%) – and two in ten (20% to 19%) think their finances will never recover.
However, when asked if they'd cancel Christmas, struggling Brits still say no. Here, the financially distressed are in line with the wider public: 61% of those struggling with their money don't consider it an option, and the over-indebted are even less likely to do so (67%). Again, this could indicate that the more cash-strapped group may have given up on trying to get back in the black.
Christmas clearly isn't optional, even for Brits with precarious finances. But if the season is synonymous with goodwill and merriment, for many, it also means pressure, anxiety, and (sometimes irreversible) financial damage.
Image: Getty